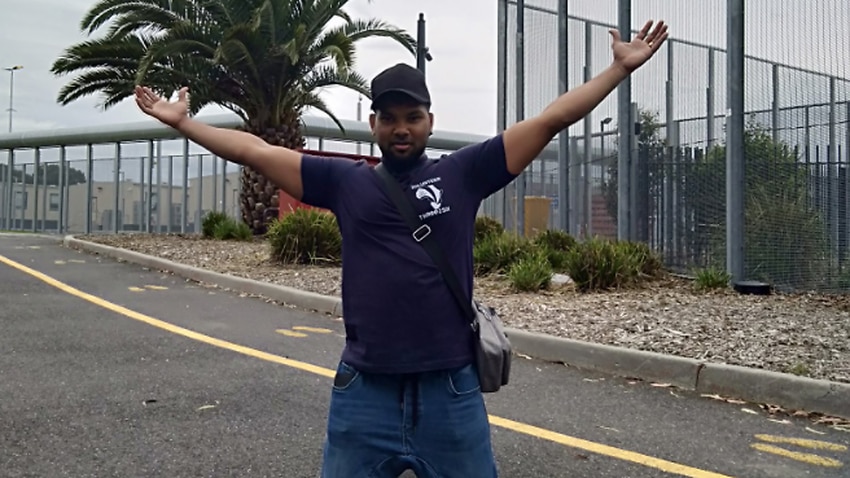 A third group of refugees brought to Australia under now-repealed Medevac legislation have been released from immigration detention in Melbourne, a week after 46 fellow detainees were free on temporary visas with little warning.
At least 12 men are believed to have been released from Melbourne's Immigration Transit Accommodation shortly after midday on Thursday, according to advocates, after being granted six-month bridging visas that allow them to live and work in the community.
Advocates say another refugee was released after being transferred from the Park Hotel in Carlton, which has been used as a makeshift immigration detention centre, and two more from other locations.
The Department of Home Affairs has not confirmed the number of people released or their locations. 
Among those released is Sri Lankan Tamil refugee Thanush Selvarasa – who spent close to six years on Manus Island before being transferred to the mainland for medical treatment. 
After hearing that he would be allowed to leave detention earlier this week, Mr Selvarasa told SBS News he was "so excited" to tell his mother the news.
"My mother has been waiting day by day, year by year, for just one message from me: 'Hello mother, I am a free man'," he said. "I have been waiting for that moment, to tell my mother."
Following his release on Thursday, he tweeted: "This is the day that I have been waiting for the past years of torture. It's hard to believe that I'm a free man and not being guarded like a criminal."
The latest detainees to be released will likely not be the last, with advocates and lawyers predicting "rolling releases" of asylum seekers over the coming months.
Last week two groups totalling 46 men were released from the Park Hotel, which had become the site of daily protests and vigils after the refugees were transferred from another Melbourne hotel late last year.
It is understood at least 12 men remain detained in the hotel.
Ahmad Hakim, the founder of Refugee Voices, a newly-founded refugee-led advocacy organisation, said he had been speaking to a number of men detained in the Park Hotel and MITA.
He said 15 people would be released on Thursday, including a woman who would be transferred to the US.
"It's great news to see humanity," he told SBS News.
"To see the men happy and free, gaining their liberty and freedom… but we still want to see everyone being released."
Following the releases last week, the Asylum Seeker Resource Centre estimated that about 140 asylum seekers transported to Australia under the Medevac legislation remained in detention centres across the country.
Home Affairs Minister Peter Dutton told 2GB radio last week the men released from the Park Hotel had been assessed as not being a threat and therefore it was "cheaper for people to be in the community" rather than government-funded detention. 
Mr Hakim and his organisation are now crowdfunding emergency donations to help support the men following their release.
In less than 24 hours, he said they raised more than $12,000 that will go directly to the refugees so they can afford clothes, food, and public transport.
"They can't benefit from government safety nets, they're not entitled to Centrelink, and they left with nothing," he said. 
A Department of Home Affairs spokesperson said they did not comment on individual cases but reiterated that anyone who arrived in Australia by boat would not be permitted to settle in the country permanently.
"A final departure bridging visa allows individuals to temporarily reside in the Australian community while they finalise their arrangements to leave Australia," they said.
"The individuals residing in the alternative places of detention were brought to Australia temporarily for medical treatment. They are encouraged to finalise their medical treatment so they can continue on their resettlement pathway to the United States, return to Nauru or PNG or return to their home country."