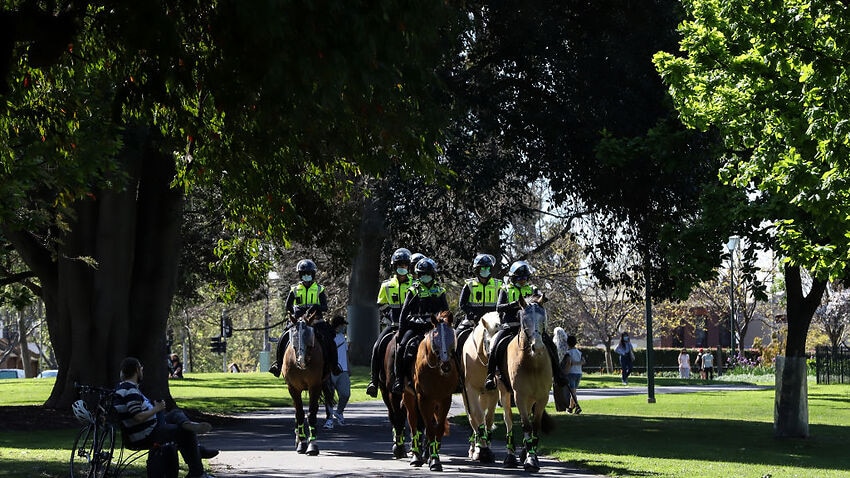 "Public health investigations are under way.
"We are urging protestors to get tested should they experience COVID-like symptoms, no matter how mild."
The state reported a record 766 new locally acquired infections on Thursday, with the case linked to the protest to be included in Friday's numbers. 
Meanwhile, the fourth day of planned protests in Melbourne fizzled out with no major demonstrations so far.
Demonstrators repeatedly changed meeting points on Thursday via encrypted social media platforms but failed to show up.
Some 92 people were arrested in the city, with police pouncing before protesters were able to gather in significant numbers.
Earlier, a central Melbourne vaccination centre was closed down after staff were abused while on their way to work during ongoing protests in the city.
Cohealth chief executive Nicole Bartholomeusz said she was "distressed to report" several incidents where workers were physically and verbally abused by rioters because they were wearing cohealth identification.
"Due to the increasingly violent and unpredictable nature of the protests in the city, we have made the difficult decision to close the cohealth Melbourne Town Hall vaccination centre as well as our Central City homelessness service, and our street- based outreach services until Monday," she said in a statement.
The Melbourne Town Hall vaccination centre was closed until Monday along with its Central City homelessness service and street-based outreach services. 
A sign is seen advising visitors the temporary closure of the Cohealth Melbourne Town Hall vaccination centre on 23 September, 2021. Source: Getty Images AsiaPac
---
The move means people experiencing homelessness will not be able to access services and about 200 people a day won't be vaccinated at the Town Hall.
Staff have been told not to wear their cohealth uniforms, lanyard or scrubs in the city, to avoid being targeted.
"We give this instruction with the heaviest of hearts, as our staff are so proud to be part of an organisation that supports our most vulnerable citizens and are proud to be recognised as cohealth workers," Ms Bartholomeusz said.
"Our staff, and all health workers, deserve to be safe at work.
"I am shocked at the treatment of people who deserve nothing but our utmost gratitude and praise for working throughout the pandemic to ensure everyone gets the support and healthcare they need."
She condemned "all acts of harassment and violence" and said cohealth was working with staff to ensure they are supported.
Premier Daniel Andrews on Thursday slammed the "people pretending to be legitimate protesters" who attacked workers.
"They are vaccinating people, for heaven's sake. They are providing people with close to certainty, not absolute, but close to certainty that they will not become gravely ill," he told reporters.
"Why would you abuse, why would you, as I'm told, be spitting on people who are doing that sort of work?
"That's ugly, it's uncalled for. I'm not sure whether those people can be identified, but if they can it would be my expectation that Victoria Police would deal with them."
It follows a mob of 400 to 600 again swarming the Victorian capital on Wednesday, despite stay-at-home orders and repeated warnings from authorities.
Chanting "every day" from the Shrine of Remembrance, hundreds without masks, some still wearing high-visibility clothing, marched through the city to the war memorial.
Riot squad members fired tear gas and other non-lethal rounds when rioters became increasingly hostile and refused to leave, with two officers injured and 215 arrests.
Media organisations have been granted permission to fly over the Melbourne CBD after a ban was issued by the Civil Aviation and Safety Authority on Wednesday, at the request of Victoria Police.
After complaints, organisations were told news helicopters could fly with the approval of police air wing and on the condition that any vision was broadcast with a 60-minute delay.
Federal Court Justice Helen Rofe said there were serious questions to be determined at a trial next week.
Will Houghton QC, representing networks Seven and Nine and the ABC, argued Victoria Police had no power to grant approvals for helicopters to use airspace over Melbourne, nor to demand news not be shared live.
The mob's protest at the Shrine of Remembrance attracted criticism from veterans and politicians.
RSL Victoria said it had disrespected the sanctity of the sacred site, while the Shrine's chief executive said people had urinated on the memorial's walls and left the site strewn with rubbish.
Prime Minister Scott Morrison condemned the gathering at the shrine, telling reporters in Washington "the conduct was disgraceful".
The protests initially began in opposition to mandatory COVID-19 vaccinations for the construction sector and the closure of building site tea rooms, but have since turned into wider unrest.
With SBS News. 
Source link