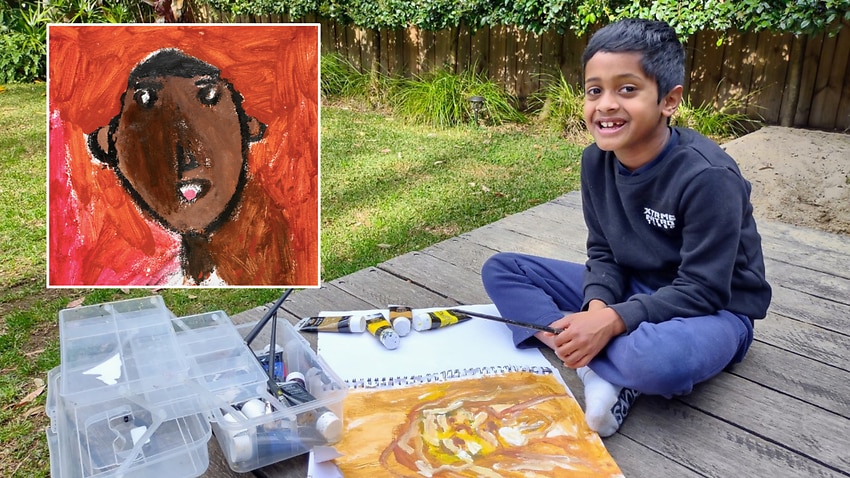 When Jacqueline Qin began thinking about the subject for her entry to the Young Archie portrait competition, she looked to the person sitting next to her.
"In the end, I realised my sister was the best choice," the 15-year-old told SBS News.
"My sister ever since she was a child has been a little bit insecure about how she looks. This portrait can help her learn to love herself … and I really wanted to bring out the beauty I see in her."
Running alongside Australia's oldest portrait award, the Archibald Prize, this year's Young Archie drew more than 2,100 entries from youngsters aged five to 18.
The winners for each age category were announced in a virtual ceremony on Saturday morning.
The works are on display inside the Art Gallery of New South Wales until the end of September – though Sydney's lockdown has pushed the exhibition online where it can be viewed as part of an immersive 360-degree experience.
The youngsters were invited to submit an artwork of someone who plays a significant role in their lives, with many entries including portraits of people from diverse cultural backgrounds.
"Looking at all the artworks, I was really excited because there was a big variety and some artists chose to paint their grandparents, so you can find out about their ethnicity too," said Jacqueline, the winner of the 13 to 15-year-old category.
"Through the artworks and the subject matter and the person they draw, you learn a lot about the artist, and I realised, some of them, I think are Chinese like me."
For 16-year-old Hanna Park, her source of inspiration came from a feeling of distance and longing to see her grandmother who lives in South Korea.
"Due to COVID, it really made me want to focus a lot on family," she said. "My grandmother has played a really big part in helping me learn more about my culture and my personal journey to accepting my Korean heritage, so I really wanted to do a portrait dedicated to her.
"It's something that has been really hard for me to accept just knowing that there is a lot of discrimination just anywhere I really go, but I've learned to accept that I have the best of both worlds being able to experience Australian and Korean culture."
A finalist in the 16 to 18-year-old competition, Hanna wanted to explore the impact of separation from culture and family for second-generation migrants.
"I tried to stick to a muted colour palette because that's what really resonates with me when I think of [my grandmother] and Korea," she said.
"The tiger is painted in the 17th century Korean Minhwa style … and is the characterisation of the pressure on my grandma's shoulders to really keep her culture alive within her family."
Thevan  Basnayake, from Winston Hills in Western Sydney, won the 5 to 8-year-old category for his self-portrait.
"I'm from Australia and I'm also Sri Lankan. I like being from different countries," the seven-year-old said.
Thevan 's mother, Ruwanthi Basnayake, said it was inspiring to see such a diverse set of artists and artworks.
"I think it's important because it gives everyone a perspective of what the Young Archies can actually be," she said.
"It gives you an idea that wherever you come from, whatever your background, it doesn't matter you can be what you want to be."
Showcasing diversity was a factor the judges said was important to their selection process.
"Diversity is incredibly important. Every single one of us is unique, we've all got a different story to tell and everyone expresses themselves differently and sees the world differently as well," said Victoria Collings, the family programs manager for the Art Gallery of New South Wales.
"Portraiture should speak from the heart and show those passions and an aspect of the personality of the young artists coming through."
Guest judge Ramesh Mario Nithiyendran said his favourite portraits were those that were imaginative and rebellious.
"What I really wanted was genuine imagination. I was interested in rebellion," Mr Nithiyendran said.
"I wasn't interested in just kids painting technical portraits that looked realistic."
For 17-year-old Melbourne-based Charliese Allen, she wanted to honour her mother in her artwork, which took out the 16-to-18 category.
"I put everything into that painting, blood, sweat and tears," Charliese said.
"I love my Mum so much and around that time was a difficult time because she'd been diagnosed with stage two bowel cancer.
"What empowered me to create that piece then was her inner strength. My mum is the strongest person and the bravest person I know."
The winner of the 9-to-12-year-old category was Sydneysider Lucia Perlstone Monroy, who drew her portrait of her younger brother.
"I wanted to capture him and his 'hulk' character when he's playing around and jumping," she said.
Young Archie works are on display at the Art Gallery of NSW until 26 September. With the gallery closed in line with public health orders, you can view the works virtually here.
Source link