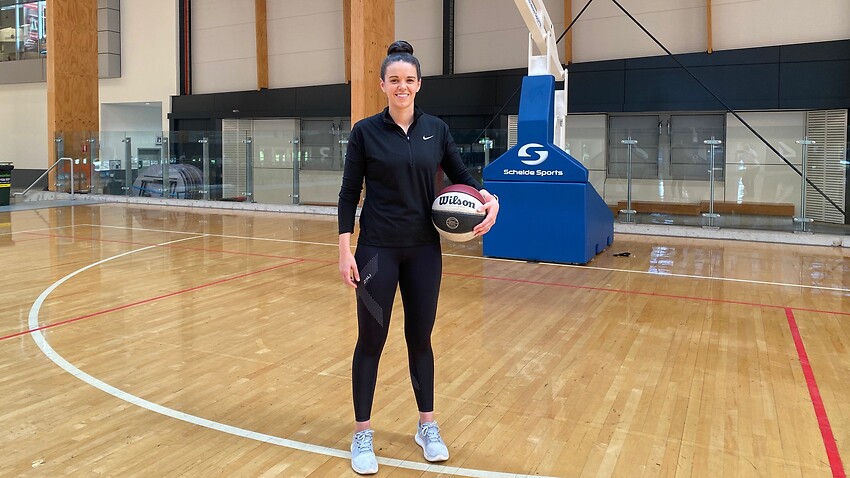 Aboriginal and Torres Strait Islander readers are advised this article contains images and names of people who have died. It also contains reference to suicide
As a child growing up on the Gold Coast, Jacqui Dover dreamt of playing basketball professionally.
And while her playing ambitions didn't quite work out, she still came out on top in the sport.
She started refereeing at the age of 12 to get some money to buy lollies and is now calling the shots in one of the world's biggest basketball leagues.
How to watch the NBL LIVE on SBS
The 28-year-old Yugambeh woman this week became the first Indigenous female referee to take charge of a National Basketball League game in Australia. 
She told SBS News making her debut during the NBL's Indigenous round this week made that experience all the more special.
"To represent my culture is always a pretty awesome thing to be able to do, whether it's just participating in activities for the week or if it's out on the court as a player or a referee," she said.
Connection to culture
Dover was previously a referee in Australia's women's basketball league, the WNBL, and is also the Indigenous programs manager for Basketball New South Wales.
She additionally works closely with Indigenous Basketball Australia (IBA) founder Patty Mills on his project to encourage more Aboriginal and Torres Strait Islander children to take up the sport. 
"Providing basketball opportunities to the Indigenous communities in line with what the IBA and Patty Mills is doing" is a key priority, she said. "And just trying to get kids involved picking up the ball out on the court." 
She also runs her own referee mentoring scheme, JD8 Official, with a tragic event deepening her commitment to wanting to support young people.
Two years ago, Dover lined up alongside Abe Knox at the first Indigenous national titles. He was the first person she signed up to her mentoring scheme. 
Not long after the titles, Knox suicided.
Dover says she now thinks of him at every game she holds the whistle in.
"Every game I do is to carry on his love for refereeing and his goals in reffing at the Olympics," she said. 
"Everyone needs to know someone is always there for them, no matter the struggle."
Future focus
Dover wants to grow JD8 Official to be able to nurture more young Indigenous referees in the future. 
She also hopes to take her refereeing skills overseas one day, to the United States. 
Two years ago, Dover and her partner Josie travelled to Chicago for the NBA referee tryouts. It didn't work out that time, but she refuses to let the dream end there.
She'll be returning to the US once the coronavirus travel restrictions allow it, and until then will be registering for the online tryouts.  
"My goal is to make the NBA, and then working in Australia as well, so how that pans out I'm unsure," she said. 
"Being able to travel around and explore America would be pretty amazing."  
Until then, her focus remains in Australia. 
The NBL Indigenous Round coincides with Reconciliation Week and runs until 31 May, with all teams wearing jerseys designed by Indigenous artists.
Readers seeking support can contact Lifeline crisis support on 13 11 14, visit lifeline.org.au or find an Aboriginal Medical Service here. Resources for young Aboriginal and Torres Strait Islanders can be found at Headspace: Yarn Safe.
Source link