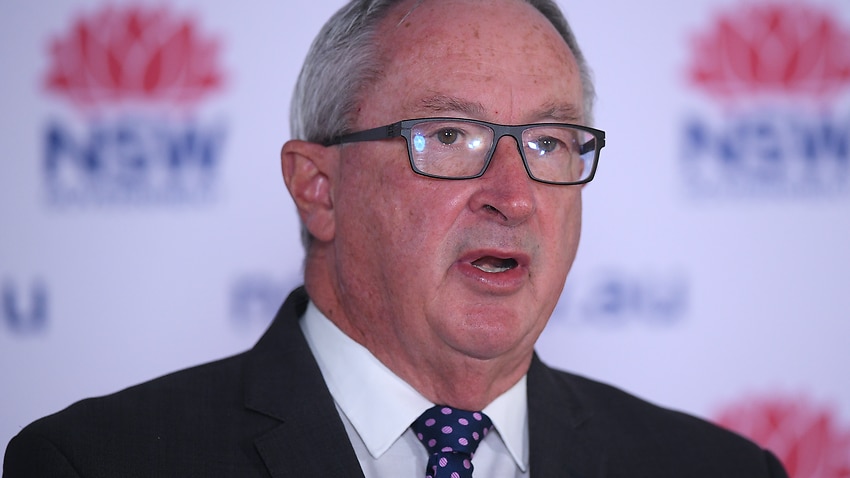 Ten of those people were unvaccinated.
There are currently 1,231 COVID-19 cases admitted to hospital, with 231 people in intensive care, 108 of whom require ventilation. 
Across the state, 80.1 per cent of the over-16 population has now received a first dose of a COVID-19 vaccine and 48.5 per cent of the entire community over 16 are fully vaccinated, NSW Health Minister Brad Hazzard said on Thursday.
"I want to thank the community for coming out in such strong numbers to be vaccinated because there are almost 8.5 million people in NSW that have had vaccines administered to them," he said.
Lismore and Albury to go into lockdown
Lismore and Albury went into a week-long lockdown at 6pm on Thursday.
Two new cases of COVID-19 had been found in Albury with an unknown source who appear unrelated to each other, NSW Deputy Chief Health Officer Dr Marianne Gale said on Thursday. There are possible links to Sydney, she said.
There was also one case in Lismore, also with a possible link to Sydney.
Dr Gale said there were a number of exposure sites in both Albury and Lismore. She asked everybody living in the two areas to be vigilant for symptoms and come forward for testing.
NSW Deputy Premier John Barilaro said the Lismore case was a parent who returned to the town with their child and there was exposure in a school.
"There are issues there and we don't know what that exposure looks like so we've made the right and appropriate decision to lock down Lismore," Mr Barilaro said.
The Albury lockdown, meanwhile, is complex because the city forms half of the Albury-Wodonga community, which straddles the NSW-Victorian border. Wodonga, part of regional Victoria, is not currently in lockdown.
Mr Hazzard said he sympathised with the two communities.
"Can I say that I express my sadness to the local community that having been free of that for a little while, they have to go back into lockdown. But it is for your safety and the community's safety more broadly," he said.
He said NSW Health was ensuring people in the areas have access to vaccinations.
There was also a case reported in Glenn Innes, with no announcement of a lockdown at this stage.
Eased restrictions elsewhere
But it was good news for some regional towns who will be coming out of lockdown, Mr Barilaro said on Thursday.
Those areas are Bega Valley, Blayney, Bogan, Cabonne, Dungog, Forbes, Muswellbrook, Narrabri, Parkes, Singleton, Snowy Monaro and the Upper Hunter shire LGAs.
Mr Barilaro urged communities to continue to minimise mobility, remain vigilant and get tested if they have symptoms.
Of the new cases elsewhere in regional NSW, 44 are from Illawarra Shoalhaven LHD, 37 are from Northern Sydney LHD, 27 are from Western NSW LHD, 23 are from Central Coast LHD, 16 are from Hunter New England LHD, three are from Southern NSW LHD, two are from Far West LHD, one is from Northern NSW LHD.
Mr Barilaro said vaccination remained key in regional and rural parts of the state, despite numbers stabilising in some areas.
"We know there's an abundant supply of AstraZeneca in the regions and I encourage everybody to continue to get vaccinated," he said.
Curfews lifted in Sydney hotspots
Meanwhile residents in the coronavirus hotspot areas of south-west and western Sydney have seen their curfews lifted.
First-dose vaccination numbers in Blacktown, Parramatta and Campbelltown have cleared 80 per cent of the eligible population, with other LGAs of concern not far behind.
Dr Gale said she was pleased to see vaccination rates continue to go up in the 12 LGAs of concern where the community had done a "fantastic job".
But with south-western and western Sydney continuing to see "the highest number of cases", she urged anyone who remained unvaccinated to come forward for a jab.
"There are plenty of opportunities through your GPs, through opportunities in local pharmacies and as well in state hundreds in NSW as well, both at the Sydney Olympic Park, please book in and also at Qudos Bank Arena, where they particularly have a lot of AstraZeneca available for anybody who wants to receive a vaccine. You're welcome to just walk in."
On Wednesday the premier called on residents not to become complacent as she ditched the hotspots' curfew.
"We have roughly 2.2 million people in those areas of concern. Even having 20 per cent of them not vaccinated is about 400,000 people. That's a lot of people," she said.
Source link