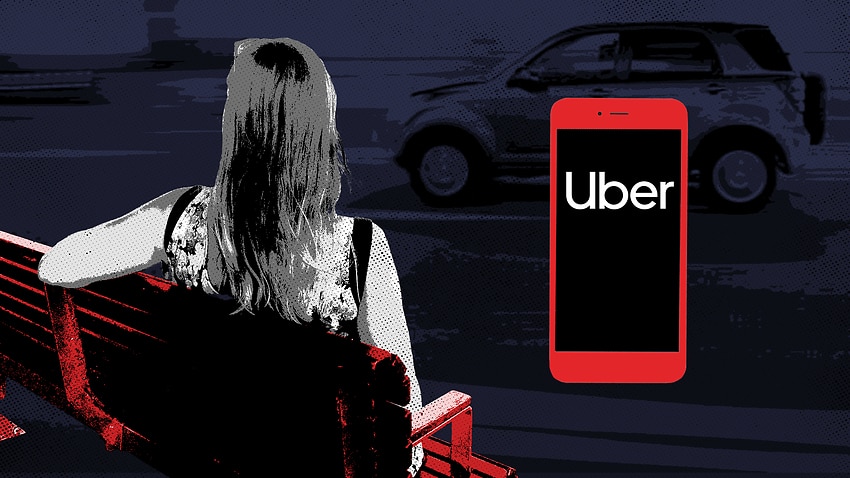 Content warning: Contains descriptions of sexual harassment
Lily* says her 38th birthday was one of her "best days" this year.  
After a meal and drinks at a local tavern in Brisbane last month, she said goodbye to her friends around midnight and called for an Uber. But things went horribly wrong from there. 
"I had a good night and I was really chatty [to the driver] on the way home, and then when we got my house, he started to ask me strange questions like 'is it just you and your daughter living at your place' and 'where is your daughter tonight?'" she told SBS News. 
She was sitting in the passenger seat and said after arriving at her house the driver turned off the ignition.  
"It was at this point that I started to think, 'this is getting a little bit weird'. He then unbuckled his seat belt, and I thought, 'this is getting really weird' and so I said 'I've got to go now'." 
It was at this point she said the driver tried to hug her. 
"Again, I thought 'this is strange' but I guess I thought 'I'll give you a hug so I can go inside'. 
"He then tried to kiss me … I turned my head away and he looked at me confused and was like, 'come on' and then tried a second time. I said 'no' and I got out of the car.
"Leaving the car, I was shocked, I felt extremely uncomfortable."
Leaving the car, I was shocked, I felt extremely uncomfortable.
Lily contacted Uber the next day to report the alleged incident. "I didn't want what happened to me to happen to someone else," she said.   
"Looking back, I am thankful that I'm a bit older and, I guess, more assertive, so I could stand my ground. I would hate to think what could have happened under different circumstances." 
Lily received an initial response from Uber's Community Operations team that noted it takes "user safety very seriously" and that "we will be looking into this incident carefully".  
But a few days later Lily received an email from the same team telling her that her access to the app had been temporarily blocked because Uber had "recently received some concerning feedback from one of your trips regarding inappropriate conduct".  
Lily said she felt "appalled" by the way Uber dealt with her complaint and said it made it very difficult for her to get in contact with the platform after her account was blocked.  
"It's frustrating that they had turned their back on me when I had not done anything wrong, and then was not given a chance to be heard out at all. 
"They said they would contact me, but they never did, and Uber does not have a phone contact line so there is no way to speak to a human being about this." 
Lily's account remains suspended more than a month after the alleged incident occurred. 
When contacted by SBS News, Uber said it could not comment on individual cases. The rideshare company also would not comment on whether the driver's account had been suspended or not, citing the same reason.  
In a statement, a spokesperson for Uber said: "If a rider and driver-partner make safety-related reports against each other, we may temporarily remove both parties access to the app while its global incident team looks into the matter". 
"We also have a dedicated law enforcement team who are on call to work with police 24/7 to respond to urgent matters and assist in investigations." 
"While no form of transport is 100 per cent free of incidents, we are committed to doing our part and promoting the safe use of our app, tackling tough issues, and being part of the solution by working with safety experts and leading organisations in Australia." 
Last month, The Feed reported that a female Uber driver who told the rideshare company she was sexually harassed by a male passenger was also suspended from the app. 
Survivors encouraged to come forward 
Bianca Fileborn, a lecturer in criminology at the University of Melbourne with a focus on sexual violence and harassment, said the response Lily received from Uber is not surprising.  
"I think what it comes down to is the business model; they are really just trying to minimise costs associated with running the business, you see that everything is contract-based and outsourced," she said. 
"It really doesn't create a good system for responding to complaints, particularly for responding to sexual harassment where you actually really do need a dedicated human who understands the issue and is able to act as a point of contact for the person making a complaint."  
Dr Fileborn, along with other researchers, has recently conducted a pilot survey of more than 100 rideshare and taxi service users in Victoria to look into how safe they are. 
Sexual harassment was by far the most common form of harassment experienced by participants. Half of the survey respondents had experienced unwanted flirting, while 46 per cent experienced unwanted comments about their physical appearance.  
There is little publicly available data available on Uber's safety record. It published a safety report in 2019 which indicated 99.9 per cent of rides in the United States in 2017-18 had been completed without "any safety-related issue".  
Lily believes the current system will discourage women from reporting. 
"I reported what happened. In turn, I have my account blocked and have been made to feel that I have done something wrong. What message does it send?" she said.  
I reported what happened. In turn, I have my account blocked … What message does it send?
Dr Fileborn said the pilot survey found the number of people reporting incidents of harassment was very low, with about 13 per cent reporting to the rideshare or taxi company and fewer than three per cent to police. 
"It's a real sense that [survivors feel] there is nothing that can be done about it, that the company in charge … just wouldn't take the complaints seriously." 
She said she hoped to expand the research into a national study that will look at both customer and driver experiences dealing with harassment and issues relating to safety.
Lily has contacted Queensland Police. She said she will never ride with Uber again. 
*Name has been changed 
If you or someone you know is affected by sexual assault, call 1800 RESPECT on 1800 737 732 or visit 1800respect.org.au. In an emergency, call 000.
Queensland Police encourages survivors of sexual violence to come forward and provides this online guide about what to do.
Would you like to share your story with SBS News? Contact [email protected] or @LinEvlin on Twitter.