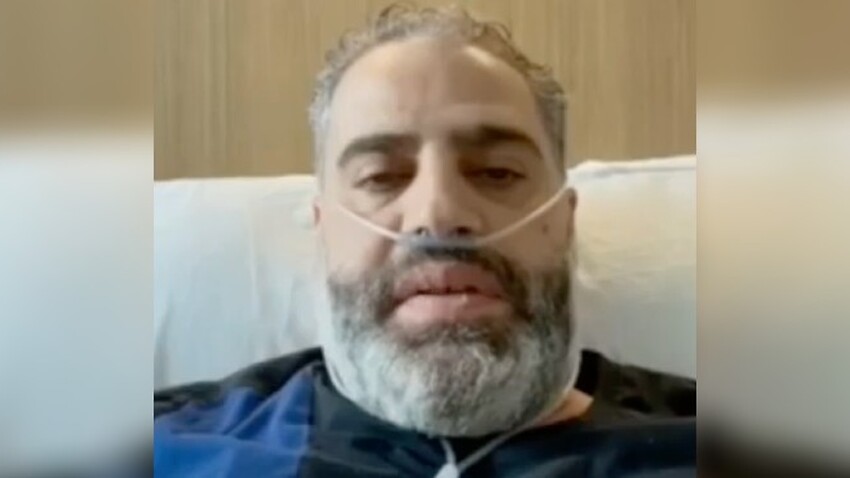 Speaking in Arabic from his hospital bed in Sydney, Khaled Elmasri has a simple message for his community: "Take COVID-19 more seriously."
After being hospitalised one week ago, the 47-year-old, from the city's COVID-struck southwest, was on the verge of being admitted into intensive care before his condition improved.
While struggling to breathe, Mr Elmasri recounted his experience on-camera.
"Of course, I know and knew COVID-19 is a real disease, but I don't think that before now, I took it seriously enough," he said. 
"I was careful, but I don't think I was careful enough. It's a very serious, very heavy disease."
"It's only now, after a few days, that I'm able to speak and breathe a bit more normally."
Mr Elmasri's plea to family and friends is to follow the official government health advice and get vaccinated as soon as they can.
"I didn't take it seriously enough to put my name down for a vaccine beforehand," the father of four said.
"With hindsight I feel like I should have done that. I have learnt my lesson the hard way. And now I'm going to get my vaccine."  
This video was introduced by Mr Elmasri's GP, Dr Jamal Rifi, a general practitioner in Sydney's southwest and a prominent figure in the community.
"Khalid wants to share the following video so people can take the advice from someone who got very sick," Dr Rifi said on-camera in Arabic. "Because we don't want any of you to go through what he experienced."
The video is part of a communications push by community leaders across Sydney's south west, where the majority of coronavirus cases are being diagnosed.
On Wednesday afternoon, Lakemba Mosque released a Facebook video featuring community leaders, including Canterbury Bankstown Councillor Bilal el Hayek, delivering in-language coronavirus messaging.
The NSW government has committed an extra $2 million in funding to multicultural media outlets to convey vital health messages. 
Multiculturalism Minister Natalie Ward told a briefing of multicultural media her team was "working very hard to make sure we're getting across all of the different nuances of different languages".
"We particularly have worked hard to ensure that we get community leaders to be doing those translations as well so that they're going out from people that they know and see and hear in their own communities."
Chief Health Officer Dr Kerry Chant said NSW Health was looking into new methods of communication, including spoken messages.
"The feedback we've had is people listening orally, listen to messages better," she said.
Research commissioned by the NSW Council of Social Service found evidence of confusion and misinformation about the COVID-19 vaccine in culturally and linguistically diverse communities.
The research has seen advocates calling for governments to step up their engagement with local community leaders.
"There are always challenges in communicating any message to CALD communities… because it is simply not a one-size-fits-all [approach] for diverse communities," said CEO of SydWest Multicultural Services, Elfa Moraitakis.
"Rather, it's a targeted way of approaching each community to get through a message. 
"There's a lack of coordination, there's a lack of co-design [and] there is also a lack of acknowledgement that organisations are working on the ground in different regions, and have a very strong connection to community leaders." 
Source link