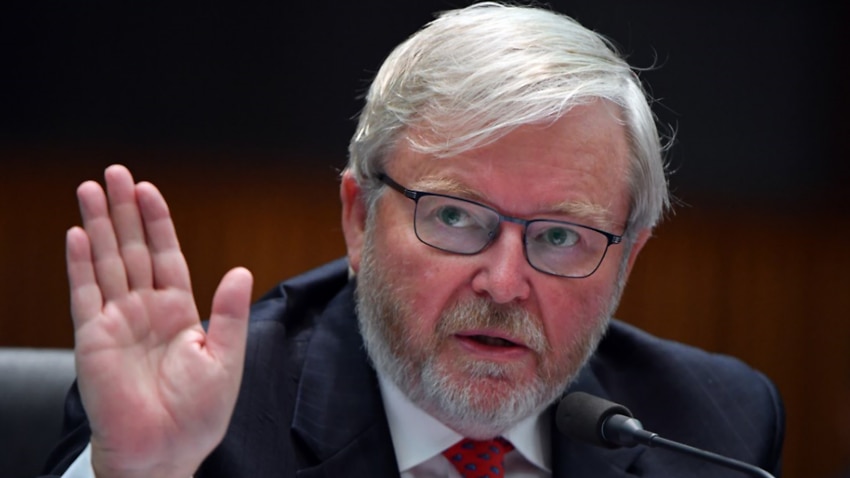 Former prime minister Kevin Rudd says the "Fox News-isation" of Australian media threatens to further encourage far-right extremism.
He delivered the warning on Friday during a Senate inquiry examining media diversity in Australia.
Mr Rudd has directly targeted the role of Rupert Murdoch's media empire in the Australian media landscape. claiming its conflation of news reporting and editorial opinion has undermined democracy.
Mr Rudd said he was worried this trend threatens to build an "alternative political ecosystem" that could act to further encourage far-right extremism.
"Where I really worry about the cancer setting in is this – this conflation of news reporting and opinion … ultimately corrodes the notion of factual analysis in itself," he said. 
"We're on a slippery slope to where the Trumpian universe landed us all – a land of facts and alternative facts and that there is no such thing as the objective truth anymore." 
The newspapers owned by News Corp include The Australian, the Daily Telegraph, the Herald Sun, and the Courier Mail. It also owns TV channel Sky News.
Overseas, it owns publications such as The Wall Street Journal and the New York Post in the United States, and The Sun and The Times in Britain.
Mr Murdoch also controls Fox Corp.
News Corp executive chair Michael Miller told the committee Mr Rudd's claims against News Corp were "not only misleading" but "without fact".
"A lot of his assertions are totally wrong – they are without fact," he told the committee. 
Mr Miller also defended his organisation's editorial approach, saying the media group published "a range of opinions". 
"I'll defend the rights for those views to be expressed and those opinions to be there," he said. 
"The cornerstone of our democracy is a collection of opinion and ideas which different positions can be expressed." 
Mr Miller added that there was zero tolerance for inciting violence on its platforms.
"There is no place for hate speech – there is no place for any of our platforms for inciting any violence."
Mr Rudd has described the Murdoch media empire as a "monopoly" that has operated through a "culture of fear".
Mr Miller disputed Mr Rudd's assessment of News Corp's control of the media landscape, saying this doesn't take into account the growth of digital outlets or television networks.
"To look at media through the prism of just print – which is sharply declining – I think it not the way to consider how people consume media today," he said. 
Concerns over Facebook's emerging monopoly power
The Senate inquiry is also seeking to examine concerns over the emerging power of social media giants on the media landscape in Australia.
Mr Rudd cited Facebook's decision on Thursday to censor Australian news media on its platform as another example of the power of a monopoly to undermine factual journalism.
"It has a cumulative effect," he said.
"Look at the impact of the Fox News-isation of American politics … my concern about where this drifts to overtime."
He went on to cite the example of the 6 January insurrection attempt by rioters against the United States Capitol building as a extreme example of this "cumulative" impact taking hold. 
He said while Australia could say that would "never happen here", the same would have been said in the United States a decade ago. 
"I am not concerned about today – I am concerned about a decade's time," he said.
"It is the self-contained nature of the ecosystem plus the undermining of lets call it fact based reporting in a fair honest and evidence based fashion." 
Mr Rudd cited the presence of far-right groups in Australia as evidence to support his concerns.
"I am worried that Qanon for example has a presence in this country – I'm really worried about that, but it is not just one conspiracy group there are others as well," he said. 
A petition signed by more than 500,000 Australians was delivered to Parliament last year backing Mr Rudd's calls for a inquiry to ensure a "strong, diverse Australian news media". 
Mr Miller said he believed Australians were smart enough to make their own judgement about the news they consumed. 
"Australians are smart people, they make up their own minds about media they consume, who they back politically and what they feel about the big issues," he said. 
You may have noticed SBS News is no longer available on Facebook. 
Here's where else you can find our content and follow us:
SBS News website: Save our website sbs.com.au/news as a favourite. 
SBS News app: Download our app from Apple's App Store or Google Play and subscribe to the alerts.
Apple News: Follow the SBS News channel here on an Apple device.
Twitter: Follow us at twitter.com/SBSNews
Instagram: Follow us at instagram.com/sbsnews_au
YouTube: Subscribe at youtube.com/c/sbsnews
TikTok: Follow us at tiktok.com/@sbsnews_au
Reddit: Follow us at u/SBSNews_au