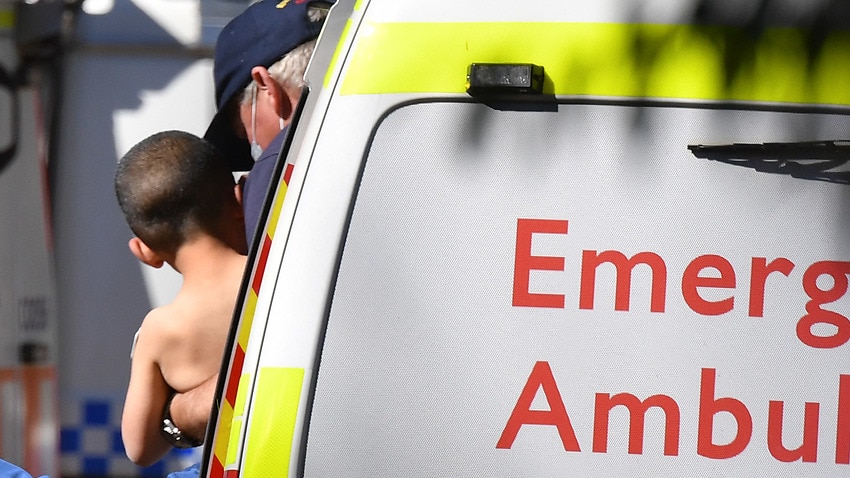 "[AJ] turned to him with a massive smile on his face that he will not forget," Mr Merrick told reporters on Monday afternoon.
"It was an emotional moment."
Anthony "AJ" Elfalak, who has autism and is non-verbal, went missing from his family's remote rural property at Putty about 11.45am on Friday.
He was found sitting in a puddle drinking water from a creek bed by a rescue helicopter, which directed ground search crews to his location.
Virtual prayers for AJ held on Facebook had been joined by thousands of people over the past few days.
One service was attended by Danny and Leila Abdallah, who lost three children when they were hit by a drunk driver in Oatlands in Sydney's northwest in 2019.
He has been reunited with his family and is being assessed by NSW Ambulance paramedics. He survived three nights alone in the bush in temperatures that dipped as low as three degrees.
A three-year-old boy who went missing from his family's NSW Hunter Valley property has been reunited with his family after being spotted by a rescue helicopter. Source: NSW POLICE
---
His father Anthony Elfalak said AJ had been bitten by ants and had fallen over but he is just grateful his son is alive.
"He's just clinging to mum," Mr Elfalak told TV crews. "As soon as he heard his mum he opened his eyes and looked at her and fell asleep."
Footage broadcast by Nine showed the boy's family jumping around in jubilation when they heard he had been found.
"Thank you for everyone. Thank you for the government. Thank you for the police. Thank you very much," AJ's mother Kelly Elfalak told Nine News.
The moment AJ's family found out he was safe
---
"Thank you to my friend, my cousin, my sisters, my family. Thank you, everybody and whoever prayed for us."
Anthony and Kelly Elfalak and their four sons moved to the property just months ago as Mr Elfalak's work as a plumber dried up amid the COVID-19 lockdown.
Over the weekend more than 130 people were involved in the search of the property and volunteers helped police on foot and on dirt bikes.
Divers also searched and drained a large dam on the property.
Anthony Elfalak hugs two of his other sons after AJ was found alive Source: AAP
---
NSW State Emergency Services tweeted: "We are over the moon and very happy to have provided our assistance."
Family friend Alan Hashem, who was at the property when the boy went missing, spoke to Nine News after learning the boy had been found.
He said he had barely slept for days.
"We were driving ourselves crazy, this kid could barely walk," Mr Hashem said.
NSW Police Superintendent Tracy Chapman said investigations were ongoing into how the three-year-old ended up half a kilometre from his home.
"From a policing perspective we will still be continuing our inquiry to understand what has occurred over the past three days," she said.
"I know everyone has lots of questions."
Source link