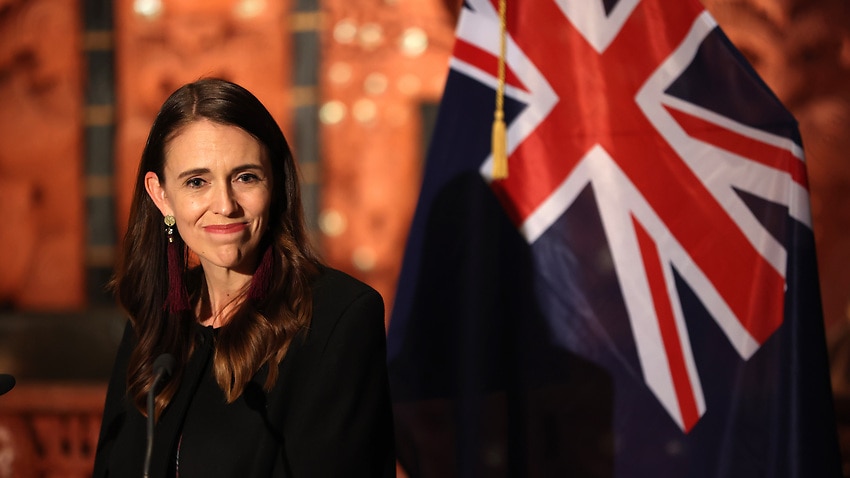 New Zealand Prime Minister Jacinda Ardern has announced a two-way travel bubble with Australia is set to commence later this month.
The quarantine-free travel will start from 11.59pm on 18 April Wellington time (or 9:59pm AEST), essentially meaning Australians will be able to freely travel to New Zealand from 19 April. 
"This is an important step forward in our COVID response and represents an arrangement I do not believe we have seen in any other part of the world," Ms Ardern told reporters on Tuesday afternoon. 
Prime Minister Scott Morrison has also welcomed New Zealand's decision to once again allow travel across the Tasman in time for Anzac Day. 
"It is a win-win outcome for the trans-Tasman travel to be open," he told reporters later on Tuesday.
"The fact that we now can combine again will mean jobs, it will mean people reunited, it will mean many opportunities as those normal relations are restored between Australia and New Zealand." 
Australian and NZ borders have been shut to almost all non-citizens since March last year, with both countries requiring arrivals to spend a fortnight in quarantine before entering the community.
All Australian states, with the exception of Western Australia, opened to visitors from New Zealand last October.
Ms Ardern said New Zealand's decision was made based on advice that the right conditions have been met to allow the same with Australia. 
"We're opening it at exactly the right time," she said.
"We believe it is safe. We believe we can maintain an open free flow between states and New Zealand and it means ultimately people can be reunited."
However, she has warned travellers will need to be prepared for their plans to change at short notice depending on potential COVID-19 outbreaks. 
"People will need to plan for the possibility of travel being disrupted if there is an outbreak," she said.
"Quarantine-free travel will not be what it was pre-COVID-19, and those undertaking travel will do so under the guidance of 'flyer beware'."
How will the travel bubble work?  
Australians flying to New Zealand will travel through what is being described as a "green zone" on flights and airports, meaning they won't come into contact with others flying in from other parts of the world. 
Passengers will be required to wear a mask on the flight and will also be asked to download and use New Zealand's version of the COVID-19 tracing app. 
They'll also be asked to provide information to New Zealand authorities on how they can be contacted while in the country.
What happens if there is a COVID-19 outbreak?
Ms Ardern has outlined three possible responses if a case was detected in Australia that would involve continuing, pausing or suspending the two-way travel arrangement.  
If a case was clearly linked to a border worker or quarantine facility, the travel bubble would likely continue. 
However, if the case was not clearly linked and an Australian state responded with a lockdown, this could result in flights being paused.
Multiple cases of unknown origin could also result in flights being suspended for a period of time.  
Ms Ardern said this process could be considered on a state-by-state basis depending on where an outbreak had occurred.
"It does mean we have the ability, if we believe it safe to do so, to potentially pause or suspend flights in one state whilst, if another state remains unaffected, continuing travel there," she said. 
"That flexibility exists, but we'll be using it cautiously and wisely."
Ms Ardern said  in this case, once the bubble restarted, travellers could then be asked to monitor symptoms, take a test before leaving, isolate on arrival or go into managed isolation for 14 days – but only in "some situations".
She added a decision would be made next Wednesday on whether people flying from Queensland would need to get a test before they boarded their flights.
Families reunited and boost to New Zealand's economy
The travel bubble is anticipated to help allow families separated across the Tasman by the pandemic to be reunited, as well as boost tourism in New Zealand.
The New Zealand leader acknowledged those who had suffered due to the necessary border arrangements. 
"One sacrifice that has been particularly hard for many to bear over the past year has been the separation from friends and family who live in Australia, so today's announcement will be a great relief for many," she said. 
Ms Ardern said in a normal year, Australian tourists contributed as much as $2 billion worth of spending to New Zealand's economy. 
"We are a safe place to bring your family to come and visit," Ms Ardern said.
People in Australia must stay at least 1.5 metres away from others. Check your jurisdiction's restrictions on gathering limits. If you are experiencing cold or flu symptoms, stay home and arrange a test by calling your doctor or contact the Coronavirus Health Information Hotline on 1800 020 080. News and information is available in 63 languages at sbs.com.au/coronavirus.
Please check the relevant guidelines for your state or territory: NSW, Victoria, Queensland, Western Australia, South Australia, Northern Territory, ACT, Tasmania.
Source link