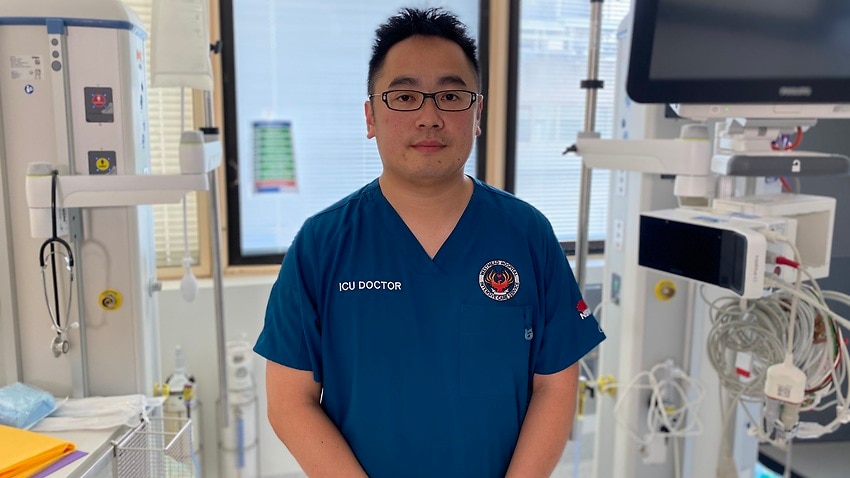 It's the morning of 25 January 2020. It's a Saturday and we're mere weeks into a new decade. 
Health officials have just revealed the first case of a mysterious new virus on Australian soil – a man from Wuhan, the Chinese city where the infection was first identified, who had flown into Melbourne.
Hours later, three more people are confirmed to have tested positive in New South Wales. One of them, a man in his 60s, had presented at Western Sydney's Westmead Hospital. He too had come from China.
"At that time it was a new disease, and we were figuring out what the best way was, in terms of protection and treating patients," Westmead intensive care specialist George Zhou told SBS News.
"We didn't know what kind of treatments we were giving, and there were a lot of treatments that were used overseas which we were trying to incorporate. We didn't know what was best for patients at that time … so there was definitely a fear of the unknown."
Twelve months later, and healthcare workers and the general public know a lot more about the disease now known as COVID-19. 
This knowledge has been used to treat more than 28,000 cases so far in Australia, and more than 90 million worldwide, as humanity's entire way of life shifted to accommodate the pandemic.
'A challenging year'
Among the Australians who have contracted the virus are Western Australian couple Irais and Walmir Ramalho, who became infected while celebrating their 50th anniversary onboard the Diamond Princess cruise ship. 
More than 700 cases were linked to the ship, which was moored off the coast of Japan, before the couple were able to return to Australia in February last year.
Ms Ramalho said she "didn't know anything" about the virus until people on the ship started testing positive. 
"When we started getting information from people onboard, because they were talking to people outside, then we got to know that it was really bad," she said.
"Then I got sick – and I was really, really, really sick." 
But even after the lessons learned through Victoria's devastating second wave, the public housing lockdowns in Melbourne, multiple aged care outbreaks, and numerous other shutdowns and restrictions, some things about the virus remain unknown. 
Doctors are working to learn more about the long-term effects of the virus, with a research project currently underway at St Vincent's Hospital in Sydney. Early findings estimate up to 20 per cent of people diagnosed with COVID-19 experience symptoms that last months. 
All of this is happening as new cases continue to spring up across the country, brought here by overseas arrivals that then leak out of hotel quarantine. Australia's international border remains closed, while the states and territories are doing different things in regards to domestic travel.
The ever-growing number of cases globally and the need to provide Australians stuck overseas with an avenue to return home means health authorities remain vigilant, knowing another big outbreak could be just around the corner.
"It was definitely a challenging year," Dr Zhou said of the last 12 months.
"Even though we are prepared for something else to come, we do not wish for it to come. That's something that is at the back of our minds now."
'It just takes one person'
In Victoria, which saw Australia's most severe second wave of COVID-19, leaving almost 800 people dead, health authorities have had to work overtime to keep on top of the virus.
Nick Jones, a COVID medical consultant at Austin Hospital in the north-eastern Melbourne suburb of Heidelberg, said it's been a "constant battle" to keep up to date with the latest information on the virus and ensure they are giving the best possible treatment.
Dr Jones has been involved in the hospital's pandemic response since Melbourne's first outbreak, starting with figuring out how to set up a COVID-19 unit and then weathering the city's first and second waves.
"At that point, we were all looking at Italy," he said. "We were all thinking we were going to be the next Italy, preparing for huge numbers of thousands and thousands of patients and how on earth we were going to be able to manage those within the healthcare system we had."
Thankfully, the situation in Italy – which saw health workers having to choose which coronavirus patients were able to receive care – did not eventuate in Australia. But Dr Jones said Victoria's second wave reignited those early fears.
"It just got big, very, very quickly," he said. "I remember sitting in a meeting going, 'this is when Italy was going to start for us', that we were going to be admitting thousands of patients a day."
This meant preparing for the possibility of having to ration health resources.
"It was all about getting in a headspace where you could make those decisions," he said. "[But] I don't think until you had to make those decisions, which we thankfully never did, you could really be prepared for it."
At the height of the crisis, Austin Hospital had five COVID-19 wards with 30 beds each.
"Even now we can flex back up again if it doesn't go our way," Dr Jones said. "It just takes one person to get us going again, we've got to remain vigilant as a community."
'Learning as we go'
Part of the process of stifling the virus has been "learning as we go", Jeremy McAnulty, head of NSW Health's COVID response branch, said.
He said the assumption that "we don't know all the answers" was built into the state's coronavirus response, which drew on earlier planning for avian influenza, commonly known as bird flu, and SARS.
"You can have the best plans, but this was a brand new virus," he said. 
"We've also recognised that there is an increasing risk from international arrivals because of epidemics raging around the world … so we've got to recognise that we can never eliminate to zero the risk of people coming back to Australia with infections."
The only answer to this "ever-present" risk, Dr McAnulty said, was ensuring people continue to get tested if they have symptoms, even when local case numbers are low or non-existent, and even when a vaccine is available. 
"This is the way we're going to have to live and operate for the foreseeable future," he said. "No vaccine is 100 per cent effective, what I expect is we will still get cases even when a vaccine is fully rolled out."
The federal government is planning for the first lot of vaccines to be available to priority groups in mid-to-late-February.
But it will be months until the wider population is able to get access.
For doctors on the frontlines, and those who have lived through the virus, what Australians need to do in the meantime is clear: remain vigilant and follow official health advice. 
"I had to be on oxygen every night," Ms Ramalho said.
"My daughter told me I should do this interview because it would work as therapy for me. So I've done that, and now I'm going to put it all behind me."
People in Australia must stay at least 1.5 metres away from others. Check your jurisdiction's restrictions on gathering limits.
If you are experiencing cold or flu symptoms, stay home and arrange a test by calling your doctor or contact the Coronavirus Health Information Hotline on 1800 020 080. News and information is available in 63 languages at sbs.com.au/coronavirus.
Please check the relevant guidelines for your state or territory: NSW, Victoria, Queensland, Western Australia, South Australia, Northern Territory, ACT, Tasmania.