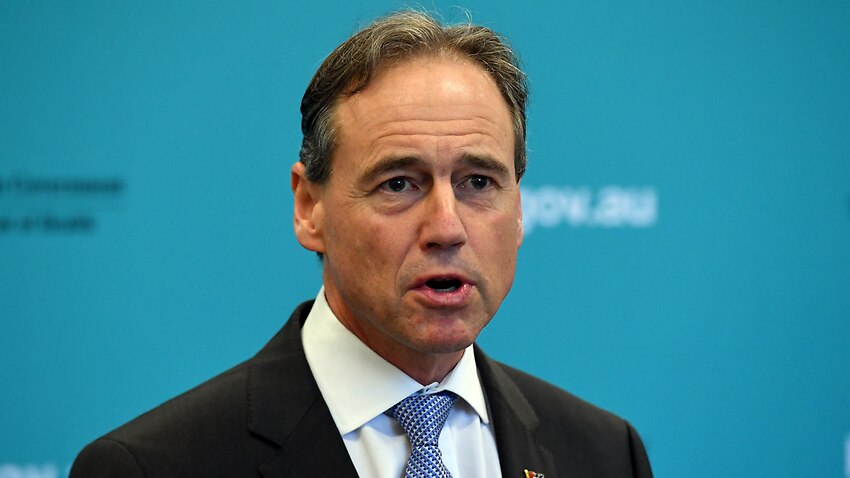 The federal government has secured a new treatment in its fight against COVID-19, which is being assessed by the Therapeutic Goods Administration.
An initial shipment of over 7,700 doses of the antibody treatment Sotrovimab are being assessed.
Health Minister Greg Hunt said the treatment has been shown to dramatically reduce hospitalisation and risk of death in adults with mild to moderate cases of the virus, who are at risk of developing a severe case.
It is expected to be available for use this year once approved by the TGA evaluations are complete.
"It's not a sliver bullet but it can absolutely save lives and protect lives for whom are considered to be likely affected," Mr Hunt told reporters in Canberra on Sunday.
Chief Medical Officer Paul Kelly said it is one of hundreds of treatments that are being looked at around the world.
"This medicine is not for everybody," Professor Kelly told reporters.
"It will be mostly aimed at people that are not vaccinated. It will be mostly for people who are at highest risk of severe disease, and it needs to be given early in the treatment course."
The treatment is manufactured by global healthcare company GSK and will require just one dose administered via IV infusion in a healthcare facility, Mr Hunt said.
In a statement, GSK Australia it will be the first treatment to receive regulatory approval to treat early stage COVID-19 in Australia.
Moderna doses 'due in September'
Meanwhile, the health minister expects the first doses of the Moderna's mRNA COVID-19 vaccine to arrive in September, subject to final TGA approval.
That approval is expected within the next two weeks but early signs are that is it is highly effective, he says.
Once approved, supplies are expected to increase to three million a month through October, November and December.
This comes on top of the effective doubling of Pfizer vaccines to two million a week.
It comes as vaccination rates have doubled from 700,000 per week a month-and-a-half ago to almost 1.3 million over the past seven days.
"What that does show is we can achieve a two million-a-week outcome in Australia," Mr Hunt told ABC' Insiders program on Sunday.
Ministerial colleague Stuart Robert was asked on Sky New's Sunday Agenda program to confirm reports the government had appealed to the US Biden administration for additional vaccine does.
"There are continued conversations all around the world," Mr Robert replied.
"You can be rest assured the government will leave no stone unturned when it comes to maximising the amount of vaccinations for our population, our Pacific Island family and of course our wider region."
Source link