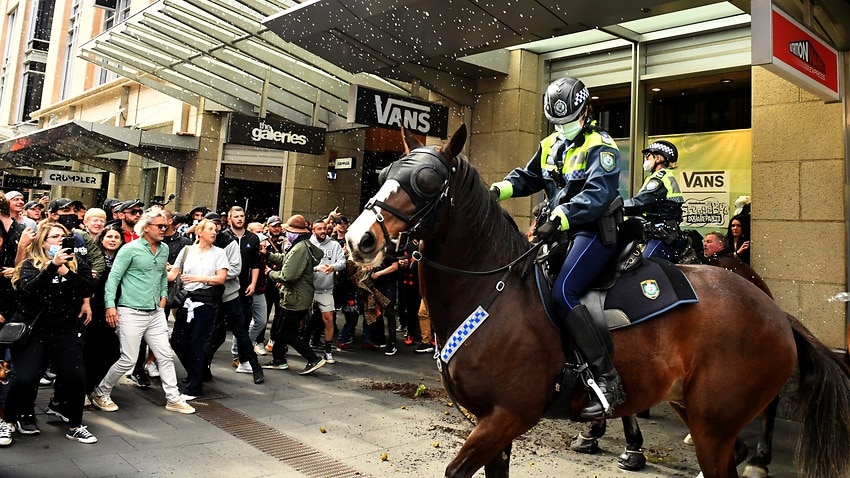 NSW Premier Gladys Berejiklian has slammed the Sydney anti-lockdown protesters for having "such a disregard for their fellow citizens", as authorities work to identify all who attended.
Police said more than 200 people who attended the Saturday protest have been identified after 5,500 reports were made by members of the public to CrimeStoppers.
As of Sunday, 63 attendees have been charged and more than 90 infringement notices have been issued.
Jon-Bernard Kairouz, the TikTok user who went viral after posting videos "predicting" the daily NSW COVID-19 figures for five days in a row, was among those issued a penalty infringement notice for attending the protest.
NSW Police confirmed that Strike Force Seasoned investigators issued a 24-year-old Belmore man with a notice after the rally.
Separately, two men were charged with animal cruelty among other offences after allegedly striking a police horse during the protests. 
The NSW premier has encouraged residents to dob in anyone who posts social media footage of themselves at the protest.
Premier Gladys Berejiklian said she was disgusted and heart-broken by those who had shown "utter contempt for their fellow citizens".
"It just broke my heart that people had such a disregard for their fellow citizens," she said on Saturday.
"We know that events like that can cause those super-spreading events, and please know that all of the sacrifices we've made over the last three or four weeks in particular have resulted in us being able to stabilise the growth in cases.
"We don't want a setback, and yesterday could have been a setback."
Prime Minister Scott Morrison also condemned those involved in the anti-lockdown protest, saying the prospect of coming out of lockdown has been negatively impacted.
"It is selfish. It is self-defeating. It achieves no purpose," he said. "That was a very selfish act and it offended many fellow Sydneysiders.
"In a city under lockdown, to engage in that was reckless, and it was selfish."
He said vaccines alone won't end the lockdown in Greater Sydney, adding that the lockdown measures will need to drive down new infections.
Police Minister David Elliott said he is confident all 3,500 people at the anti-lockdown protest in Sydney's CBD in Sydney will be identified and the appropriate charges issued.
More than 200 people at the protest have been identified after 5,500 reports were made by members of the public to CrimeStoppers.
"Essentially means all 3,500 people could find themselves with a penalty notice, if not charges," Mr Elliott said.
"As of this morning 63 individuals have been charged for offences yesterday, 35 have been arrested and 16 are before the courts today."
He said a taskforce of 22 detectives will track down those involved in the protest and charges laid.
"Yesterday, cannot happen again. We saw the figures, they are not going down at the rate we want to see them go. And they won't go down if we see the activity we saw yesterday.
"You need to think again."
Members of the public are being encouraged to continue to provide photos or video footage to help identify protesters to the CrimeStoppers online portal.
"My appeal is to everyone who has evidence. CrimeStoppers was quite challenged yesterday, please continue to provide that information," Mr Elliott said.
NSW Police Deputy Commissioner Mal Lanyon said police officers were well-prepared and resourced, but the extent of the violence did surprise them.
"What we saw was unprecedented violence. The violence we saw against officers and police horses is something we won't take.
"Pot plants were thrown at horses as well – and that is the evidence that we are putting before the court."
NSW Police on Sunday morning said officers were assaulted amid the unrest and police horses were struck and pushed.
A 33-year-old Surry Hills man was arrested late on Saturday night, as was a 36-year-old man from Edensor Park in Sydney's southwest.
Both were charged with committing an act of cruelty upon an animal and failing to comply with public health orders, while the Edensor Park man was also charged with assaulting a police officer.
They will appear in Parramatta Local Court on Sunday.
A special strike force of detectives is analysing footage from social media, CCTV and police-worn body cameras to identify the roughly 3000 people who defied stay-at-home orders.
NSW Police also denied they were caught on the hop by the protest, saying officers had been preparing for the event for a fortnight.
Police issued 510 infringement notices on Saturday in NSW, almost all of which to attendees of the protest.
A number of police officers were injured as they were attacked by protesters, who threw plastic bottles and pot plants seized from the roadside.
Despite a heavy presence of mounted and riot officers, protesters broke through a police barrier to continue down George Street but were stopped at King Street. 
"We made a very clear stance yesterday that violence won't be tolerated," Deputy Commissioner Mal Lanyon told reporters.
"We had an extensive planning session in place … what took us by surprise and disappoints me greatly is the level of violence people were prepared to use. That was unprecedented."
In Melbourne, an anti-lockdown protest was also brought to a violent end by police.
Acting Police Commissioner Luke Cornelius said organisers had not been co-operative and refused to consider moving the rally to a later date when it would have been safe.
"As a result, we had to roster hundreds of police to this event because of their selfish actions and blatant disregard of others," he said.
In addition to penalty notices already issued, Victoria Police will also review evidence captured at the protest to identify as many people involved as possible.
Their investigation will include the alleged assault of a mounted officer hurt by a flying bollard.
Source link