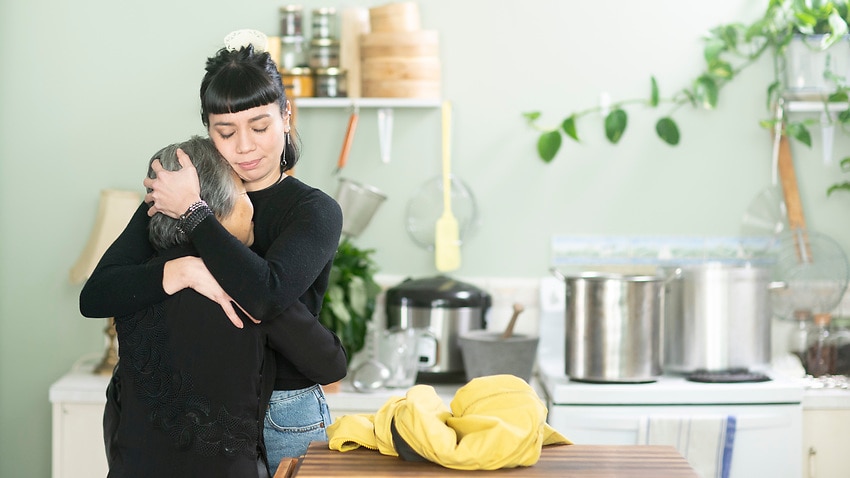 For 28-year-old Jillian Nguyen, the Vietnam War was a topic she rarely discussed with her parents.
"I was born in Malaysia at Sungai Besi refugee camp where my parents met and lived for five years," she told SBS News.
"They've experienced extraordinary and devastating circumstances, leaving their home in search for a better life.
"Coming to Australia, they just wanted to assimilate and not have to think about their trauma. They want to bury it … leave it in the past."
Ms Nguyen's parents were part of the mass exodus fleeing the horrors of conflict in Vietnam from 1978 into the early 1990s.
Their daughter was just 14 months old when they immigrated.
For the now-adult Vietnamese-Australian actor, the experience is a parallel she has harnessed within her role in AACTA nominated SBS series Hungry Ghosts.
Set on the streets of contemporary Melbourne during the month of Asia's Hungry Ghost Festival, a Taoist and Buddhist tradition that venerates the dead, the series explores the scars of unresolved and intergenerational trauma. 
It is said during the seventh lunar month that the gates of hell open, allowing ancestors to roam the earth.
"The ghost is a metaphor for trauma but also in culture, my family talk about ghosts like they are here with us," Ms Nguyen said.
"For me it's been a huge opportunity to look into my culture. It's been a huge gift."
Examining the war from a Vietnamese perspective, Ms Nguyen described filming the series as "cathartic".
"This show is so unique and monumental on so many levels," Ms Nguyen said.
"There's been so many films made about the Vietnam War and it's always I guess voyeuristic because it's made from the perspective of the American soldier, the Australian soldier – and their experience is totally important – but this is the first show that examines the Vietnamese diaspora.
"The main thing in our show is inherited trauma and that's never been spoken about.
"This is the first show that shows it from a Vietnamese perspective."
Representation on screen
Ms Nguyen says she only began to pursue acting two years ago, determined to challenge the lack of representation on screen.
In 2018, she landed her first role.
"As a kid, I think film and TV play such a crucial role because it can empower and inspire a young person to follow their dreams, to look at their lives in a different light and question who they are, " she said.
"If they don't see themselves, you feel like you don't exist, like you're insignificant.
"It was definitely a catalyst for why I went into acting."
For series' director, Shawn Seet, representation was at the forefront of his mind when scripting and filming Hungry Ghosts.
"I'm so proud to have done Hungry Ghosts and given a chance to lots of Asian actors to act in an Asian based story rather than being a token Asian actor in a story that's not their own," Mr Seet told SBS News.
"For young, culturally diverse Australians to see themselves represented on screen is just inclusion. You're included in this culture, in this country.
"Stories are always more powerful, more authentic when they're told by people who have experienced them."
A sense of authenticity brought to the screen through lived experience is also the case for actor Catherine Văn-Davies, who plays a leading role in the series.
Her mother fled Vietnam in 1978 as a 17-year-old.
"If you're from an under-represented background, it's very rare that we get to tell our story, and even though the characters are fictional, it wasn't hard to draw parallels to my own life," Ms Văn-Davies told SBS News.
"I play a second-generation Vietnamese woman, like I am, who has been really removed from her culture and her family.
"It only takes one generation to lose language and so she is on a real quest for identity, which of course I can relate to … it was a real joy to express that."
It's this expression and representation that Ms Văn-Davies says is important to continue fostering on screen.
"Growing up in Brisbane as a mixed-race Vietnamese-Australian, it's really hard when you don't see your likeness reflected," Ms Văn-Davies told SBS News.
"It's about understanding your place in the world and the subtle cues that say, who you are is okay and that you belong. You are part of the Australian fabric."
Starting a conversation
For Ms Văn-Davies, another powerful aspect of the series was its ability connect with inherent Vietnamese experiences and act as a starting point for often taboo conversations.
"To get messages from people saying, I couldn't have a conversation with my Vietnamese parents about the war and we watched the series and now we are talking about it … it's really beautiful," the 35-year-old said.
"We connect over this understanding of who we are."
Described by Ms Văn-Davies as a "beautiful portrait of grief and trauma", it is Hungry Ghosts' representation of history and culture that the cast and crew hope will strike a chord with Australian audiences.
"What you see is group of people from a really diverse age demographic, from different families, different walks of life, celebrating and remembering a Vietnam which actually only exists in memory," Ms Văn-Davies said.
"That's why storytelling is so important, it's a time capsule, it holds culture."