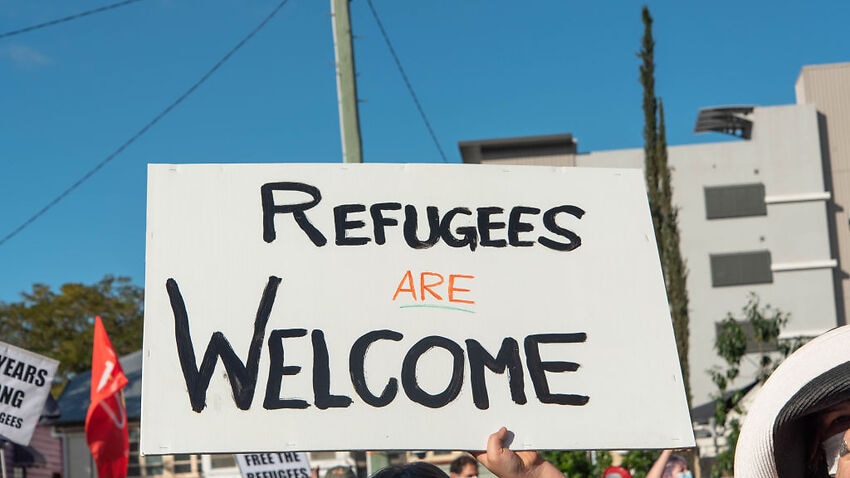 As Australians in some states were celebrating the easing of coronavirus restrictions in September, hundreds of refugees and asylum seekers around the country were reeling in shock.
Amid a pandemic and a treacherous job market, they had been ordered to leave community detention – where they had been entitled to limited financial support and medical care – and told to support themselves.
They were given three weeks' notice to find both a job and a place to live.
Amir* and his wife had been in community detention for one year when they received a letter from the Department of Home Affairs in late September. 
The letter, seen by SBS News, advises them they will be granted a temporary Humanitarian Stay visa valid for seven days after which they can remain in Australia on a six-month Final Departure Bridging E visa before having to leave the country. 
While bridging visa holders can be eligible for Medicare, they have no access to federal financial assistance. While they have the right to work, they are unable to study.
Amir and his wife, originally from Iran, had already spent six years in offshore detention in Nauru. The letter left them paralysed by fear.
"They gave me three weeks' notice. They said you have three weeks to find a job, to rent a house, to buy all the furniture. It was crazy… it was horrible. We felt really bad," he told SBS News.
"My wife had been suffering deep depression while we were in offshore detention and she was slowly getting better but when we received that notice, she got worse again."
The Refugee Council of Australia estimates the Morrison Government moved around 515 men and women in South Australia, Western Australia, New South Wales and Queensland from community detention to final departure bridging visas during August and September.
Previously, many of them had been transferred to Australia from Nauru or Papua New Guinea to address acute health needs that could not be met in detention. 
Another 164 people in Victoria, who appear to have been immune from the changes until now due to strict COVID-19 restrictions, are also expected to be exited from community detention over coming weeks.
Like Amir, they will also find themselves on final departure bridging visas, desperately scrambling for work and a place to live.
Welcoming Australia's campaign manager Kate Leaney says the federal government's three weeks' notice that community detention will cease is ludicrous.
"For individuals and couples, their income support ceases on the date they receive the notice and for families with kids, the support stops at the three-week mark – or six weeks if they are able to obtain an extension," she told SBS News.
"In the middle of a recession and pandemic, three weeks to find a new place to live is challenging for any Australians who have English as their first language and work experience … but it's even harder to find work after being prohibited from working for years."
While lots of people welcome the opportunity to work, many are left "shocked and traumatised" by the timing of the notice, she said.
"There's so much uncertainty, fear and trauma associated with this visa grant."
Through its Step up to Support initiative, which encourages Australians to offer up a room or provide job seeking assistance to those affected by the crisis, Welcoming Australia, along with other agencies around the country, has been able to assist a number into temporary accommodation.
"We're just needing that in-between accommodation that gives people that breathing space to make that next decision," Ms Leaney said.
Amir and his wife, for now, are some of the lucky ones. An Adelaide couple has offered them their granny flat for two weeks.
"They are a lovely couple. We really appreciate them accommodating us and letting us stay," Amir said.
"If we don't get help, we will be homeless."
After being transferred to Australia from Nauru in December 2018 for medical care, Amir and his wife were placed in immigration detention before being moved to community detention in September 2019.
With no work experience in Australia, Amir knew his chances of finding work and being able to rent somewhere to live were slim, particularly during the pandemic.
"I asked the department how they expected me to find a job in three weeks' time and a job that would give me enough money to be able to pay my costs. They told me if I was not happy [with the situation] I could go back to detention. That is exactly what they told me," he said.
Working a couple of casual jobs when he can, Amir says he has no idea where he and his wife will go next.
"We're not looking for free things and I'm working really hard but I don't know if I will be able to earn enough money to rent a house and cover my costs."
Amir's wife has nine years of nursing experience and is desperate to work in her field, but is unable to study on her bridging visa so is unable to re-qualify in Australia. 
Jana Favero from the Melbourne-based Asylum Seeker Resource Center says it's "devastating" that this is happening in the middle of a pandemic.
Ms Favero says "every indication has been given" that as soon as restrictions are eased in Victoria, people will be notified that they will be exited from community detention, but she is unsure exactly when that will be.
Until then, more than 160 men and women in the state, some with children, are living in fear.
"No one has received a letter yet but we're all bracing ourselves," Ms Favero said.
The Asylum Seeker Resource Centre has already seen a three-fold increase in demand for its services due to COVID-19 and she has no idea how the organisation will cope with even greater demand.
"It's created an extra layer of stress and burden not only to the individuals being moved but the underfunded charities who are scrambling to think how they can work together to make sure people aren't homeless and destitute," she said.
Refugee Council of Australia chief executive Paul Power fears the federal government's move to strip financial assistance from refugees will place a huge burden on states, which he outlined in a letter to state premiers in September.
"The impacts will be felt directly in each of these five states, with state government services, organisations funded by state agencies, local government, unfunded community services and volunteer groups left to deal with the social impacts of the federal minister's decision," Mr Power said.
"We fear that these impacts will include destitution, homelessness, child protection issues and risks to community health."
Amir says he holds grave fears for those shortly to receive the letter in Melbourne, giving them notice to exit community detention and placing them on a six-month final departure visa.
"They have to get themselves ready because it's going to be really hard for them to get a job in Melbourne," he said.
He said he would like to find a permanent solution for himself and his wife to stay in Australia or somewhere else.
"All our hopes and our future are at the moment in the hands of the Morrison Government and they are not so kind to us. When I came to Australia I was 31 years old. Now I am 39 and still I have nothing.
"I have a six-month bridging visa so I can't get a long-term plan for my life. Still I can't start my life."
The Department of Home Affairs said people who had exhausted all avenues to remain in the country were expected to leave. 
"A final departure bridging visa allows individuals to temporarily reside in the Australian community while they finalise their arrangements to leave Australia," a spokesperson said in a statement. 
"The government's policy is clear – no one who attempts illegal maritime travel to Australia will be permanently settled here."
*Amir's name has been changed to protect his identity. 
People in Australia must stay at least 1.5 metres away from others. Check your jurisdiction's restrictions on gathering limits.
If you are experiencing cold or flu symptoms, stay home and arrange a test by calling your doctor or contact the Coronavirus Health Information Hotline on 1800 020 080. News and information is available in 63 languages at https://sbs.com.au/coronavirus
Please check the relevant guidelines for your state or territory: NSW,Victoria, Queensland, Western Australia, South Australia, Northern Territory, ACT, Tasmania 
We Thank To Our Readers For Your All Contributes. We Still Seek Your Support In Pandemic CoronaVirus.
Donate Bellow For Better Future
[charitable_donation_form campaign_id=57167]