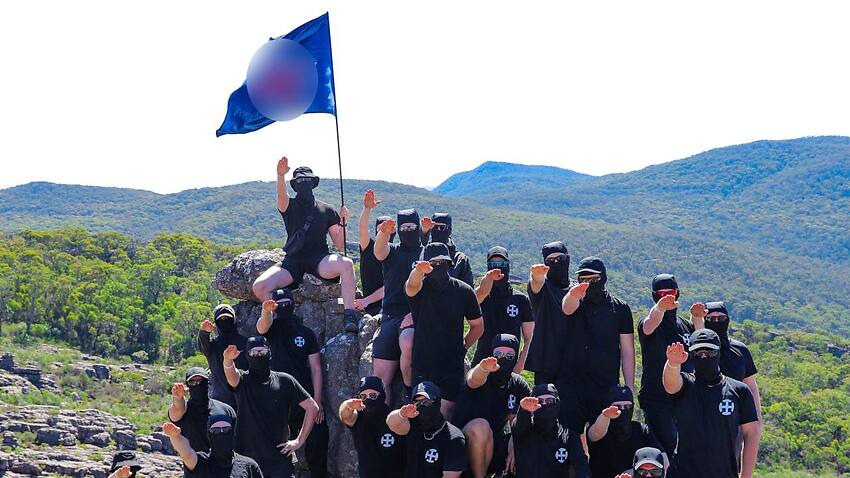 Australia marked two significant events in the past week. 
There were ceremonies for new citizens, a public holiday and rallies against "Invasion Day" on Australia's national holiday of 26 January. 
A day later, Australia marked Holocaust Remembrance Day with a national commemoration for the first time.
These cultural events also coincided with the fringe underbelly of Australia's far-right rearing its head. 
On two separate occasions in the past week, neo-Nazis and far right extremists have emerged in public view, raising concerns that such groups are feeling emboldened to step out of the shadows, and whether authorities can do anything to stop them. 
What happened?
On Saturday, a group of men making Nazi salutes and shouting "white power" descended on the Grampians National Park and reportedly burnt a cross.
One witness described seeing the group of around 20-30 men huddled in a cave near a walking track as he was hiking from Halls Gap.
"As we passed, I caught one of the younger-looking ones, with his back turned to the walking track, proudly throw up a (Nazi salute)," he wrote in a Facebook post.
He said the men were wearing black T-shirts with the Celtic Cross.
"As we got further away I heard them aggressively yell 'Power of the White Man'," he said.
"It was clear we were in the presence of a group of actual fascists, indeed Nazis, out for a training camp and bonding exercise. Young blokes coming together over their shared hatred of others."
On social media, some users reported seeing stickers left by the group that read "National Socialist Network: Australia for the white man".
Then, on Tuesday, a member of the Proud Boys far-right group was detained by police after clashing with protesters at an "Invasion Day" march in Melbourne.
He was joined by several others wearing "Proud Boys" gear, some making the white power hand gesture, after they supported a separate protest against the cancellation of the Australia Day parade.
Treasurer Josh Frydenberg described the presence of the men at the rally as "frightening for us all".
What has been the reaction?
The Grampians incident sent shockwaves through the local community and Australia more broadly. 
Some have raised concerns for the local Indigenous communities, saying they had a right to feel safe in their own neighbourhoods.
The National Socialist Network has reportedly described Indigenous Australians as "subhuman".
The witness said it was "terrifying" to see such groups openly displaying hate symbols, organising and building capacity.
"Recent events in the US should act as a warning here," he added.
Labor's home affairs spokeswoman Kristina Keneally called them "terror's newest faces".
What can be done?
No men at the Grampians gathering were arrested or charged. Local police briefly spoke with the group after complaints from locals but said that no laws had been broken.
Domestic intelligence agency ASIO, which last year revealed that up to 40 per cent of its resources were devoted to right-wing extremism, was also notified of the gathering.
Dvir Abramovich, from the Australian-based Anti Defamation Commission, said such far right-wing extremist groups should be added to the terrorist entities list.
"We do not need to wait for a Christchurch rampage in Melbourne to act decisively in countering this escalating threat," Dr Abramovich said.
"Who would have thought in 2021 Australia, in a week in which we commemorate International Holocaust Remembrance Day, the modern face of Hitler would reveal itself in our state without consequence.
"This group and others, are creating an echo chamber and incubator on the net, taking full advantage of their virtual audience to feed and amplify their vitriolic fantasies about an Aryan Australia, without Jews, Muslims, Aboriginals, the disabled, immigrants, members of the LGBTQI community and anyone else they deem 'inferior'."
Federal Labor has long called for the inclusion of far right-wing extremist groups to be proscribed as terrorist entities.
A federal parliamentary inquiry is looking into how far right-wing extremist groups, as well as Islamic extremists, have changed during the COVID-19 pandemic.
It is currently seeking submissions and due to report to the Home Affairs Minister Peter Dutton in April.