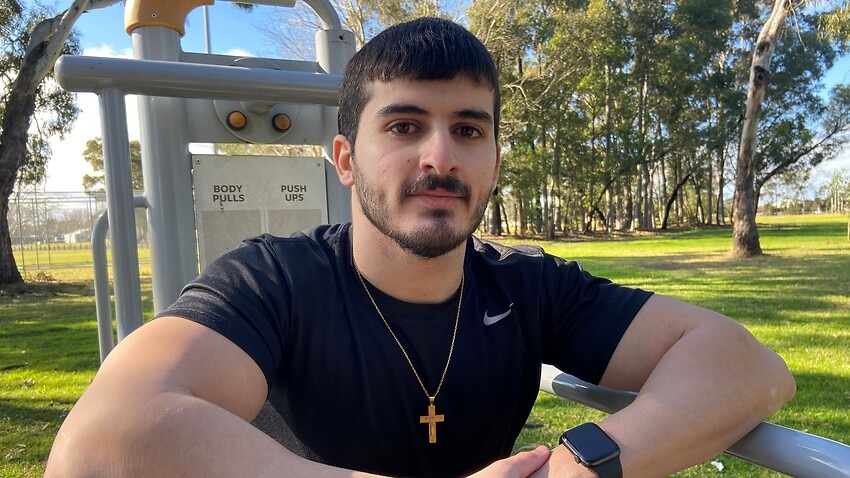 Staying physically fit to keep mentally fit is important to 21-year-old Sam Matty.
He and his family fled war-torn Iraq in 2014 and spent three-and-a-half years in limbo in Turkey, where he hardly left the apartment.
And now at home in Fairfield, in southwest Sydney, it feels like he's back there.
"For the three-and-a-half years it was kind of the same as now, I didn't leave the house if it was not necessary. I stayed at home just watching videos, watching movies," Mr Matty said.
The Fairfield area has been under strict lockdown conditions after being disproportionately impacted by an outbreak of the COVID-19 Delta variant, with locals not allowed to leave until 30 July unless they're essential workers.
Mr Matty said given his experiences in Turkey and during the pandemic, it "kind of feels like my life is in a lockdown for the most part".
"But I believe we're overcoming it … lockdown is necessary for all of us and it's kind of teaching us a lesson for everyone, to value being free, to value going out, to value seeing friends," he said.
Fairfield is home to a large migrant population, with many of them Vietnamese and Iraqi refugees.
As shops have closed and streets have become deserted during the lockdown, NSW Service for the Treatment and Rehabilitation of Torture and Trauma Survivors (STARTTS) has received self-referrals from refugee families who have been impacted by the COVID-19 situation.
STARTTS chief executive and clinical psychologist Jorge Aroche has been meeting with clients through video chat.
He said he was very concerned about some of his clients impacted by the lockdown.
"Many are referring themselves after many years of coping quite well with the traumatic experiences and life in Australia," he said.
"I am very concerned the pandemic is going to have a much longer-lasting mental health impact on the population as a whole and particularly vulnerable groups."
Dr Aroche said stressful situations can evoke negative memories for refugees.
"Many people will have trouble sleeping, feeling more anxious. They may experience very vivid memories … where they see themselves almost back in a situation and that can be very distressing," he said.
"During times of war, the first thing that happens is people rush to supermarkets to try and get things. We laughed a lot at the beginning of the pandemic when people were going to the supermarkets and buying toilet paper and things like that, but it does have a lot of reminders for people who lived through a war situation."
With lockdowns in three states this week, mental health service Lifeline is seeing a record number of calls from across Australia – more than at any time in 2020.
"I understand it is hard to provide with changing conditions and a virus that is hard to stop but people are yearning for a clear level of certainty about the future," Lifeline chairman John Brogden said.
"There is absolutely no doubt people are doing it tougher this year than last year, in part because people thought we had got through the worst of COVID and were heading up and out of a difficult 2020, but we now find ourselves worse off in many cases than we were last time around."  
For Mr Matty, he's studying personal training online, as exercise has always been his coping mechanism.
"Exercising makes you feel better about yourself, it relieves all the stress," he said.
"It is the best way to maintain a healthy lifestyle, maintain a healthy mind, maintain a healthy body."
Readers seeking support with mental health can contact  Beyond Blue on 1300 22 4636 . More information is available at Beyondblue.org.au. Embrace Multicultural Mental Health supports people from culturally and linguistically diverse backgrounds.
Source link