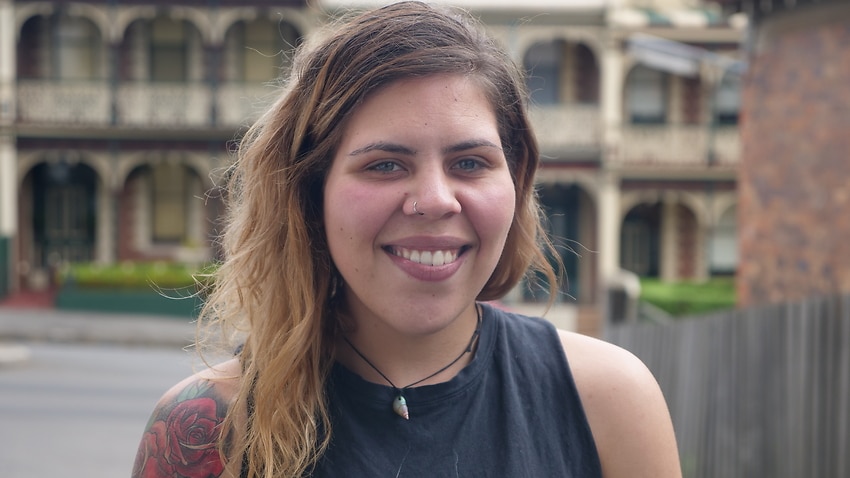 It's almost midday in north-east Tasmania, and Hank Horton is making instant coffee on top of a mountain, surrounded by a group of keen listeners. 
The mountain is called wukalina, which means 'women's breast' in the Tasmanian Aboriginal language palawa kani. The mountain was named due to its shape.
Hank is an Aboriginal man and the lead guide for the wukalina walk; a four-day, three-night bushwalk and cultural experience in the north-east of Tasmania.
When Hank stands on wukalina, he is standing on his own country.
"It's brilliant isn't it?" he said. "This is actually my country, my real country, so I can welcome people and acknowledge those ancestors." 
The wukalina walk launched in 2017. It was the idea of Elder, Clyde Mansell. 
Warena Burgess is the general manager intern of the walk. 
"I believe it's important that the wider community in Tasmania and around Australia learn about Tasmania's history. There is a lot that was forgotten and never taught in schools, but we [Tasmanian Aboriginal people] are still here, and we're still thriving." 
The walk is seasonal, with trips departing from Launceston every Sunday from late September/early October until Easter. About 10 guests can take part in the walk each week.
Throughout the walk, the guides teach the guests about Aboriginal history, language and practices. Guests hear first-hand palawa creation stories and participate in the cultural practices that have been passed down from generation to generation. 
Before the COVID-19 pandemic, the walk was popular with international and mainland Australia guests, but the 2020/2021 season, which began in October, quickly started being booked out by Tasmanians.
"It has affected us quite a bit because of the travel restrictions," Warena said.
"But in a way, it's been good for us because it's given us the opportunity to focus on Tasmania and the community here. Tasmanians should be aware of the country they are on and the history of the people. So I think [the pandemic] has slowed us down a little, but it's also put us forward."
Alan and Heather Gluyas have lived in Kettering, south of Hobart, for about nine years. They decided to do the walk when the travel restrictions came in.
"We've done a couple of little trips to try and support regional Tasmania, but my husband saw this advertised in a big travel thing about different walks and we thought, right, we'll do this one," Heather said.
The couple, who are originally from New Zealand, have always been fascinated by Tasmania's history.
"I've been doing a lot of studying about Tasmania and I'm interested in hearing the perspective of the locals," Alan said.
"There is no doubt that the Tasmanian Aboriginals, like the New Zealand Māori, were horribly done by, and it's very difficult to get an accurate and relevant perspective on how things are, and this should be a good opportunity," he said.
Guiding light
Carleeta Thomas is one of the walk's guides. The palawa woman is almost 21 and before she became a guide wasn't sure what she wanted to do with her life. 
"I never thought I would be a part of anything like this," she said.
"I had a little bit of understanding about my history and culture, but being able to learn through taking people out on country, sharing that knowledge and growing through them, it's been amazing."
Carleeta was born and raised on Cape Barren Island, also known as truwana in palawa kani. She moved to Hobart in 2012 with her family.
"[After school] I didn't know what I wanted to do with myself, but a community member got in touch with Mum and Dad and they put me through the guiding course in 2017," she said. 
By working for the walk, Carleeta has been able to learn how to do cultural practices she didn't know before, such as basket weaving and making shell necklaces.
"My mum and nan weren't able to learn those, and I've been able to teach them," she said. 
Aunty Audrey Frost is an Aboriginal Elder based in Launceston. 
On Sunday mornings, before a new group of guests departs on the walk, she speaks to them and shows them some her woven baskets.
"I make baskets, mats and anything I can think of to work with the fibres," she said.
NITV: How Tasmania's Aboriginal people reclaimed a language
"I absolutely enjoy working with fibres, it's not so much just working with my fingers, it's just a lovely thing to sit, talk and catch-up with people, other community people, other weavers.
"It's very therapeutic, just the smell and the feel and the touch of the plant, to connect with our ancestors, and connecting back to where we originally come from."
Aunty Audrey said she loves sharing her culture with the people who take part in the walk.
"It's a privilege," she said.
"It's lovely to think we're meeting with people who come forward and really want to get to know us as a people, identify us as who we are, and respect us for what we are. And that is just a great feeling. It gives you warmth, you just lose yourself in your stories if you get people that are very interested."
'I love walking and learning'
Belinda Kendall-White has lived in Tasmania since 2001 and has been wanting to do the walk since it launched. 
"I love walking, and learning more about our First Peoples," she said.
"I'm very excited to learn about basket weaving and meeting other people who are also interested in learning these things."
Aunty Sharon is a palawa Elder who lives in Launceston. 
Each Sunday morning before a new walk departs, she is up before dawn preparing the guests' lunches. 
"Everybody who works on the walk is very proud," she said. "Our young guides come alive on country".
"The virus did knock us around because we had to cancel two walks. But before the virus we had guests from New York, Canada … they told us they got to see something they had never experienced before."
Aunty Sharon said she was proud of what the walk has achieved but that it is yet to reach its full potential.
"We're quite proud of it," she said. 
"That's another reason why it has to work – because it's for the community."