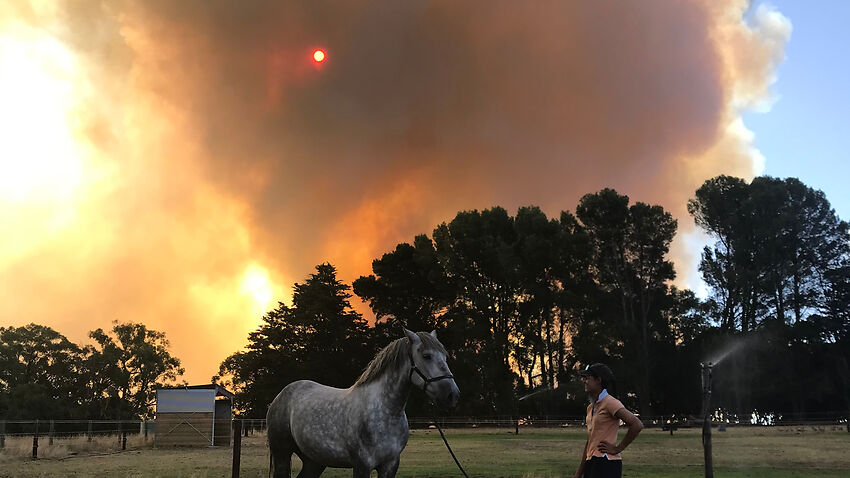 Two homes are feared to be either damaged or destroyed by an uncontrolled bushfire in the hills southeast of Adelaide.
The Cherry Garden blaze sparked an emergency warning on Monday morning, which was downgraded to watch and act by mid-morning.
Residents at nine locations in the Mount Lofty Ranges are being told the dangerous fire may threaten their safety and to leave the area if they're not prepared.
The blaze is burning in a northeasterly direction but difficult wind conditions may cause it to change direction unexpectedly, South Australia's Country Fire Service (CFS) says.
More than 400 firefighters are working to control the blaze, which has burned more than 2500 hectares of land.
CFS deputy state controller Yvette Dowling says teams are assessing damage in the Mount Bold area.
"We've been advised that there's two houses. We're not sure whether they're destroyed or damaged, and there is two sheds," she told the ABC.
"We do anticipate that we will be reporting more than that which has been damaged, but we won't have that until later on."
Adelaide Hills residents are being warned to take care on the roads, with smoke reducing visibility.
Rain is forecast on Monday but it is unlikely to put the blaze out.
"Wind gusts associated with approaching rain and thunderstorms may increase fire behaviour," the CFS says.
"The community is asked to remain alert to the changing conditions."
The fire is expected to be active for at least several days.
Meanwhile, a man is expected to appear in court on Monday charged with starting a bushfire in the Adelaide Hills after speeding away from police patrolling the area.
A patrol car spotted a vehicle speeding away from the fire on Piggott Range Road at Clarendon on Sunday evening.
Police stopped the car and arrested the 60-year-old, who faces charges of causing a bushfire, unlicensed driving and drink driving, and engaging in a police pursuit.
He was refused bail to appear in Christies Beach Court.
The fire was put out by members of the public and caused minimal damage, police said.
Detectives are investigating whether this fire is linked with others in the area.