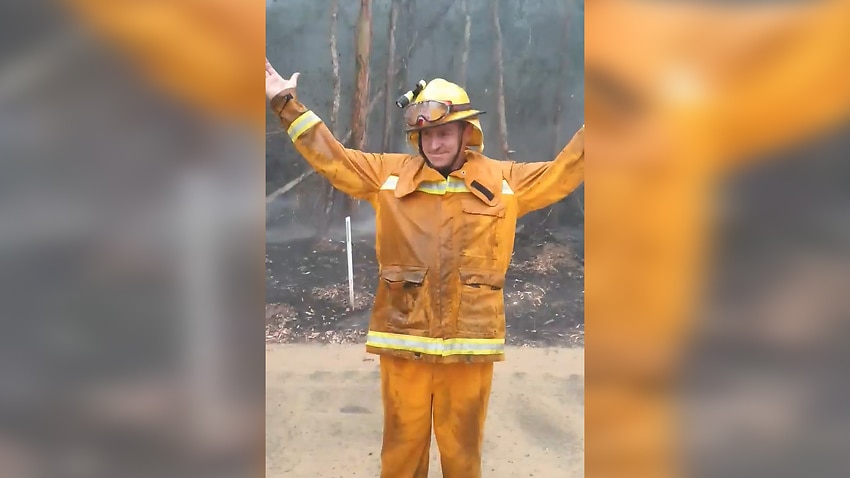 Firefighters are rejoicing after a deluge of rain in New South Wales brought some much-needed relief from difficult bushfire conditions.
A touching video of an exhausted crew dancing alongside happy residents has been shared on social media.
"This is our crew in Rollands Plains in NSW at the moment with some very happy locals who have been on edge for over a month," the post, by Leongatha Fire Brigade, reads.
The clip, from Monday, shows a woman smiling and jumping up and down in celebration.
"This local has also been helping cook meals for all the firefighters and locals that have been forced from their homes for the past two weeks," the brigade wrote.
New South Wales has been suffering from massive wildfires with large blazes also tearing through parts of Queensland.
Another video shared online on Sunday showed two firefighters in the Northern Tablelands dancing and splashing in the rain.
On Tuesday, there were still 83 fires burning across NSW, at least half yet to be contained.
More than 1,200 firefighters and support personnel remain in the field.
But while the storms have helped ease conditions in some regions, the Bureau of Meteorology warns severe thunderstorms forecast this week could bring damaging wind gusts and lightning, causing further challenges for firefighters.
The blazes in this year's bushfire season have killed six people, destroyed about 600 homes and killed more than 350 koalas.