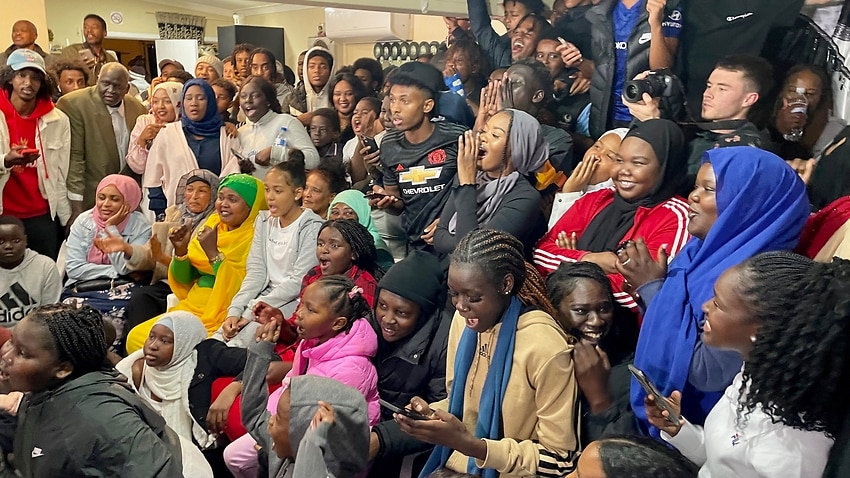 It was an Olympics viewing party unlike any other, for a feat that no Australian had accomplished in 53 years.
More than 100 people crammed into the Perth home of Peter Bol on Wednesday night, to watch him compete in the final of the men's 800m race at the Tokyo Olympic Games.
It was the first time since 1968 that an Australian had qualified for the men's final.
Bol narrowly missed out on a medal, finishing fourth after leading for much of the race. 
"The goal was to win so we didn't get the job done," Bol told the Seven Network immediately after.
"But I'm proud of where we are, we're here and the best part of this is that it has not been a journey just about myself, but having the whole nation behind me."
A large contingent of family, friends and media filled Bol's parent's Perth lounge room to gather around the TV on Wednesday night, creating one of the iconic moments of Australia's Tokyo Olympic campaign.
"We know for (him), it's a downfall. But for us, we're so proud of you," Peter's cousin Nusaiba Adam said.
"We're just looking at the records you broke. I don't know if that's sunk in for you, but it won't sink in for us until you break it again. We're proud of you."
"Win or lose, he already made history. We're proud of him," his cousin Abra Bol added.
Peter's father Abdalla Mador Bol said he spoke to his son over the phone from Perth after the race.
"He is a champion," Mr Bol said.
Bol had run aggressively in his opening-round heat and semi-final in Tokyo and been rewarded with Australian records on both occasions.
He employed the same approach for the final and ran 1:45.92.
"I didn't want to be at the back," he told Seven.
"That's one place you don't want to be, bumping everyone else, so I put myself in the best position. It was tough because you know some of those guys have got better PBs than me.
"I felt strength from the whole nation behind me."
With AAP.
Source link