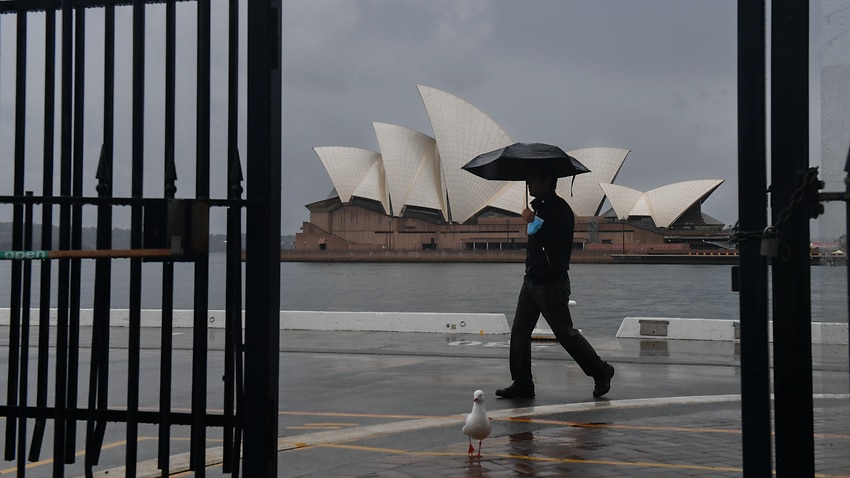 NSW Premier Gladys Berejiklian is expected to announce a four-week extension to the Greater Sydney COVID-19 lockdown on Wednesday.
SBS News understands the Greater Sydney lockdown, which is due to lift on 30 July, will be extended by four weeks to 27 August after the crisis cabinet held talks on Tuesday.
Ms Berejiklian hinted at an extension during her Tuesday press conference, noting that while the actions taken by the government in recent weeks had stopped "literally thousands" of cases, the numbers are still not where they need to be in order to lift the current Greater Sydney lockdown as planned on Friday.
"Are they where we want them to be to lift the lockdown? No, they're not," she said.
"That's why the NSW government will receive the best health advice in terms of what life beyond 30 July will look like."
Earlier, it was confirmed the regional local government areas of Orange, Cabone and Blayney would exit a snap seven-day lockdown from midnight on Tuesday.
NSW records 172 new local cases
New South Wales has recorded 172 new locally acquired COVID-19 cases, its highest daily case total since the start of the state's latest outbreak.  
The new cases in the 24 hours to 8pm on Monday came from 84,486 tests, with 85 of those linked to a known case or cluster. 
Seventy-nine cases were infectious in the community for all or part of their infectious period, while the isolation status of 32 cases remains under investigation. 
There are 169 people with COVID-19 in hospital with 46 in intensive care, 19 of whom require ventilation.
Ms Berejiklian extended her condolences to the families of two women in their 80s, whose deaths were reported on Monday and took the toll from the state's latest outbreak to 10. 
"Unfortunately, they were household contacts that they got the disease from. They weren't vaccinated and my message is to everybody: please come forward and get the vaccine," she said.
"Not only are you protecting yourself but you're protecting those closest to you."
Ms Berejiklian said the state government is yet to finalise some "difficult" decisions on the best settings moving forward, but will make an announcement as early as Wednesday. 
"We've seen around the world [what happens] when you have too many people who've been infectious in the community and you open up too early," she said. 
Apartment locked down in Sydney's west
Of the new cases, 65 are from south-west Sydney while 54 are from western Sydney – where the premier said the virus is becoming more prevalent. She said cases continue to pop up in workplaces among critical workers and in households. 
An apartment block in Blacktown in Sydney's west has been locked down for two weeks after six positive cases were detected in residents.
Around 100 people living in the five-storey building are being urgently tested after the first case was diagnosed in a resident in the Devitt St block on Monday.
Western Sydney Local Health District says all residents are considered close contacts.
NSW Health's Jeremy McAnulty said six COVID-19 cases have been identified in three associated households of the apartment block of 50 units, which is owned by Evolve Housing, one of the largest community housing providers.
WSLHD says it's working with the residents and building management to assess the situation and collaborating with other agencies "to implement measures to address infection control and the health and welfare of residents".
"Food and other services, including daily welfare checks, will be provided to residents safely during their 14-day quarantine period. Tailored support services will be provided to all isolated residents as needed," the statement from WSLHD said on Tuesday.
NSW Police were called by NSW Health on Monday night to guard the building. 
Blacktown is one of the local government areas at the epicentre of Sydney's COVID-19 outbreak and non-essential workers cannot leave, even for work. The other four LGAs include Canterbury-Bankstown, Cumberland, Fairfield and Liverpool.
Meanwhile, NSW Health is urging anyone who visited the Campsie Centre shopping centre anytime from 14 to 24 July to immediately get tested and isolate for 14 days regardless of the result. 
Dr McAnulty said the directive was issued on Monday night after it was confirmed the venue was visited by confirmed cases of COVID-19 and onwards transmission was detected. 
"Over time it was clear that the number of cases had visited the shopping centre there and there was transmission identified at a number of shops," he said.
He said that an outbreak at Liverpool Hospital reported on Monday has spread, with two nurses, a student nurse and eight patients now testing positive for the virus. 
Dr McAnulty said authorities are yet to identify any COVID-19 cases linked to Saturday's protest in Sydney, but urged any attendees to come forward for testing. 
"Whenever we get people in crowds who shouting or yelling, no social distancing, that is a very dangerous situation for the transmission of COVID-19. So, it depends whether somebody with COVID-19 went and therefore transmitted," he said. 
"So far we've seen no indication of any cases associated with that, but we're looking very closely at the cases.
"We would urge anybody who was at that protest to – for the sake of their families, for themselves and the community at large – watch out for symptoms and come forward no matter what your political views are." 
Vaccine rollout changes
Meanwhile, the state is moving to bolster its vaccination rollout with new walk-in clinics, pharmacies and hubs set to offer the AstraZeneca jab.
Ms Berejiklian announced on Tuesday that pharmacists and vaccine hubs in NSW will soon be able to administer AstraZeneca vaccines to anyone aged over 18, in line with updated health advice that states all adults in Greater Sydney should "strongly consider" taking any vaccine available to them. 
"We have increased our presence of pharmacies able to give vaccines in south-west and western Sydney and from tomorrow, over 18s will be able to access vaccines in pharmacies," she said. 
"And from Friday, NSW vaccination hubs will be able to take bookings for people over 18 years of age.
"This is positive news in line with the health advice. So I'm asking everybody to come forward and get the vaccine. We know the vaccine protects against serious illness, but also reduces how contagious you are, and that is really critical moving forward."
It comes after Western Sydney Local Health District on Monday announced new pop-up clinics will be set up across the Merrylands and Guildford area for three weeks for AstraZeneca vaccinations. Anyone over 40 will be able to receive the jab without a GP referral. 
Frontline workers for Woolworths, Aldi, Coles and Metcash in Fairfield, Liverpool, Canterbury-Bankstown, Cumberland and Blacktown will from this week have priority access to the Pfizer vaccine.
This includes workers in supermarkets, warehouses and online retail centres who can't do their job from home. The jab will be available at the Sydney Olympic Park hub.
"This is a significant breakthrough in protecting the health of frontline retail workers, ensuring the community retains access to the essentials of life during the protracted lockdown in Australia's biggest city," SDA NSW secretary Bernie Smith said.
Overnight, NSW Health issued health alerts for more than 20 venues that have been visited by someone infected with COVID-19.
A full list of NSW exposure sites can be found at the NSW Health website.
With AAP.
Source link