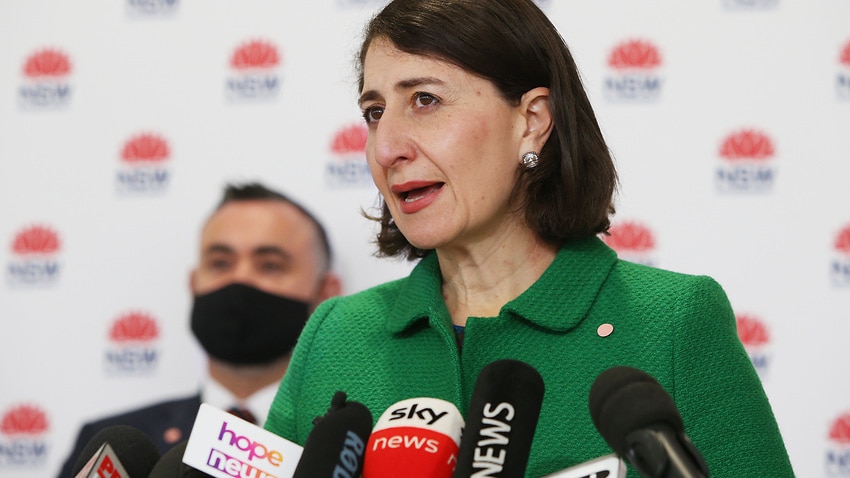 The Greater Sydney lockdown will be extended by at least four weeks.
Authorities confirmed on Wednesday current stay-at-home orders for Greater Sydney, the Central Coast, the Blue Mountains, Wollongong and Shellharbour will remain in place until 28 August.
It comes as New South Wales announced 177 new locally acquired COVID-19 cases and one further death.
"It was fairly obvious, given the way the numbers were going in the last few days, it would have not been possible for us to get out of lockdown tomorrow or Friday," Premier Gladys Berejiklian told reporters.
Of the new local infections, at least 68 of those were infectious in the community for all or part of their infectious period while the isolation status of 62 cases remains under investigation. 
Chief Health Officer Kerry Chant said an unvaccinated woman in her 90s with the virus died overnight at Liverpool Hospital, taking the state's toll linked to the current outbreak to 11. Dr Chant said the woman's death was not linked to a reported outbreak at the hospital. 
On Tuesday, health officials confirmed two nurses and a student nurse at the hospital had tested positive for the virus. The staff worked in the geriatric and vascular wards, with nine patients subsequently testing positive. 
There are currently 165 COVID-19 cases in hospital, with 56 people in intensive care. Twenty-two of those require ventilation. 
The extension will see the lockdown through to nine weeks after the city first entered the severe restrictions.
New restrictions from midnight on Wednesday
The NSW government has announced a series of changes to restrictions, some of which kick in from midnight on Wednesday. 
Ms Berejiklian thanked the community for their patience, saying the government had to "deal with the situation at hand". 
"I appreciate personally what we're asking people do for the next four weeks but it is because we want to keep our community safe and want to make sure we can bounce back as quickly as possible," she said. 
From midnight on Wednesday, Greater Sydney residents must limit their shopping to within their local government area or within 10 km from their home if the item is not available locally. 
Non-essential workers in Parramatta, Campbelltown and Georges River will join five existing LGAs of concern who are not allowed to leave their areas for work. The previously announced LGAs include Cantebury-Bankstown, Fairfield, Liverpool, Blacktown and Cumberland. 
"That localised, targeted response is what we hope will have the desired effect. Having fewer people mobile from those communities we know the virus is circulating," Ms Berejiklian said. 
From 31 July, all essential workers from Canterbury-Bankstown must get tested every three days in order to leave their area for work. 
Ms Berejiklian said Canterbury-Bankstown has become the "central spot" where virus cases are generated, while surveillance testing rules for Fairfield will now be reduced to aged care and healthcare workers as numbers in that area stabilise. 
Construction in non-occupied settings outside the LGAs of concern will re-open as planned on 31 July, subject to one person per four square metres. Low-risk construction sites must have COVID-safe plans in place and compliance will be strictly enforced. 
The state government also announced a singles bubble will be introduced, allowing people who live alone to choose one family member or friend to visit their home. 
Year 12 students also set to return to face-to-face learning on 16 August, as the state government finalises plans for in-class study to resume. 
The government said it is also working with industry and the Department of Education to introduce rapid antigen testing for students when they return. Deputy Premier John Barilaro said a vaccination plan will begin for students in the eight areas of concern, with Pfizer doses redirected from regional and rural NSW. 
"In an epidemic you have to make difficult decisions, and as the Deputy Premier said, can I thank rural and regional NSW for the enormous role they have played in keeping the virus out of their communities, but also please note health advice has changed in relation to AstraZeneca," Ms Berejiklian said. 
NSW Treasurer Dominic Perrottet said the state and federal government JobSaver program would be "significantly boosted" to give greater support to businesses and individuals affected by the extended lockdown. 
Vaccination is 'our future'
Meanwhile, state authorities implored Greater Sydney residents to come forward for vaccination across all age groups in order to stem the spread of the virus. 
Wednesday marks the first daqy adults aged over 18 to 39 can book an AstraZeneca vaccine at participating pharmacies while they can also book with state vaccination hubs from Friday. 
The premier thanks the tens of thousands of people in the state who had come forward over the last few days. 
"It is important that we use the vaccine as a way to assist us; it will be our future in terms of coming to terms with COVID," Dr Chant said. 
"And at a time where we will have to accept that we do have community transmission, we need to get those vaccine coverage levels up. We need to protect our most vulnerable, which is our elderly, for which COVID is a very severe disease, but we need to up our COVID vaccine coverage across all age groups."
 In NSW, 30.4 per cent of the population has now received their first dose of either the Pfizer of AstraZeneca jab. 
Some 13.1 per cent – 1.07 million residents – have received two doses. 
With AAP.