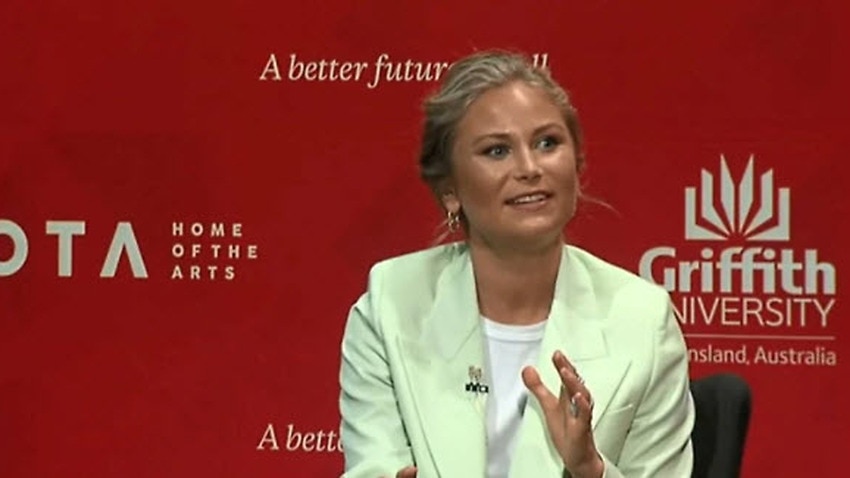 Australian of the Year and sexual assault survivor Grace Tame has criticised Prime Minister Scott Morrison for appointing Amanda Stoker as Assistant Women's Minister, accusing the Senator of endorsing a "fake rape crisis" on university campuses.  
She also said a shift in sexual consent education and culture must "start at the top" in a more than hour-long conversation with veteran journalist Kerry O'Brien on Tuesday evening. 
Senator Stoker was elevated to the portfolio in the frontbench reshuffle this week, but Ms Tame pointed to the politician's support of Bettina Arndt's campaign against university disciplinary procedures for men accused of sexual harassment and violence as traumatising to survivors.
"The new Assistant Minister for Women supported a 'fake rape crisis' tour, aimed at falsifying all counts of sexual abuse on [university] campuses across the nation," she said during the Griffith University event.
"And needless to say that came at a great expense to student survivors who are already traumatised."
In an opinion article published in The Australian in 2019, Senator Stoker described university disciplinary bodies as "kangaroo courts" and called for more rights to be given to people accused of sexual harassment and assault.
"In light of these facts, either the Prime Minister is ignorant of the cultural issues at hand, or he understands them completely, and is making calculated moves to perpetuate them,'' Ms Tame said in a statement posted to Instagram after the talk. 
"If the latter is true, then what we are seeing is further abuse of power, masterfully disguised as progress – the very same psychological manipulation at the heart of these recently exposed evils."
Senator Stoker has also come under fire for her views on transgender issues and anti-abortion stance.
In a statement on Tuesday, a spokesperson for Senator Stoker said she was committed to responding as part of the government to issues affecting women from "all backgrounds and walks of life".
"Senator Stoker is particularly looking forward to contributing to the government's response to issues involving women's equality, women's safety, women's economic security and women's health and wellbeing," the statement said.
Ms Tame also revealed she had spoken directly with Ms Morrison at a morning tea in January – the day before she received the Australian of the Year Award. 
"I spoke directly of the need for a national taskforce, a permanent task force to deal with issues pertaining to sexual assault and he dismissively insisted that such infrastructure already exists and is functioning quite well," she said. 
She added that she has spoken to many politicians at a state and federal level since being named Australian of the Year and the responses have been mixed. 
"A lot of people who are, I feel, genuinely interested in this, in pursuing this at both a state and federal level.
"Others are just saying what they think needs to be said because it is convenient for them. And I am not going to name names."
Earlier this week, Mr Morrison appointed more women to the cabinet in a bid to overhaul the government's image in the wake of a series of sexual assault and harassment allegations. 
Ms Tame said it was important to "remain hopeful" about the changes, but also "be careful not to be naively misled by actions that are quite calculated distractions posing as solutions".
Next month will mark 11 years Ms Tame's grooming started. As a 16-year-old she spoke up after months of being sexually abused by her 58-year-old maths teacher. 
"History, lived experience is our greatest learning resource. [By not speaking up about abuse] we're erasing our potential to move forward. That's violence," she said. 
"When you speak out that is when you start to heal. And that is what we need as humans, connection with other people.
Women around the world voice their hopes for 2021
"And even if you do not report it to police, even if it is [spoken of] with a friend or family member or a therapist and it is in complete confidence. That is so freeing."
She said she had no regrets about joining the two-year legal reform campaign #LetHerSpeak to change Tasmania's law preventing survivors of sexual abuse from revealing their identity and speaking out about their abuse.
"I just lent my story as the catalyst [to the campaign], and then others joined. There were lots of red tape we had to wade through. But it was so worth it."
She said although the discussions around sexual abuse were complex, she believed education campaigns could be tailored for age-appropriate audiences around the six stages of grooming.
"It is really complicated subject, and that is what predators have benefitted from," she said.
"Targeting an individual; lulling them into a false sense of trust; fulfilling a need, a gap in the support system; the isolation drives wedges with genuine supporters; and the sexualisation which is happening gradually.
"And then there is maintaining control to condition you into a state of confusion and guilt over questioning the abuser, let alone speaking out against them."
If you or someone you know is impacted by family and domestic violence or sexual assault, call 1800RESPECT on 1800 737 732 or visit 1800RESPECT.org.au. In an emergency, call 000.
Readers seeking support with mental health can contact Beyond Blue on 1300 22 4636. More information is available at Beyondblue.org.au. Embrace Multicultural Mental Health supports people from culturally and linguistically diverse backgrounds.
Source link