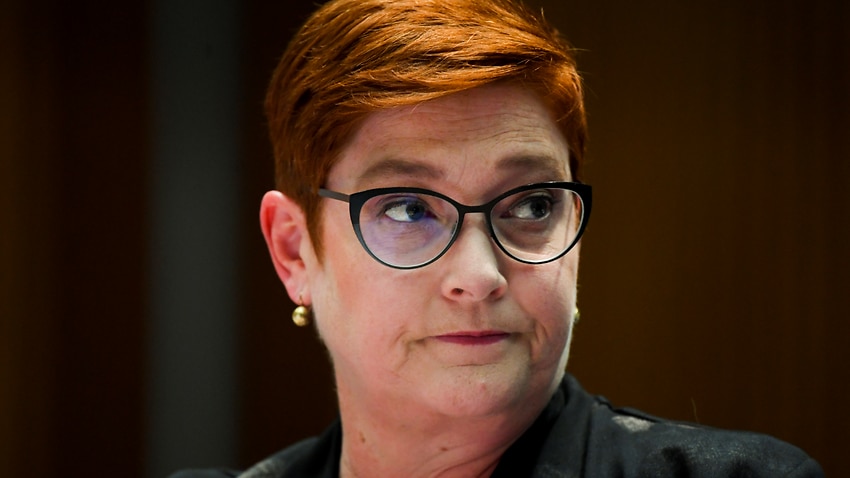 The federal government says it cannot confirm yet whether any Australians were involved in the deadly suicide attacks at Kabul airport.
Two suicide bombers attacked crowds gathered outside the airport hoping to flee Taliban-controlled Afghanistan overnight. Afghan and Pentagon officials say at least 60 Afghan civilians and 12 US soldiers have died.
Foreign Minister Marise Payne said on Friday morning it wasn't yet clear whether any Australians had been affected. 
"We are unable to confirm that at this point in time," she told reporters in Canberra.
"We will contact those for whom we have details and that is why it is so important to register and so important to follow the travel advice that we have issued."
The most current travel advice, as of Friday morning, is to stay away from the airport.
"Do not travel to the airport," Senator Payne said.
"If you are in the vicinity, move to a safe location and provide contact details for consular support as well. I cannot encourage strongly enough the following of that travel advice. I encourage those who are in Kabul, who have not registered with the Department of Foreign Affairs and Trade, to register."
Earlier on Friday, it was confirmed all Australian troops had been withdrawn from Afghanistan and evacuation flights had been terminated.
Defence Minister Peter Dutton said a final airlift was completed on Thursday and all Australian personnel involved in the operations were safe.
"I'm very pleased and relieved that our soldiers have departed from Kabul, and we took the decision to lift the last of our people yesterday, and they are safely in the United Arab Emirates, and I'm very pleased for that," he told the Nine Network.
"I just make that point and if we were to continue in that situation, we would have had casualties now as well. So, in that situation, we can't continue to put our ADF personnel and their lives at risk."
Prime Minister Scott Morrison condemned "the evil, the calculated and inhuman attacks that were undertaken in Kabul overnight on the innocent and on the brave".
"Our hearts sank when we heard this news," he told reporters in Canberra.
Mr Morrison said he had written to US President Joe Biden to "convey Australia's, and my own, personal deep sadness for the loss of those brave American souls".
He said the attack occurred at the Kabul airport's Abbey Gate, where Australian personnel had stood just hours before.
"We were able to ensure the departure of the remaining Australian personnel over the course of last night, not that long before the terrible events that unfolded last night took place," Mr Morrison said.
US evacuations are set to continue, with President Joe Biden giving no indication of a change in the troop pullout deadline of 31 August in an address from the White House on Friday (AEST).
More than 100 former staff of Australia's Kabul embassy who had been waiting for evacuation with their families at the Abbey Gate hours before the explosion occurred are safe. They left the area on advice from Australian military lawyers.
SBS News has confirmed all 147 of them are accounted for by their Australia-based legal team.
"They were right there," advocate Kay Danes told SBS News.
"We told them to 'go home, go home'."
An Afghan who worked with Australia in Kabul as a chef said he had been waiting near the airport gate all day, but left an hour before the initial blast.
"Thank God, I am ok," he told SBS News.
Australia has in total evacuated 4,000 Australian citizens, visa holders and foreign nationals on military flights since the Taliban takeover.
Mr Morrison conceded it would now be difficult for Australians and visa holders to escape from Kabul on British or US military flights, which are still operating, because they'll be focused on the safe drawdown at the airport.
"To be honest, the opportunities for that will be very restricted," he said.
"We are in the final days now with the United Kingdom and the United States and their priority will obviously be on their tasking, not only for those that are still bringing out, but the safe evacuation of their own forces and equipment."
Source link