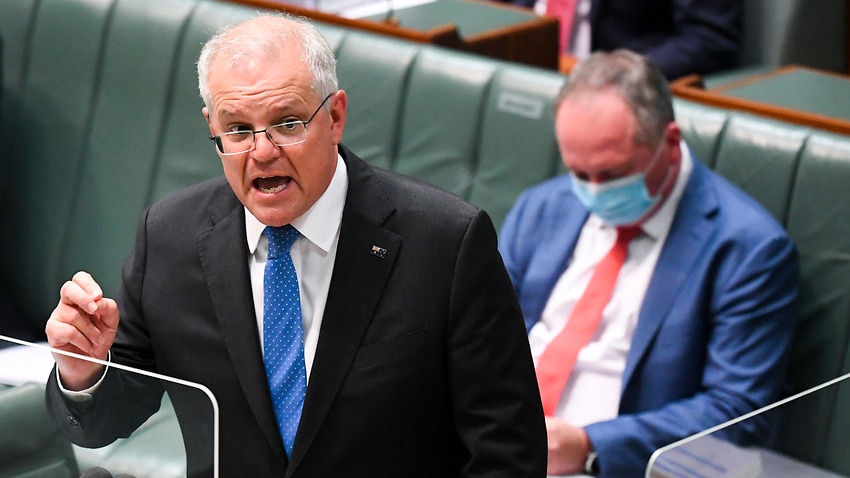 The proposed laws would require voters to present a form of ID, instead of current rules asking people to provide their name and address at a polling station.
This could range from a drivers licence or proof of age card to a passport, Medicare card, birth or citizenship certificate or documents such as a utility bill, bank statement or phone bill.
People who were unable to supply identity could ask another enrolled voter to vouch for their identity or cast a declaration vote, which would ask an individual to provide personal details.
Labor leader Anthony Albanese pressed Prime Minister Scott Morrison over the proposed reform during question time on Thursday.
"Why is the Prime Minister seeking to suppress Australians right to vote and importing Trump-style politics on the eve of an election?" Mr Albanese asked Mr Morrison. 
Opposition Leader Anthony Albanese reacts during House of Representatives Question Time at Parliament House in Canberra. Source: AAP
---
Mr Morrison in response questioned why the opposition would not support laws requiring people to prove their identity to vote.
"People who go to vote should be able to say who they are and prove who they are in a democracy," he told parliament.
"This is [a] policy pursued by Canada. The last time I noticed I didn't see [Canadian Prime Minister] Justin Trudeau looking very much like the former president of the United States."
Asked to expand on this answer, Special Minister of State Ben Moreton said the move had been widely adopted around the world including in France, Belgium, Sweden, and all but 14 states in the US.
"What is it that scares them [Labor] so much about having integrity in our electoral system?" he said
The highly contested issue of voter fraud has historically not gripped Australia to the extent of the United States, where its political divisiveness was on full display following the 2020 US election.
Donald Trump seized on the issue to claim his election loss to Joe Biden had been the result of a "rigged" vote and the victory had been stolen from him.
When introducing the bill to parliament, Energy Minister Angus Taylor declared it would "improve public confidence in the integrity of Australian elections" and "reduce the risk of fraud".
During a fiery debate in the parliament that followed, several Labor MPs voiced their discontent – including Lingiari MP Warren Snowden who described it as "racist, discriminatory and all about suppression."
Mr Albanese also accused the federal government of trying to "bring the politics and tactics of Trump's America into Australian democracy."
"This is a desperate attempt to undermine our democracy," he said.
Greens leader Adam Bandt also criticised the move.
"It's straight out of the Donald Trump playbook – trying to stop First Nations people, young people, people who might speak a language other than English at home, from voting," he told reporters. 
The Australian electoral commissioner, Tom Rogers earlier this week told Senate estimates the evidence of multiple voting in elections is "vanishingly small". 
The Australian Human Rights Commission and Human Rights Law Centre have also raised concerns the bill could disproportionately impact vulnerable groups.
President of the Australian Human Rights Commission Rosalind Crouch said the requirement for voter identification could act as a barrier to people exercising their right to vote.
"Certain groups may not have the identity documents that are necessary so for instance homeless people or possibly Indigenous people in the more remote [communities]," she told SBS News.
She added that the commission did not challenge the "objective" of the legislation but was concerned the "proposed" method was not "proportionate".
"If we have systems in place already to deal with the risk, why do we need this extra step which may create barriers for people?" she said.
Human Rights Commission President Rosalind Croucher appears at a Senate estimates hearing at Parliament House in Canberra. Source: AAP
---
But election analyst Kevin Bonham told SBS News overall "very few voters would have difficulty" meeting the requirements proposed by the government, describing it as "not one of the more aggressive forms of voter ID."
The government will have two weeks to pass the proposed laws during a November sitting period before an election is expected to be called in early 2022.
It earlier defeated a Labor motion to delay debate until 2023 who claimed the rules should be considered following Australians going to the polls.
Source link