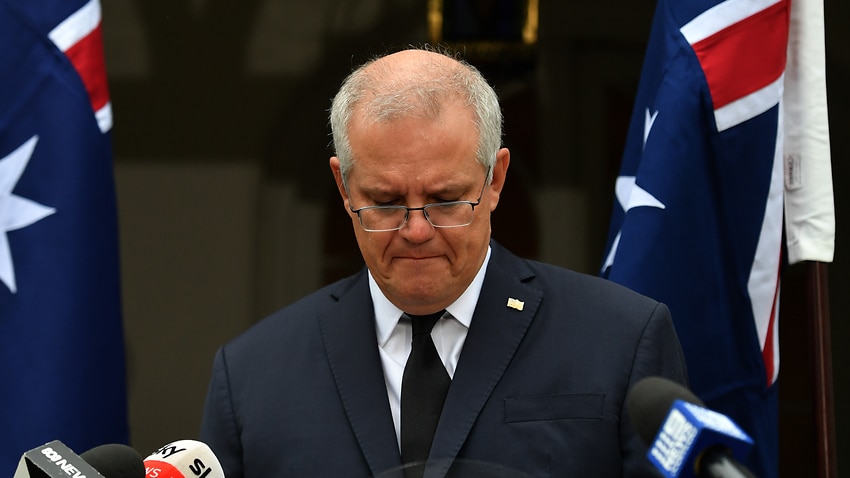 Prime Minister Scott Morrison has paid tribute to the late Prince Philip as a "towering figure" whose life was one of duty and service, as he announced a 41-gun salute in the nation's capital to mark the Duke of Edinburgh's death.
Australians will also be able to pay their condolences to Queen Elizabeth through an online registry with their messages to be passed onto the monarch, he added.
Addressing the Queen, Mr Morrison said Australia, as well as the rest of the Commonwealth "family" joined in her sorrow and mourning.
"Today, we think of our Queen. While your strength and stay, your Majesty, may now have passed, Jenny and I pray that you will find great comfort in your faith and your family at this time," Mr Morrison said.
"But we also, your Majesty, say to you as a Commonwealth, let us also now be your strength and stay, as you continue to endure, as you continue to serve so loyally and so faithfully, as you have done over so many generations.
"She has been there for us over such a long time. Let us be there now for you, your Majesty, and allow us to send our love to you on this, I am sure, one of your saddest days. I am sure her Prince would join me in saying, God save our gracious Queen. Long live our noble Queen. God save our Queen."
The prime minister recalled how the Duke comforted bushfire victims in 1967 in Tasmania and visited Australia more than 20 times.
Australians knew of the Duke's loyalty and commitment given his patronage of 50 organisations Down Under and his legacy of under the Duke of Edinburgh Award program, he said.
"There are many towering figures that the world has lost and known, but few have been before us in our lifetimes for such a long time," the prime minister said.
"His presence and service a reassurance, a reminder of the stability we so often need to a world that can be so uncertain."
Mr Morrison said there would be a 41-gun salute in Canberra on Saturday to mark his death, while Australians could send a virtual message to the Queen through the website of the Prime Minister's office.
The messages will be sent to Buckingham Palace and archived by the Commonwealth and could be displayed at the National Library of Australia.
Source link