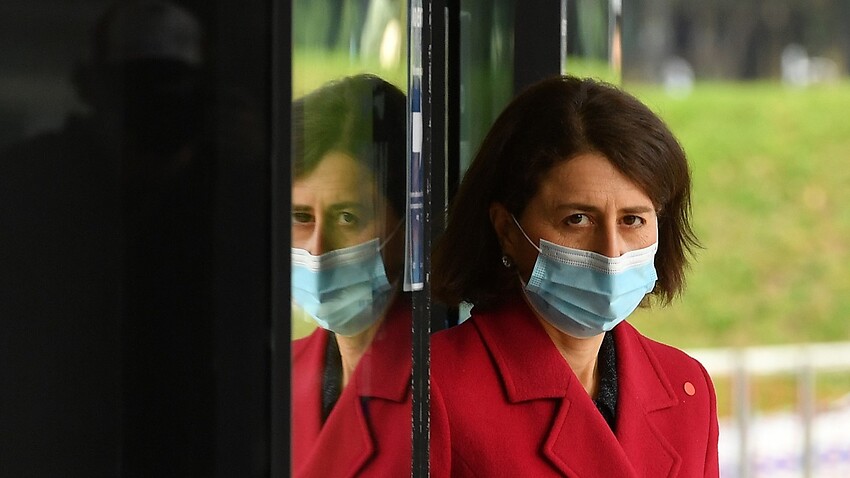 Authorities have warned Greater Sydney residents may have to wait until next week before COVID-19 cases begin to ease.
New South Wales has recorded 110 new local coronavirus cases out of a record number of 83,477 tests, as Premier Gladys Berejiklian said the state won't see the impact of harsher restrictions for several days. 
Of the new cases in the 24 hours to 8pm on Tuesday, 43 people were infectious in the community and 17 were in isolation for part of their infectious period, while the isolation status of 13 remains under investigation. 
Ms Berejiklian said the new infections are a "high number but a number which reflects the high amount of testing we had". 
She added that the numbers reflect the actions taken across the state, as residents of Greater Sydney, the Blue Mountains, Central Coast, Wollongong and Shellharbour endure their fourth week of a lockdown. 
"Had we not taken any actions that we did, those numbers today would have been double, triple, four times what is is," she said. 
"The simple message is this is really serious," Ms Berejiklian said.
"We have done well to stem the growth that other countries have seen around with the Delta strain. Our vaccination rates are so low and yet we've done really well to stem the virus. 
"What we need to do now is quash it, because with the vaccination rates the way they are, we won't be able to live freely and safely unless we're able to quash this current outbreak."
Meanwhile, The Palms aged care facility at Kirrawee, in southern Sydney, has confirmed a positive COVID-19 case among its staff.
A statement on the facility's website said most residents were fully vaccinated, and all would be treated as close contacts while the situation was assessed in more detail.
'We need to wait'
The premier would not be drawn on whether the current lockdown will lift on 30 July, as planned, saying "we will consider what restrictions can be eased from 30 July based on the health advice we have at the time". 
Instead, she called for patience, saying the state would not see the impact of harsher restrictions introduced this week for several days. 
Monday marked the first full day since tough restrictions were enforced across Greater Sydney under a new public health order, including a pause on construction. 
"I would love a crystal ball. What we do know based on the health advice is the decisions we have to take to quash this and reduce community transmission and that is why all of us have to be patient," she said. 
"We need to wait until at least the weekend and early next week to see the impact of those harsher restrictions."
Of the new cases, 54 are linked to a known case or cluster, 40 are household contacts and 14 are close contacts. The source of infection for 56 cases is under investigation. 
Since the Greater Sydney outbreak began on 16 June, there have been 1,528 cases and five people have died. 
Ms Berejiklian said the consistently high number of cases in the Fairfield local government area is now spilling into the Canterbury-Bankstown LGA. 
NSW Health has extended its advice on surveillance testing to include health and aged care workers who live in the Canterbury-Bankstown LGA.
From Friday 23 July, NSW Health executive director Dr Jeremy McAnulty said these workers will be required to get a COVID-19 test every three days in order to leave the area for work. 
Dr McAnulty said COVID-19 cases are now also increasing in western Sydney. 
He urged vigilance in areas including Cumberland – particularly Merrylands and Guildford, Belrose, Toongabbie, Seven Hills, Mount Druitt, Rooty Hill, Lakemba, Fairfield and Wollongong. 
There are currently 106 people admitted to hospital with COVID-19, with 23 in intensive care and 11 who require ventilation. 
"This shows how serious this disease can be for some people," Dr McAnulty said. 
'We made a decision to act fast, hard and local'
Meanwhile, residents in the Central West NSW local government areas of Orange, Blayney and Cabonne have entered a seven-day lockdown after a COVID-positive delivery driver from Sydney visited the area and infected another person. 
Dr McAnulty said the person travelled from Sydney to Blayney for authorised work, and completed four overnight trips between 13 and 17 July while potentially infectious. They were in Orange while infectious on 17 July.
NSW Health on Tuesday night announced the stay-at-home orders to be introduced from 12:01am on Wednesday. 
Deputy Premier John Barilaro said the state government "made a decision for the first time to act fast, hard and local". 
"This decision was made to make sure we protect those communities," he said. "It's a reminder to everybody that we in regional and rural NSW aren't somehow not going to be impacted by the current Delta strain."
Orange Mayor Reg Kidd said the sudden decision was made after health authorities contacted the three town mayors. 
"It was not an easy decision … but you have to think of the bigger picture," he told the ABC on Wednesday.  "This is the best way that we have got to try and nip things in the bud." 
Source link