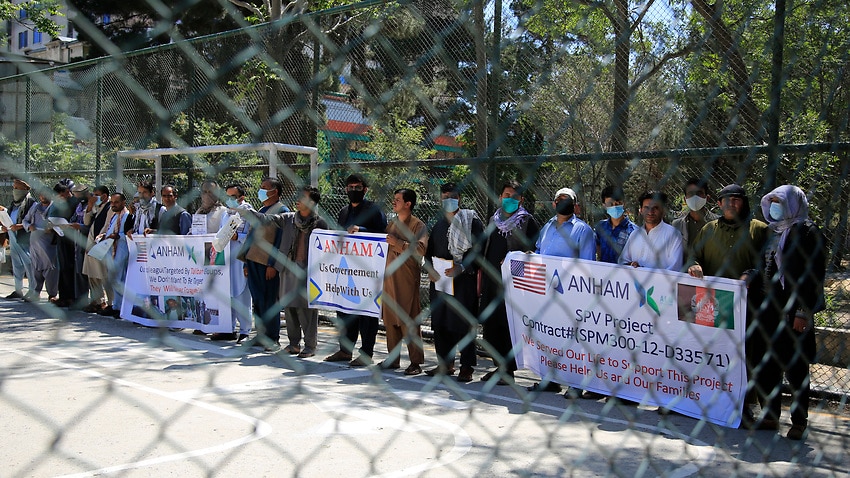 A group of former senior Australian diplomats and prominent academics have resorted to a public petition to push the federal government to do more to help Afghan staff who served with defence forces and agencies in Afghanistan.
The figures, who include former Labor foreign minister Gareth Evans, former ambassadors to Vietnam Michael Mann and John McCarthy, and former China ambassador Stephen FitzGerald, are urging Prime Minister Scott Morrison to institute an "urgent solution" to assist locally engaged Afghan employees with their visa applications.
"His failure to do so is likely to result in many deaths which he, his colleagues and our fellow Australians will have to live with for the rest of their lives," the petition reads.
The group says the government risks repeating the "same error of judgement" made by the Whitlam government which "abandoned local staff" as Cambodia and Vietnam fell to communist forces in 1975.
Mr Mann told SBS News he doesn't want a repeat of what happened in Vietnam and Cambodia when many of his local colleagues were abandoned, and some Cambodian staff left to die.
"They all died except two, of all 78 of them," he said.
"So that's why I feel so strongly about it because my friends … were killed by the Khmer Rouge.
"By bringing these Afghans to Australia to resettle, it's a legacy for those people who died."
The group wrote a letter to Foreign Minister Marise Payne in early June but resorted to the petition after a "disappointing" response signed by someone who didn't put their name on the letter, Mr Mann said.
The letter outlined that a process was in place and applications would be considered on a case-by-case basis.
The federal government insists it is urgently processing visa applications under the special Afghan locally engaged employee visa program but all applicants are vetted for security, accuracy of their claims of harm and identification purposes.
So far, 1400 have been resettled in Australia with dozens arriving in the country in recent weeks, amid the withdrawal of all coalition forces.
Afghans who worked with Australian forces and agencies fear reprisal attacks by the resurgent Taliban, which has made significant territorial gains in recent weeks, because they are considered "traitors" by the militant group.
The former diplomats in the petition say the Afghans face "insurmountable problems" with the application process given the closure of Australia's Kabul embassy, fearing many will be murdered waiting for the lengthy approval process.
Defending the government's stance, Defence Minister Peter Dutton said he was not going to fast-track applications that could bring somebody with "question marks" to Australia.
"If that person, as the intelligence might indicate, he has been working for the Taliban or has questionable, you know, work history since that time, there's a lot of time and a lot of circumstance that's elapsed in Afghanistan between 2012 and 2021," he told Sky News on Monday night.
"We might decide that that person is not of good character anymore, and there is a doubt about whether we should bring them to Australia.
"We aren't going to compromise the security arrangements and checks that we've got in place."
Mr Mann said many of those who worked with Australia would already have had security checks done prior to their employment.
"If you're employing somebody, you wouldn't employ someone of bad character who would not necessarily pass, you know, the security tests.
"We want good people in Australia but on the other hand, we also have to ensure that people we have an obligation to should be settled in Australia."
Mr Mann said it was unclear how many others are still waiting for their applications to be process, and the government should outline how many remain on the waitlist.
Source link