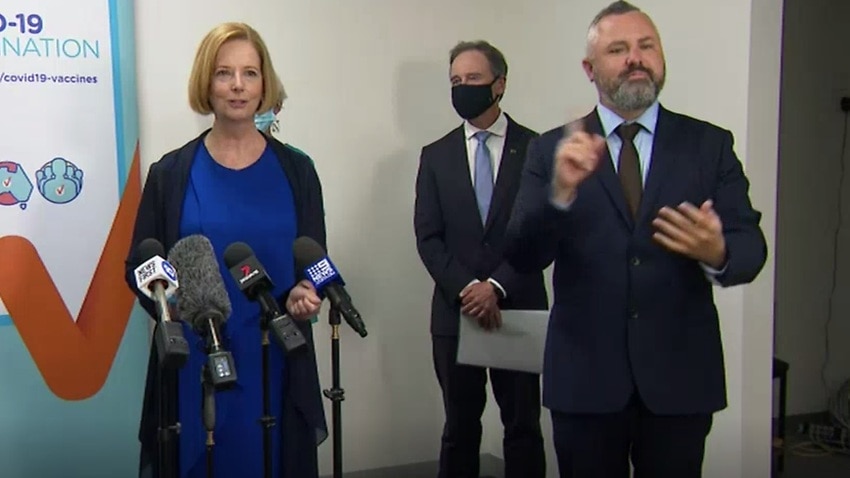 Pregnant women are being encouraged to seek information about the coronavirus vaccine from their doctor and not social media. 
Former prime minister Julia Gillard has encouraged women concerned about getting the coronavirus vaccine to seek information "from the scientists and not from the social media influencers". 
The chairperson of the mental health group Beyond Blue was among the first in Australia to receive the AstraZeneca vaccine on Sunday. 
She joined Health Minister Greg Hunt and Department of Health secretary Brendan Murphy in getting the first dose at a Melbourne clinic. 
She acknowledged that a higher number of women are represented in the group of Australians in the vaccine hesitancy category, and said the best way to combat that is to avoid misinformation on social media. 
Healthcare Australia CEO stood down following incorrect COVID-19 vaccine dosages in Brisbane
"Being thoughtful and cautious is a not a bad thing when it comes to your health. But the best way to answer that caution is to make sure you're getting advice from credentialled sources," she said. 
"And I think what is happening here is that many women who are trying to keep themselves fit and well, probably follow a lot of people online.
"But those people on social media are not the ones to look to when you're trying to work out what to do about the vaccine.
"You do need to be looking at the health lines like the Australian government information, and make sure what [the information] you're getting is from the scientists and not from the social media influencers."
Federal Health Department secretary Brendan Murphy says the advantages and disadvantages to getting the coronavirus vaccine for pregnant women would differ among individuals. 
"There is no evidence that these vaccines are harmful in pregnancy. So if someone has a vaccine and turns out
to be pregnant, we don't need to worry. But we also don't know for sure, we don't have enough data to say that they are absolutely safe in pregnancy.
"There is no reason why they wouldn't be safe technically but we are recommending that people who are pregnant should discuss vaccination with their doctor before they consider it, just look at the risks versus the benefit."
People in Australia must stay at least 1.5 metres away from others. Check your jurisdiction's restrictions on gathering limits. If you are experiencing cold or flu symptoms, stay home and arrange a test by calling your doctor or contact the Coronavirus Health Information Hotline on 1800 020 080.
News and information is available in 63 languages at sbs.com.au/coronavirus. Please check the relevant guidelines for your state or territory: NSW, Victoria, Queensland, Western Australia, South Australia, Northern Territory, ACT, Tasmania.
Additional reporting: AAP
Source link