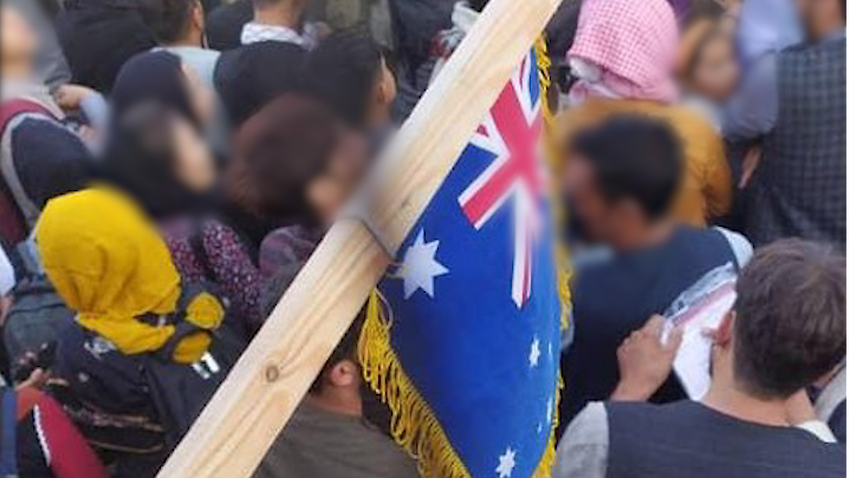 Former Australian embassy guards and their families are continuing to struggle to gain access to Kabul's airport, in their bid to board an evacuation flight from Afghanistan's capital. 
A team of advocates for the group – based in Australia – say the hopeful evacuees have been forced to stand in sewage water since late on Tuesday night, while awaiting help.
An image provided to SBS News shows the guards and their families displaying an Australian flag above them, in order to signal their location to Australian authorities as they wait at the airport.  
The group's advocates say it is the second time the Afghan nationals have gone to the airport perimeter on the instruction of Australia's Department of Foreign Affairs and Trade (DFAT) for evacuation. 
They had been turned away on Tuesday despite having identity documents in hand, after the Australian government had signalled they should proceed to the airport.
Glenn Kolomeitz, who served in in Afghanistan for the Australian Army, represents hundreds of Afghans entitled to protection in Australia.  
He said people on the ground continued to be denied access to the airport despite having valid visas. 
"They need to be let through those gates now – the clock is ticking the government has said that and our people on the ground have heard that," he told SBS News. "Get them through the gates."   
Prime Minister Scott Morrison was asked during Question Time on Wednesday about reports of the guards, who had protected Australian diplomats, being refused entry into the airport.  
"I'm not about to go into operational reports of situations occurring on the ground on Kabul," Mr Morrison told parliament. 
"There are many reports that come from the field that can't be verified." 
Mr Morrison pointed to Australia's evacuation mission, citing that 950 people had been rescued on five flights overnight. This takes the total amount of people evacuated by the Australian government to 2,650.
"Australians are doing everything within their power, right now, to bring vulnerable people out of one of the most dangerous situations in the world," he said. 
'It's completely unacceptable'
The Taliban's ascension to power has resulted in tens of thousands of people seeking to flee from Afghanistan over fears for their safety. 
The United States has cautiously set a 31 August deadline for its military withdrawal – but it's understood the timeframe for Australia's evacuations could wind down ahead of this date. 
Kay Danes is part of a team of advocates trying to coordinate their rescue.  She said she had contacted the Department of Foreign Affairs directly to raise her concerns.
She added that a message sent to her from an DFAT official provided no timeframe on when the group would be evacuated.
"I have identified groups of the guards and families at the gate, they have seen me," the message from the DFAT official purportedly reads.
"The situation is very complex and it may take several hours to bring them through, please be patient as we are dealing with hundreds of families."  
Ms Danes described the situation as "completely unacceptable".  
"You don't come out and tell people fly your flag so we can see you and then just leave them," she told SBS News.
"These evacuations are on a very short time frame. More can be done."  
Home Affairs Minister Karen Andrews on Wednesday said Australian officials were doing the best they could to enable access to the airport.
"We need to see this in the context of the fact that it is a war zone. There are multiple Taliban checkpoints on the way through to the airport," she told reporters.
"Our officials are doing everything that is humanly possible to get as many people through those gates."