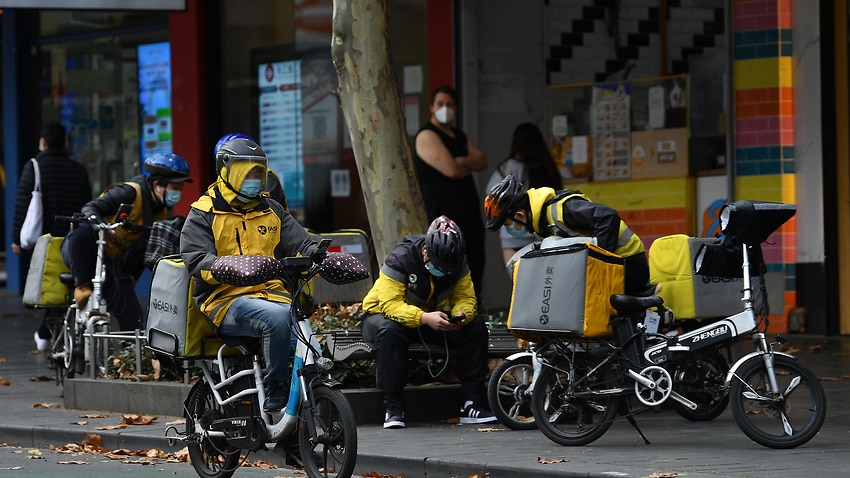 The Transport Workers' Union says it has launched legal action on behalf of a food delivery rider who was allegedly sacked by Chinese food delivery company EASI after raising concerns about worker safety. 
The TWU on Tuesday said it had initiated proceedings in the Fair Work Commission over Lawrence Du's alleged dismissal.
It claims Mr Du was sacked in early August, two months after he started working for the company, and "after encouraging riders to share concerns about safety and working conditions". 
"After reaching out to fellow riders, EASI management called Lawrence a 'fraud' and described messages sent by Lawrence to others about safety 'a scam'," the TWU said in a statement. 
Mr Du claims he was "shocked" by EASI's business practices when he started working at the company. 
"The company pays all its delivery workers below minimum wage, provides no safety for workers, bullies people and terminates anyone who raises an issue," he said.
"When I tried to speak to other workers and the TWU about these issues – EASI called me a scammer and I was terminated straight away."
SBS News has contacted EASI for comment. 
TWU National Secretary Michael Kaine said the alleged incident proved the case for federal regulation of the gig economy.
"When a company can unilaterally sack a worker because they are standing up for safety, you know there's something fundamentally wrong with our industrial laws," he said.
"Delivery riders need an independent body to create and enforce minimum workplace pay and safety standards and hold companies like EASI to account for doing the wrong thing."
EASI says it holds the largest market share of Asian users in the Australian food delivery market. 
The TWU said riders at the company are required to pay $400 upfront before beginning work. 
It claims riders can be terminated if they are found working for other delivery companies and are subject to strict rosters, including when to take lunch and dinner breaks.
A recent poll of EASI riders conducted by the TWU found one in three had been injured at work, and none had received financial support or compensation.
The survey found 40 per cent reported weekly earnings were less than $15 an hour, which is below the national minimum wage.
In May, the Fair Work Commission found a Deliveroo rider should have been considered an employee, not a contractor, giving them entitlements to award rates, sick and annual leave and dismissal protections. 
In a statement at the time, Deliveroo said it planned to appeal. 
Source link