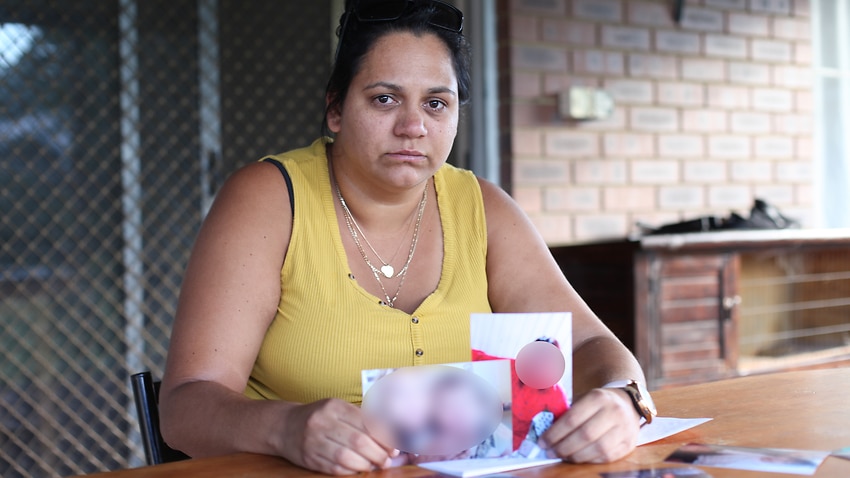 The five-day inquest began in Perth on Monday with testimony from psychiatrists who treated her in the weeks before her death. 
L-R: Ms Wynne's mother Shirley Wynne, cousin Tsheena Cooper and uncle Derrick Cooper. Source: Supplied
---
Ms Wynne presented twice to Joondalup Health Campus during the evening of 24 March 2019, concerned that her 23-month-old daughter had ingested medications.
Hospital staff reportedly observed Ms Wynne behaving erratically, and she appeared anxious and distressed. Her daughter appeared to be in good health, but was taken by Protection and Family Services due to concerns over Ms Wynne's mental state.
Psychiatric registrar Dr Stephen Paparo assessed Ms Wynne around midday the next day and was the first witness called to give evidence on Monday.
"I formed the view that she had psychosis, and due to the report of recent amphetamine and cannabis use, I formed the opinion that it was drug induced psychosis," Dr Paparo told the court.
"However I also thought it might be relapsed bipolar. There were a number of investigations that I was interested in [pursuing]."
Dr Paparo referred Ms Wynne for further evaluation at Sir Charles Gairdner Hospital. However, there was no mental health bed at the hospital available and she remained at Joondalup Health Campus under an involuntary treatment order.
Shortly after 1pm on 26 March, Ms Wynne escaped the facility after a ward clerk used her swipe card to open the doors.
Ms Wynne died two weeks later after falling unconscious while being apprehended by police during an apparent mental health episode on a suburban street.
Joondalup hospital consultant psychiatrist Dr Martin Chapman was the second and only other witness called to give evidence on Monday.
He told the court that no one at the hospital was aware at the time of the incident that Ms Wynne had died, and did not become aware until coronial proceedings began in 2020.
Inquest
Counsel assisting the coroner briefed the court on Monday that the hospital issued an urgent alert only hours after Ms Wynne fled, requesting police to find and return her. 
But the alert was downgraded by a police officer stationed at the State Operations Command Centre days later.
Detective Sergeant Jason Barnes reviewed the Apprehension and Return Order that had been issued for Ms Wynne, and formed the view that it was not valid. He manually changed the order to a welfare check.
Sergeant Barnes is expected to give evidence when the inquest resumes on Tuesday. Sixteen witnesses, including 11 police officers, will give evidence during the inquest.
Authorities did not see Ms Wynne again until police attended her mother's house in East Victoria Park shortly before sunrise on 4 April 2019. 
Several officers arrived at the residence and entered to search for another person. Finding Ms Wynne inside and in an agitated state, police first attempted to question her and then placed her in handcuffs, taking her outside the premises.
Ms Wynne was restrained while police verified her identity and confirmed she had no outstanding warrants. The attending officers did not order a mental health assessment of Ms Wynne and having no concerns for her welfare, police removed the handcuffs and returned her to her mother's house.
A member of the public next saw Ms Wynne outside her mother's house shortly before 7am. Ms Wynne collapsed in the street after inflicting wounds on herself and the witness called St John's Ambulance.
When paramedics arrived, Ms Wynne was conscious. She was hyperventilating and said she felt suicidal.
She was placed in the ambulance to be taken to Royal Perth Hospital. But as the ambulance was departing, Ms Wynne became highly agitated. She removed her restraints and managed to get out of the vehicle via the front driver's door.
When she fled the vehicle, Ms Wynne still had a cannula needle inserted in her arm.
Ms Wynne reportedly ran and walked from Berwick Street onto Hill View Terrance in Victoria Park, removing the cannula from her arm but reportedly holding onto the needle. She ran along the busy Albany highway, causing traffic to slow and diverge around her. 
The first police officers to arrive at the scene were First Class Constable Shaun O'Callaghan and Constable Jessica Rozier around 7:35am. Constable O'Callaghan apprehended Ms Wynne and removed her to the side of the road. 
Sergeant Jace Williams and Constable Emily Regan then arrived in a second vehicle and, along with Constable O'Callaghan, brought Ms Wynne to the ground. The officers attempted to put her in handcuffs, with Sergeant Williams using a pressure point to loosen her grip and remove the cannula needle.
Sergeant Williams reportedly pushed Ms Wynne onto her front, placing his lower leg across Ms Wynne's upper back to prevent her from getting up. When paramedics arrived and tried to speak with Ms Wynne, she had gone limp, her eyes rolled back.
The paramedic could not find a pulse and Ms Wynne showed no signs of life. Police removed the handcuffs and resuscitation efforts lasted nearly 14 minutes before signs of life returned.
Ms Wynne was transported to Royal Perth Hospital where a CT scan confirmed a severe hypoxic brain injury and she was admitted to the Intensive Care Unit. Ms Wynne never regained consciousness and was declared dead on 9 April 2019 after life support was turned off. 
A forensic pathologist later described the cause of death as hypoxic ischaemic encephalopathy and bronchopneumonia in a woman with methylamphetamine effect and exertion with restraint.
Toxicology analysis confirmed the presence of methylamphetamine, amphetamine, benzodiazepines and cannabinoids in Ms Wynne's system. 
Ms Wynne's family waited two and a half years for an inquest to examine and explain the circumstances of her death.
'All about justice'
The early stages of the inquest on Monday were disrupted when a family member became emotional listening to the testimony of what had occurred.
"The family's concerns are all about justice," family advocate and National Suicide Prevention and Trauma Recovery Project Director Megan Krakouer told SBS News outside the court.
"They want to know that … when she was at Joondalup hospital, she was being afforded the same level of healthcare as everybody else."
CCTV and mobile phone footage of police restraining Ms Wynne and subsequent resuscitation attempts are expected to be played to the courtroom. 
The inquest will examine whether more should have been done to prevent Ms Wynne escaping Joondalup Health Campus Emergency Assessment Unit on 26 March and whether it was appropriate for Sergeant Barnes to manually downgrade the subsequent police alert. 
It will also examine police actions at Ms Wynne's mother's house and while restraining her along Albany Highway later that morning were appropriate.
It will also examine whether Ms Wynne's use of methylamphetamine, and her exertion during police restraint, caused or contributed to her death.
Ms Wynne's father died in custody in a police watch house in Albany in 1999 when she was six years old. She had three children of her own.
The inquest continues. 
Readers seeking support can contact Lifeline crisis support on 13 11 14, visit lifeline.org.au or find an Aboriginal Medical Service here. Resources for young Aboriginal and Torres Strait Islanders can be found at Headspace: Yarn Safe.
Source link