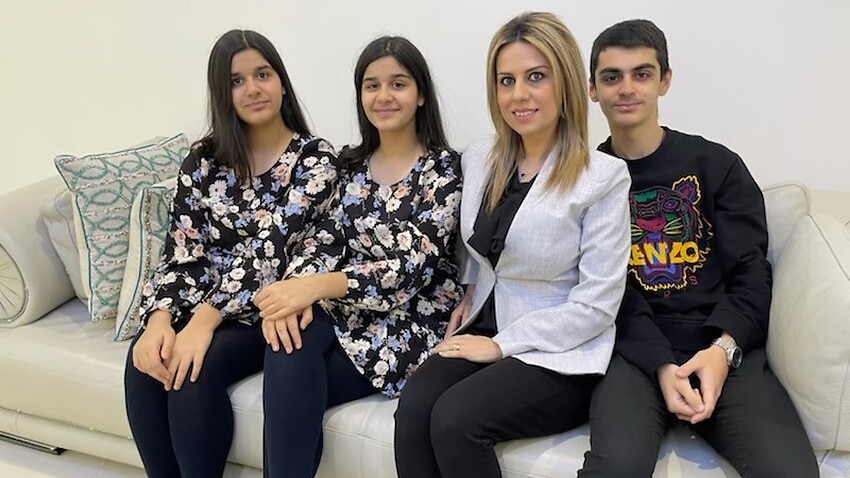 Rasha Daniel has lived in Fairfield in Sydney's west for 16 years since migrating to Australia from Iraq. She has devoted most of her spare time to volunteering in the area. 
The mother of three embodies the focus on community Fairfield is known for.
"I love to help others and do things. That's my passion," she told SBS News.
Dr Andy Marks, director of the Centre for Western Sydney, says the area's community spirit is strong.
"[There are] higher rates of volunteering in Fairfield than most other places in Greater Sydney, higher rates of unpaid care as well, so they're very community-focused and they're very giving and generous," he told SBS News.
But the community of almost 200,000 people is under its strictest coronavirus restrictions to date as the government battles to control Sydney's latest outbreak.
Residents of Fairfield are being monitored by a heavy police operation and – along with those from the local government areas of Liverpool, Canterbury-Bankstown, Cumberland and Blacktown – are not allowed to leave their LGA for work unless they are listed as authorised workers.
"It's very tough, very hard seeing everyone especially now at home. On top of that for three days now, non-stop, helicopters are going around day and night," Rasha said.
Fairfield is one of Australia's most ethnically diverse areas. The parents of 78 per cent of residents were born overseas and more than 75 per cent speak a language other than English at home, according to the last census.
It's also home to a large settlement of Assyrian refugees.
The state member for Fairfield, Guy Zangari, says this contributes to the area's vibrancy.
"You're looking at families who have been here for a long long time, generations of migrants, but there are new arrivals as well," he said.
"It's a melting pot. It's a big mix of great people who work hard. It's a very tight-knit community.
"The fact that you've got over 130 nationalities living and breathing with each other every single day … everybody just sees the person next to them as a mate, there are no colours, no religious affiliations. It's your neighbour," he said.
Family and a strong connection to the community are hallmarks of the area. The number of people living under the same roof is on average higher in Fairfield than in Sydney as a whole.
Dr Liz Allen, a demographer at the ANU, says high property prices in Sydney are partly to blame.
"Housing affordability has indeed increased the need for people to combine resources, so we've seen the rise of things like multi-generation households. We're also seeing the rise of adult children at home for longer and of course, those who return home at times of economic stress" she told SBS News.
"Strong social ties and networks make these communities particularly susceptible to something like COVID, which thrives on these social interactions."
The median age in Fairfield is 36, younger than the Sydney average. Full-time workers account for 56 per cent of the community, while 28 per cent work part-time.
The majority of the workforce is employed in supermarkets and grocery stores, hospitals, cafés and restaurants, banking and road freight transport.
It's impossible for most people in the community to work from home, Mr Zangari said.
"If it wasn't for the Fairfield community working very hard in places like Smithfield, Yennora and Wetherill Park in those distribution hubs, let me tell you a lot of people in Bondi, Cronulla and Mosman would not be eating," he said.
Dr Allen says COVID has exposed the area's social inequalities and offers an opportunity for the government to address disadvantages.
"We've overlooked social inequalities in Australia for far too long and we overlook these inequalities and disparities at our own peril," she says.
"I hope that perhaps COVID is that wake-up call that gets government and policymakers to act to ensure that no matter where you live, you have the same access to services and same quality of life regardless of your socio-economic status."
Dr Marks says the government should do better to communicate with the community.
"We know that direct messages to and with communities that are multilingual are the most effective. I'm surprised that we don't have direct in-language messages to communities like Fairfield at the 11am press conferences that the premier runs," he said.
"Western Sydney is at its best when policy is done with it, not to it, and that's what we need to see moving forward. Governments should take this as a lesson," he said.
"These are people in communities that have a high proportion of migrants and refugees who've lived through wars, who've lived through crisis, who know better than most, in fact, better than most in government, how to manage, how to get through that.
"Why aren't we listening to them?"
"Fairfield should be our greatest asset in Sydney, it's not a COVID problem child. It is a great asset that we can learn from," he said.
While coronavirus has robbed Fairfield's streets of its usual character for now, Rasha says its resilience will ensure it returns safely.
"They're a very strong community and I think they will do a good, amazing job."
SBS is committed to informing Australia's multilingual communities about the latest coronavirus developments. Local and international news and information about COVID-19 and vaccines is available at the SBS Coronavirus Portal in more than 60 languages.
Source link