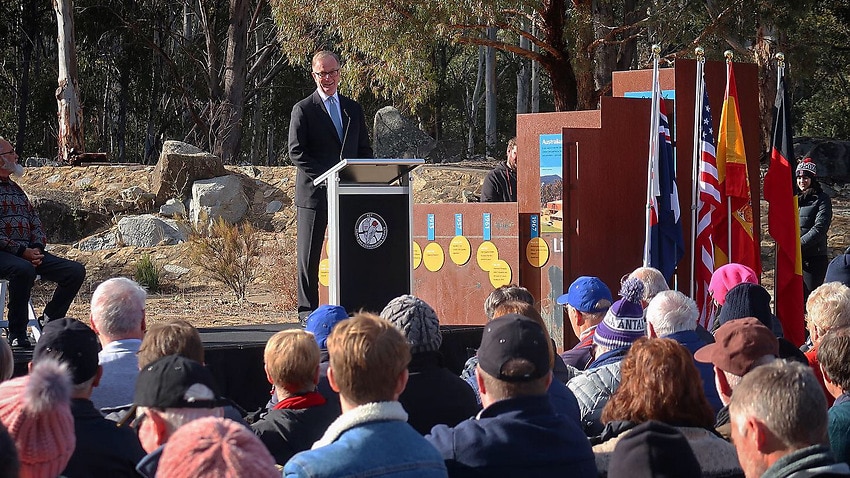 The US ambassador in Canberra has praised the Australians who helped beam the vision of man's first steps on the moon to the world, saying America is "eternally grateful" for Australia's involvement in the Apollo 11 mission.
Arthur B Culvahouse Jr, used one of his first public appearances since being appointed to the envoy post to attend a special 50th anniversary moon landing commemorative event at Honeysuckle Creek tracking station on Saturday.
The station, along with the Parkes receiving dish, helped broadcast the high-quality live feed from the lunar module to NASA, allowing more than 600 million people around the world to witness the iconic moment Neil Armstrong stepped on the moon.
Dozens of people, including former trackers, attended the event in Namadgi National Park southwest of Canberra on Saturday, where vision of the landing was replayed to the audience and a new monument featuring the words "one small step, one giant leap" was unveiled to mark the 50th anniversary.
Australian town of Parkes celebrates moon landing anniversary
Mr Culvahouse Jr said the US would be "eternally grateful" for the role Australia played in beaming the vision of man's first steps on the moon.
That partnership remained a cornerstone in the relationship between the two nations, he added.
"If not for Australia, those 600 million people would not have seen that iconic footage," he told the crowd.
"And if not for Australia, nor would they have heard Neil Armstrong's iconic words.
"You have shown through human ingenuity and hard work we can accomplish what seems impossible."
Adelaide-born former NASA astronaut Andy Thomas said the mission helped inspire his career.
He remembered as a child feeling an "incredible sense of pride" being an Australian watching the footage on TV.
"I remember watching it and like everyone else I was enthralled by it and I thought at the time: 'Wouldn't it just be amazing to be an astronaut and fly in space'.
"But for a kid growing up in Adelaide, what are the odds?"
Mr Thomas said the future would be just as exciting, pointing to Australia's new space agency and NASA's planned mission to Mars in 2020.
"As we look upon Apollo 11 as the defining event of the 20th century, human footprints on Mars will be a defining moment of the 21st century.
"And there will one day be [people] honouring that, perhaps with the Australian involvement."
At the Parkes Observatory, hundreds including children and families turned up to celebrate the 50th anniversary and tour 'The Dish' that helped broadcast man's first moon steps.
It is expected more than 5000 people will attend the two-day event at the observatory this weekend.