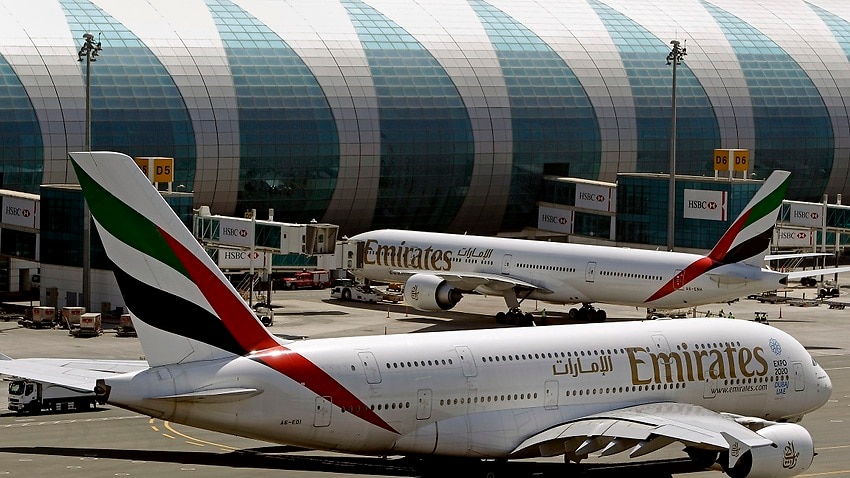 Emirates will resume flights to Sydney, Melbourne, and Brisbane from early next week, days after the airline announced it would cancel services to Australia due to caps on international arrivals and restrictions on staff.
The decision to suspend services "until further notice" last week left thousands of Australians stranded overseas and forced the government to charter another 20 flights to bring them home. 
Around 38,000 Australians stuck overseas have told the Department of Foreign Affairs and Trade they want to return.
The United Arab Emirates carrier is one of the few airlines still flying to Australia amid caps on returning overseas arrivals and an international travel ban that has been in place for more than a year.
Prime Minister Scott Morrison announced earlier this month the decision to temporarily halve the number of hotel quarantine spots available to returning travellers each week, while authorities work to halt the spread of a more-infectious COVID-19 variant. 
A reduced cap of 1,505 travellers a week to New South Wales, 512 to Western Australia and 500 to Queensland will be in place until it is reviewed on 15 February.
In a statement on Friday, Emirates blamed its decision last week to temporarily halt flights on the pandemic which has "made international flying incredibly challenging" and the "dynamic restrictions and requirements implemented by the different state authorities in Australia".
"This led us to temporarily suspend passenger services while we engaged with various stakeholders regarding crew protocols and other operational details," the spokesperson said.
Under the new protocols, Emirates crew will be forced to undergo a COVID-19 test in their homes 48 hours prior to the scheduled flight departure and self-quarantine from the moment of testing to the flight.
They will then undergo a second test on arrival in Australia before entering hotel quarantine. "This effectively means that our crew are in a 'bubble' from 48 hours before their flight, until they return to Dubai," the statement read.
"This is an added burden for our crew as individuals, for our rostering, and operating costs, and therefore this decision [to resume flights] was made after careful review and consideration.
"We are grateful that our wonderful crew teams are very understanding and supportive, which has enabled us to quickly restart passenger services."
Flights to Sydney will resume from 25 January, Melbourne from 27 January and Brisbane from 28 January.
Australians hoping to return home from overseas last week lamented Emirates decision to cancel their flights, describing flights cancellations as a daily occurrence.
"It's a shock to the system, but it's not a surprise. Cancelled flights are a daily occurrence now for Australians over here," Ryan Sims, 26, told SBS News from Poland after his flight home with Emirates was cancelled.

"The real frustration is with the Australian government. We are a year into the pandemic and people are still saying they can't find places for Australians to come home."

In a statement last week, a DFAT spokesperson said their "highest priority" was helping vulnerable Australians overseas. "Since March, DFAT has helped over 38,800 Australians return on over 500 flights including over 12,600 people on 91 Government facilitated flights," they said.
"Further facilitated flights to support the return of vulnerable Australians overseas are planned for the coming weeks from the United Kingdom, India, United States and other countries."
People in Australia must stay at least 1.5 metres away from others. Check your jurisdiction's restrictions on gathering limits.
If you are experiencing cold or flu symptoms, stay home and arrange a test by calling your doctor or contact the Coronavirus Health Information Hotline on 1800 020 080. News and information is available in 63 languages at sbs.com.au/coronavirus.
Please check the relevant guidelines for your state or territory: NSW, Victoria, Queensland, Western Australia, South Australia, Northern Territory, ACT, Tasmania.