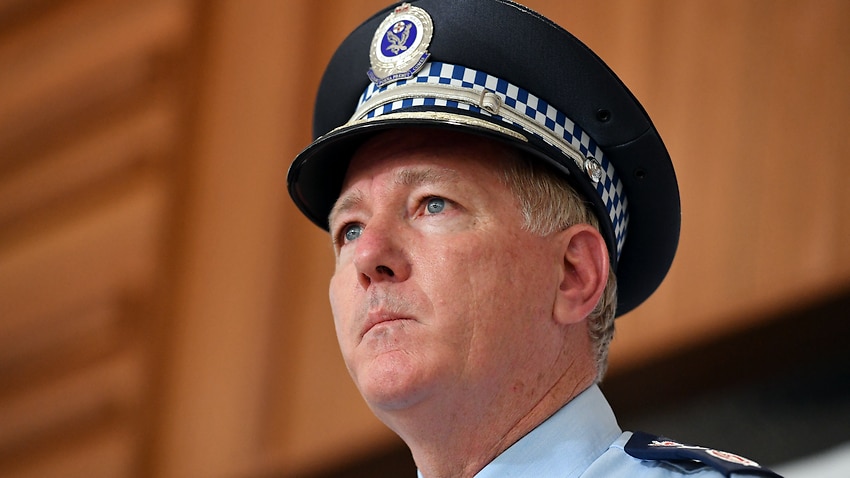 NSW Police said up to 1,000 officers will be deployed to monitor any anti-lockdown protests in Sydney this weekend, as Premier Gladys Berejiklian issued a plea to protesters to avoid giving loved ones a "death sentence". 
NSW Police Commissioner Mick Fuller said police are still pursuing three people for violence at last Saturday's anti-lockdown protest in Sydney's CBD. 
"The strike force from last week has locked up over 60 individuals and issued over 200 infringements. And that will continue so if you turn up, you can expect the same sense of force."
He said up to 1,000 officers will be deployed to stop any protests this weekend and that police have detected online planning for a smaller-scale event than Saturday's protest of about 3,500 people. 
"That force will be mobile and will be waiting for you. You have been given plenty of warning."
Premier Berejiklian said she did not want to see a repeat of last Saturday.
"Can I please warn against anybody taking up illegal activity and protesting," she said. "Your actions will hurt, forget about the rest of us, but you could be taking the disease home and passing it on to your parents, your siblings, or anybody you might have limited contact with.
"Do not give those you love the most a death sentence."
NSW chief health officer Kerry Chant said contact tracers have not identified any "documented cases", but there was a close call. 
Authorities discovered one person who registered interest in Saturday's event later tested positive for COVD-19 a day after the protest. 
She said work is being done to determine whether the individual did end up attending Saturday's protest, after the individual was stopped by police on the way to the protest and issued with a fine.  
She said the implications of any super-spreader transmission are highly concerning. 
"It just is so thoughtless, inconsiderate and the impact on others so great. And we have no latitude with the Delta strain. 
"If that person would have attended the protest, they would have been infectious…We are working through that issue.
"I just cannot contemplate why people at this point in time would think that gathering together in a space, travelling on public transport from all parts of NSW would be in anyone's interest at the moment.
"And I am sure Aboriginal communities would not appreciate having COVID introduced through their thoughtless actions."
NSW Health Minister Brad Hazzard said the possibility that a COVID-19 case went to last Saturday's protest is very troubling. 
"If he went (to the protest), he was effectively carrying a deadly weapon, he was carrying the virus. You have to be crackers to go to that demonstration tomorrow because there will be a lot of people potentially there with a deadly weapon, the Delta virus."
Source link