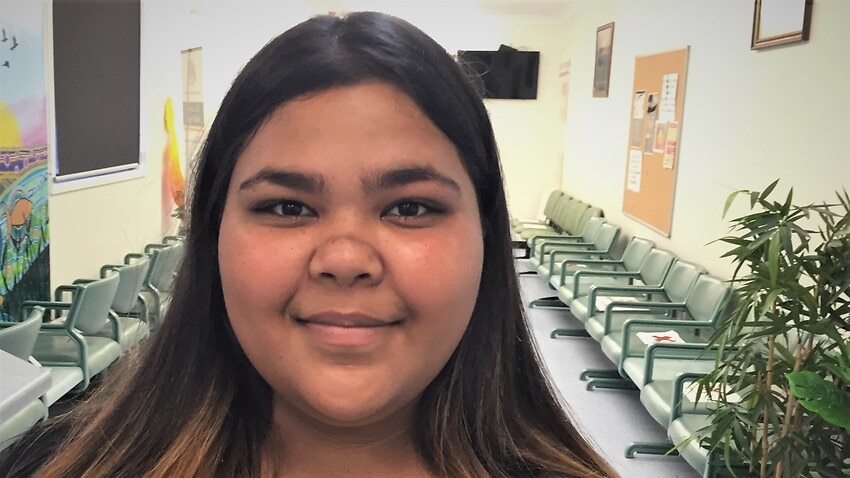 Dayannah Baker-Barlow appears to be a typical 16-year-old studying at a secondary college in northern NSW.
But a potentially fatal disease has changed her life. She can no longer play sport or run down the school corridors with her classmates.
The Gamilaraay teenager has rheumatic heart disease, or RHD.
"It makes me feel sick," she told SBS News at a medical clinic in the farming town of Moree. "I get very breathless."
"It's a very cruel, hard and terrible thing to get," her mother Hannah Barlow said. "She has been in and out of hospital most of her life with it."
Last month, paediatric cardiologist Dr Jascha Kher flew to Moree to treat Dayannah and other RHD patients as part of a new outreach project. 
Examining Dayanna's heart, Dr Kher pointed to a large area of discolouration on the screen, showing where blood is flowing back into the chamber, the result of a damaged heart valve.
"Dayannah had acute rheumatic fever a number of years ago and was left with quite a bit of damage to the aortic valve, which is the valve between the left pumping chamber and the main artery," Dr Kher said.
"It is very important that she doesn't get rheumatic fever again, or she risks having worse heart disease."
Rise in cases
RHD can affect anyone, but in Australia is commonly found among Aboriginal and Torres Strait Islander children aged 5 to 14 and living in remote communities.
Professor Jonathan Carapetis has spent 25 years researching RHD. He is the senior author of the Endgame Strategy for RHD, released in September this year. It aims to prevent 8,000 new cases and 650 deaths by 2031.
"RHD has always been rampant in rural and remote Aboriginal communities," he said. "And to continue to hear devastating stories of young kids developing this preventable disease, developing heart failure and unfortunately dying, that's horrendous in this country."
The top end of the Northern Territory still has the highest rates of RHD, he said, but it is also found in Western Australia, North Queensland, rural South Australia and New South Wales. 
Often misdiagnosed in the past, Professor Carapetis said RHD case numbers are rising due to better detection. 
"RHD is rare among non-Indigenous people, yet Aboriginal and Torres Strait Islander people have some of the highest rates of the disease in the world."
RHD and its precursor acute rheumatic fever, are usually found in developing countries. Its persistence in Australia is an ongoing injustice, he said. 
"We are really uncovering a medical burden that has been active for many years, and is still neglected." 
Fatal consequences
Dayannah knows she is lucky to be alive. 
"When I was seven, I was lying on the bed one morning and I couldn't get up, like I had a stroke down one side," she said.
"We had to rush her straight to Tamworth [hospital]," her mother said. "Then we found out she had rheumatic fever. It was a bit of a shock, we didn't know anything about it." 
Globally more than 40 million people are living with RHD or other impacts of acute rheumatic fever, with hotspots in sub-Saharan Africa, Pacific Islands, South Asia, India and China. 
Starting with a simple Strep A infection of the throat or skin, RHD can be fatal without treatment.
"Strep A is the fifth most lethal bug on the planet, with 300,000 people dying of this disease every year worldwide," Professor Carapetis said.
"We all get sore throats and skin sores like impetigo, often caused by Strep A bacteria," said paediatric clinical nurse Helen Stevens from John Hunter Children's Hospital.
"Unfortunately, our Aboriginal population seems to be more susceptible to an auto-immune response to a Strep A infection."
The immune response produces antibodies that damage tissues in the heart, joints or brain. 
Globally, overcrowding – which allows Strep A infections to spread among family members – is one risk factor for acute rheumatic fever. Poor housing infrastructure, such as inadequate or defective bathrooms and kitchens is another.  
There is no cure and people with RHD need monthly penicillin injections, with children as young as five undergoing open-heart surgery.
"We are in a country that's among the wealthiest in the world, with the best medical care available, yet we are allowing a disease that is entirely preventable to continue killing children and young people in the prime of their lives," Professor Carapetis said. 
Eliminating RHD
The federal government has a commitment to eliminate RHD within the next decade.
"The RHD Endgame Strategy is the result of five year's research and consultation with Indigenous leaders," Professor Carapetis said. "What we need now is funding and commitment to actually do the work on the ground to make ending this disease possible."
He calculated $4.3 billion would be needed to wipe out RHD in Australia. Of that, 67 per cent or $2.9 billion is needed to improve remote housing stock.
While experts work to minimise the causes, Dr Kher, who works at John Hunter Children's Hospital in Newcastle, welcomed an opportunity to fly to regional towns to treat RHD patients like Dayannah.
"I tend to see the more severe cases, where children have significant damage to their heart," he said. 
"RHD has a dramatic impact on a child, as well as the whole family. The patient's life expectancy is quite markedly reduced, not just because of RHD, but their cardiovascular health in general."
Child flight service Little Wings flew Dr Kher to Moree as part of a new outreach project.
Little Wings CEO Clare Pearson said: "During COVID-19, John Hunter Childrens' Hospital contacted us to ask for help flying doctors to regional areas, to protect seriously ill children who are also vulnerable to coronavirus.   
"A lot of children wouldn't be able to access this care otherwise, because of the fear and stress and money involved in travelling to big cities. 
"By flying doctors to regional towns, we hope we are saving lives and supporting families with medical care they couldn't otherwise access." 
The charity provides crucial transport services to children in Australia's regions but struggled to stay airborne during COVID-19. Its fleet of light planes was grounded earlier this year when some funding sources dried up.
As a result of an earlier SBS story, an anonymous donor offered $250,000 which has helped to keep the service going.
"It costs 1.5 million dollars each year to run Little Wings. Although all of our pilots and drivers are volunteers, we could not have functioned without that support," Ms Pearson said.
Volunteer pilot Tom Daniel donates several days each week to fly sick children to city hospitals, or take medical teams to towns in regional NSW.
"Bringing the doctors here to do a clinic really saves them a huge journey by car or even an overnight stay. Now we can do the whole trip in one day," he said. 
"I really hope this trial project expands, because we would like to help as many people as we can."
Little Wings also receives financial support from Newcastle Permanent bank, for the new outreach service.
Professor Carapetis is advocating for an Aboriginal and Torres Strait Islander-led National Implementation Unit to coordinate rheumatic heart disease elimination efforts across Australia.
Without urgent action, he said 1,300 RHD sufferers like Dayannah may require heart surgery to replace damaged valves within the next decade. 
Pregnant Indigenous women are also at risk. Pregnancy puts added strain on the heart and those with undiagnosed RHD may experience heart failure as the first symptom, he said.
"Eliminating RHD is a public health problem in this country. Australians with RHD won't suddenly recover. We have to provide care for them. 
"But our focus now is on stemming the tide of new cases, so that by 2031 no child born today should die of RHD."
The world is watching the way Australia deals with RHD, he said.
"Those countries with populations at higher risk will take our guidance on how to deal with this disease.
"We are committed to being an end RHD community. We now have a recipe to do that. Then Australia has to reach out to our neighbours and say 'let us help you with the problem in your country'." 
Visit rhdaustralia.org.au for more information.