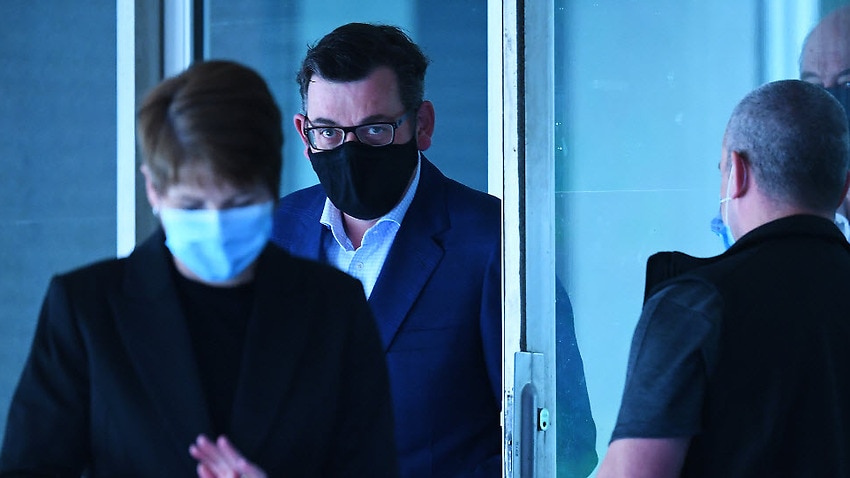 All staff and students from two schools in northeast Melbourne have been told to immediately get tested for COVID-19 after the emergence of further cases.
Victoria on Saturday reported seven new cases of coronavirus, four of them in suburban Preston and one is a student from East Preston Islamic College.
The results have prompted health authorities to direct all staff and students from the college, and from nearby Croxton School, to get tested and self-isolate, even if they aren't experiencing symptoms.
Both schools will be closed for the next fortnight.
Premier Daniel Andrews said he met with numerous community and faith leaders in Victoria earlier this morning, who are reaching out to "hundreds of thousands" of people and calling on them to come forward and get tested.
"Regardless of your background, everybody is in this together," Mr Andrews said at a press conference on Saturday morning. "This virus does not discriminate between different members of the Victorian community."
He also met with East Preston Islamic College's principal, Ekrem Ozyurek.
Mr Andrews rejected the notion that a lack of translators was behind the new outbreak.
He noted 50 per cent of staff speak a second language, adding there is "no shortage in any sense of translator material", and said it is "rare" for people to need that support.
"The vast majority of people can speak English well, but we have that as a safety valve," he said.
"Any suggestion to the contrary is simply not right, and it is not helpful to be casting doubt on the adequacy of the response."
Victoria's testing commander Jeroen Weimar said there are currently 101 close contacts associated with the East Preston Islamic College, and 34 close contacts at Croxton Special School.
Asked whether a translator was used when talking to the family connected to the Preston outbreak, Mr Weimar said he "couldn't comment".
"I can confirm that … certainly some of those family members speak excellent English and we have had an ongoing relationship with them going back to October 6," he said.
"There has been an ongoing daily relationship, contact with that family, around the individual cases, as the infection has moved through different members of the family and our information to them has been very clear.
"We, of course, understand there has been some misunderstanding that led to the child attending school on Monday and Tuesday when they were a close contact and expressly told not to and that child was called in for his Day 11 test on Tuesday."
Mr Andrews said the results of currently pending tests will impact tomorrow's announcement about easing restrictions.
He said it will be a "very late night and a very early morning" for health authorities and pathologists to get test results.
"What we are hopeful of is that there are connections and linkages between these cases and these cases do not speak to the virus being in the northern suburbs more than we had thought, so it is all about trying to find those linkages," he said.
"A lot of people had banked tomorrow as the day where we would have absolute clarity about what the rest of October and November looks like. If we can do that we will.
"But the appropriate thing to do, if you have thousands of tests in the laboratory being processed, you have to wait for the results."
Saturday's statistics included confirmation of 10 cases in the two weeks up to Wednesday which have a mystery source.
The average number of daily cases in the fortnight up to Friday was five for metropolitan Melbourne and 0.2 in regional Victoria.
Already some 800 residents in Melbourne's northern suburbs have been isolating because of the school outbreak.
Warnings have been circulated to workers, including taxi drivers, who might have visited the area.
"Over 22,000 drivers were sent text messages and emails to remind them to get tested," the health department said on Saturday.
Further north, a number of secondary contacts at Sirius College in Broadmeadows and Ilim College are being tested after they were linked to separate close contacts of a confirmed case.
The small surge in cases may threaten the further easing of restrictions planned for Sunday.
Premier Daniel Andrews on Friday said the state was well placed to relax more rules.
The state's death toll remained at 817 on Saturday and the national figure at 905, with only one death in the past week.
"We are confident in where things are at the moment," Mr Andrews said.
"The strategy is working, the trend is with us, the numbers are falling and that is a very good thing."
Sixteen anti-lockdown protesters were arrested in Melbourne on Friday, with 96 fines issued.
The rally began at 2pm at the Shrine of Remembrance and continued for hours, erupting at times in violent scuffles between police and demonstrators.
Protesters called for an end to the state's restrictions.
Penalties were issued for offences including failing to wear a face mask, breaching public gathering guidelines and assaulting police.
Three officers were injured during the protests and one was taken to hospital.
"Police are investigating an incident where several police horses were hit in the face with a flagpole by a man. Thankfully the horses were not injured during the assaults," a spokesman said in a statement.
– Additional reporting by AAP.
People in Australia must stay at least 1.5 metres away from others. Check your jurisdiction's restrictions on gathering limits. If you are experiencing cold or flu symptoms, stay home and arrange a test by calling your doctor or contact the Coronavirus Health Information Hotline on 1800 020 080.
News and information is available in 63 languages at sbs.com.au/coronavirus.
Please check the relevant guidelines for your state or territory: NSW, Victoria, Queensland, Western Australia, South Australia, Northern Territory, ACT, Tasmania.
We Thank To Our Readers For Your All Contributes. We Still Seek Your Support In Pandemic CoronaVirus.
Donate Bellow For Better Future
[charitable_donation_form campaign_id=57167]