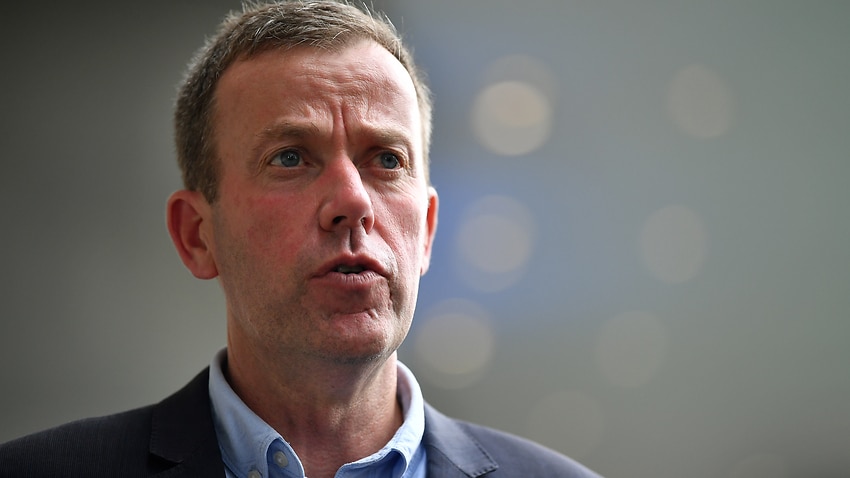 He said efforts through the World Trade Organization (WTO) to work towards increasing the equitable distribution of vaccines remained a priority.
"All members have a real obligation to make sure that they can sit down and put their self-interest aside," he said.
"My hope is that part of those negotiations will lead to an ability for the globe to increase the amount of COVID-19 vaccines they're manufacturing, so we can deal with that unequitable distribution."  
A health worker administers a COVID-19 vaccine in Nigeria. Source: Universal Images Group Editorial
---
Figures from the UN's Data Futures Platform show that in low-income countries just 3 per cent have received at least one COVID-19 dose, compared to more than 60 per cent in wealthier countries. 
Mr Tehan described facilitating the fair distribution of vaccines as a crucial "test" for the WTO.
He added that a campaign to secure support for a waiver on intellectual property rights for COVID-19 vaccines at the WTO was "very much" a part of those discussions. 
"The more we can do to lift production of the COVID-19 vaccines, the sooner the world gets back on its feet," Mr Tehan said.
India and South Africa have led a campaign to change WTO rules to make it easier for low and middle-income countries to manufacture generic versions of the vaccines.
But despite more than 100 countries, including Australia and the United States, offering their support for the change, the measure has so far been blocked from going ahead.
Inequitable vaccine distribution an 'obscenity'
Addressing the annual UN gathering of world leaders in New York, Mr Guterres described images from some parts of the world of expired and unused vaccines in rubbish as a "tale of our times".
"This is a moral indictment of the state of our world. It is an obscenity. We passed the science test. But we are getting an F in ethics," he told the UN General Assembly. 
The United Nations is warning that while wealthy countries are getting the majority of vaccines, poorer countries are struggling to vaccinate even a small number of citizens. 
United Nations Secretary General Antonio Guterres addresses the 76th Session of the UN General Assembly. Source: Pool Reuters
---
For example, UN data shows the number of people in the UK who have received at least one vaccine dose is around 71 per cent, while the US is currently at 65.2 per cent.
In contrast, in Nigeria, a country of 200 million people, just 1.95 per cent of people have received at least one dose. In Pakistan – a country of 216 million – the figure is 12.36 per cent.
In the Democratic Republic of the Congo, just 0.09 per cent of the population has received one dose. In Papua New Guinea and Yemen, the figure is around one per cent and in Venezuela, it is 20.45 per cent.
Some countries, such as Eritrea and Burundi, are yet to begin vaccinations, according to the data.
Quad leaders to discuss vaccine supply
The World Health Organization (WHO) has revealed that the vaccine distribution program COVAX will fall well short of its targets to deliver two billion doses by year-end.
There are now 1.4 billion doses expected to be available for delivery this year.
The director-general of the WHO, Dr Tedros Adhanom Ghebreyesus, has also called on wealthy countries to refrain from offering booster shots to better direct supplies. 
Vaccine supply is expected to be on the agenda when Prime Minister Scott Morrison meets the other leaders of the Quad alliance from the US, India and Japan later this week.  
Scott Morrison meets with US President Joe Biden on the sidelines of the UN General Assembly in New York. Source: AFP
---
Australia has focused its vaccine supply efforts abroad in the Indo-Pacific, sharing more than 2.5 million doses with the region as of September. It has also made a total commitment to share 20 million doses by mid-2022. 
Mr Tehan said he understood Australia had a "key" role to play in the region.
"We'll continue to do that while also looking to support very positively a trade and health outcome at the WTO," he said  
But in June this year, the Australian government was forced to secure 500,000 vaccines from its COVAX stockpile, intended for low-income countries, to address supply shortages. 
Britain made a similar move in the same month.
The WTO's director-general Ngozi Okonjo-Iweala has also described the inequity of vaccine distribution as unacceptable, calling for global action to address the problem.
Source link