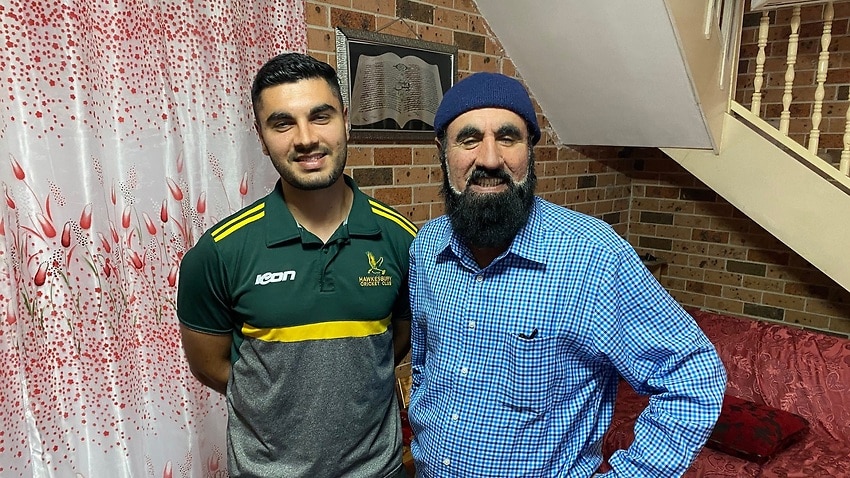 Looking back, Noor Tanha believes his life could have been very different.
His family came to Australia from Afghanistan as refugees when he was six years old and settled in the Sydney suburb of Auburn.
If he hadn't found cricket, he believes another way of life could have potentially found him. 
"A lot of my friends, unfortunately, went down the route of joining gangs, a lot of them went to juvenile jail and some did pass away," Noor told SBS News. 
Life was tough in the family's early days in Australia.
"I've had nights where I've slept without any food and that went for a while," Noor said. "My neighbours used to come over with meals because they realised that the kids weren't eating much." 
Fast forward 16 years and the 22-year-old is now a qualified physiotherapist having graduated from the University of Sydney last year.
His next objective is to become a professional cricketer and follow in the footsteps of star bowler Rashid Khan.
Just like Noor, Khan grew up in Afghanistan.
"You can constantly hear the bullets fire," Noor said. "That's where Rashid Khan came from, that's where I came from and that's why it gives me that motivation. If he can do it, I also believe I can do it."
Afghanistan to Auburn
The fact the Tanha family now calls Australia home is completely down to chance.
A family friend based in Sydney sent in a refugee sponsorship application on their behalf and it won approval. The lives of Mohammad and Zarghona and their five children changed forever.  
Noor, their second youngest child, struggled with learning English initially. But once he settled in at school and started playing cricket, he realised he'd found his niche.
"I remember I was a young kid – I was like eight or nine years old – and I was playing with adults. I was doing well and it gave me confidence."
On the evidence so far, that confidence is well placed. He was signed up by Sydney grade side Hawkesbury last season and the left-handed fast bowler has got his eyes set much higher than that.
"Whether it be [representing] Australia or Afghanistan, I believe I've got the capability and I believe I have that work ethic."
Noor was also selected to represent Afghanistan at the Thunder Nation Cup, an annual tournament organised by the Sydney Thunder where teams made up of local players from migrant backgrounds face off in a celebration of cricket, culture and community.
Organiser Jake Balnave said Noor has already been making an impact in cricket circles, and with Sydney Thunder officials having watched the Cup closely, a place in the team's academy could be around the corner.
"He's going to find himself going up the grades pretty quickly if he keeps taking wickets and scoring runs," Mr Balnave said.
But pro-contract or not, Noor has found a lifelong passion in cricket. Wherever that journey takes him, he says every step is a bonus. 
"When I was six years old I didn't believe I was going to live until adulthood because of what I was seeing in Afghanistan. But the fact that I've lived to adulthood now, my mentality is I've got to make the most out of every single situation I have in life," he said.
If he does make it to the professional ranks, he wants one number on the back of his shirt more than any other.
Before becoming fluent in English, he tried to buy some sweets from a local shop in Auburn, thinking a five-cent coin was worth five dollars. After the shopkeeper kicked him and his sister out, he realised his mistake.
"I'll probably wear a number five, to keep me intact with my childhood," he said.
Source link