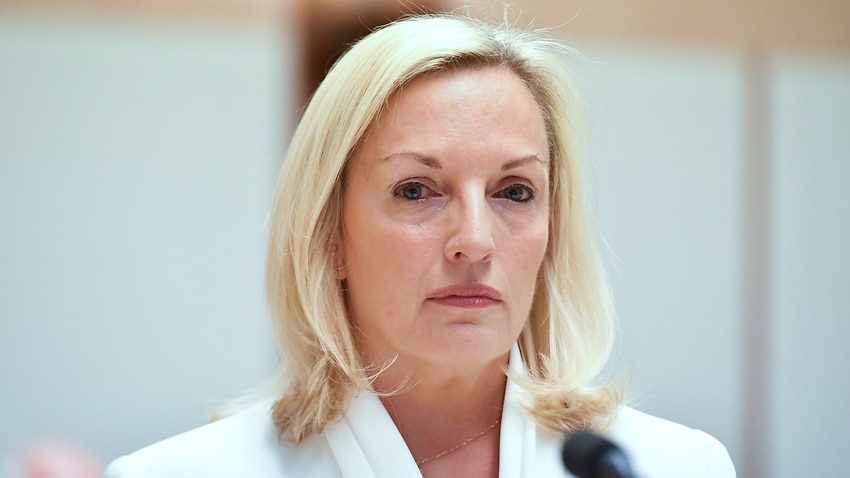 The following story contains reference to suicide.
Christine Holgate has said she was suicidal after being forced out as Australia Post boss, in a scathing excoriation of Scott Morrison.
The former chief executive launched an explosive attack on the prime minister and Australia Post chairman Lucio Di Bartolomeo at a Senate hearing on Tuesday.
Ms Holgate controversially departed Australia Post after Mr Morrison angrily condemned her over a luxury watches scandal in parliament.
"I lost my job, a job that I loved, because I was humiliated by our prime minister for committing no offence and then bullied by my chairman," she told the committee.
She alleged Mr Di Bartolomeo unlawfully stood her down under the direction of the prime minister, making her leadership untenable and threatening her health.
"I have done no wrong. Their bullying of me was far from over. I was subjected to a biased investigation and intimidated with constant threats of further allegations and criticism," Ms Holgate said.
Ms Holgate said the tone of her email to government ministers asking for a meeting about her job showed the damage to her mental health.
"If you read that note and I apologise in advance, that it is rambling and it is rambling because I was seriously ill. I was on temazepam. I was suicidal," she said.
Mr Di Bartolomeo faced the most damning allegations with Ms Holgate accusing him of throwing her under a bus so he could "curry favour" with political masters.
Ms Holgate on Tuesday said all but one member of the Australia Post board had close ties to the coalition, as she rejected its independence.
She told senators to ask Telstra for phone records, which she believes will reveal she never agreed to stand down as suggested by the chairman.
With local post office operators and some politicians agitating for her to be reinstated, Ms Holgate declared Mr Di Bartolomeo would need to leave for her to return.
Ms Holgate quit under immense pressure after it emerged she gifted four luxury watches to executives as a reward for signing a lucrative deal.
The Morrison government announced Woolworths supply chain boss Paul Graham as her replacement one day before the much-anticipated hearing.
The ex-Post chief said she was humiliated in a way no male public servant was subjected to.
"Do I believe it's partially a gender issue? You're absolutely right I do," Ms Holgate said.
"But do I believe the real problem here is bullying and harassment and abuse of power? You're absolutely right I do."
In a blistering opening statement, a defiant Ms Holgate said she wanted to speak out to stop workplace bullying and harassment.
"This is a day the chairman of Australia Post and the other men involved in what happened to me will be held to account."
Mr Di Bartolomeo is due to respond when he gives evidence to the Senate committee later on Tuesday.
The Australia Post chairman last week denied Ms Holgate's claims that he unlawfully stood her down, and said she was provided "confidential and regular support" after her resignation.
Ms Holgate quit under immense pressure after it emerged she gifted four luxury watches to executives as a reward for signing a lucrative deal.
She said there were coalition MPs "accused of the most terrible atrocities to women" allowed to remain in their jobs while she was forced to stand down.
Former attorney-general Christian Porter has emphatically denied historical rape allegations against him and launched legal action against the original reporting of the claims.
Readers seeking support can contact Lifeline crisis support on 13 11 14, Suicide Call Back Service on 1300 659 467 and Kids Helpline on 1800 55 1800 (for young people aged 5 to 25). More information is available at Beyond Blue.org.au and lifeline.org.au. Embrace Multicultural Mental Health supports people from culturally and linguistically diverse backgrounds. 
Source link