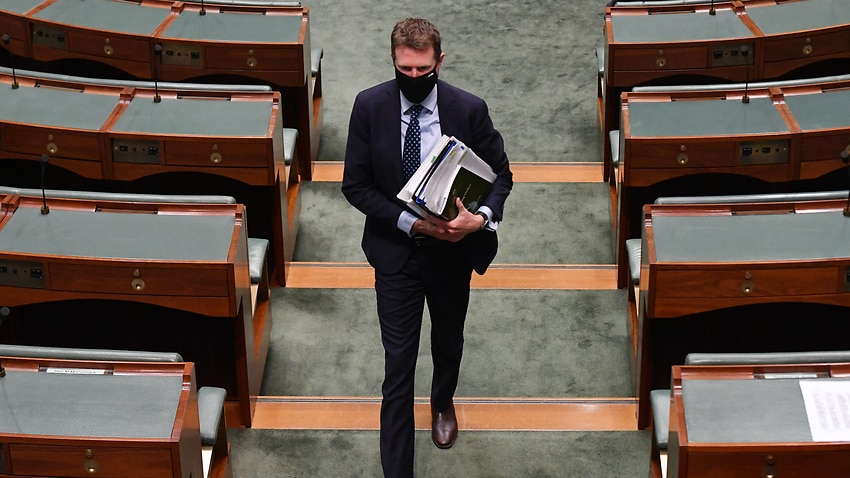 "The issue for the Prime Minister is about whether a minister is in a position to ensure that he can satisfy that he doesn't have a conflict of interest – perceived or otherwise," Mr Morrison said.
"The inability of him to be able to practically provide further information because of the nature of those arrangements – if he were able to do that, that would allow the minister to conclusively rule out a perceived conflict.
"As a result of him acknowledging that, he has this afternoon taken the appropriate course of action to uphold those standards by tendering his resignation as a minister this afternoon, and I have accepted his resignation."
Mr Porter revealed earlier last week he had accepted a blind trust called the Legal Services Trust to help cover his legal fees for a defamation case against the ABC.
The former attorney-general sued the ABC in March over a story that revealed a now-deceased woman's historical rape allegation against a cabinet minister.
Mr Porter has strongly denied the allegation, with the defamation case being settled before trial.
In a statement, Mr Porter said he had considered the decision to resign from the federal cabinet very carefully. 
"Ultimately, I decided that if I have to make a choice between seeking to pressure the Trust to break individuals' confidentiality in order to remain in Cabinet, or alternatively forego my Cabinet position, there is only one choice I could, in all conscience, make. Consequently, I provided the Prime Minister with my resignation earlier today."
The Prime Minister said Mr Porter would remain on the backbench, while Energy Minister Angus Taylor would take over his portfolio in an acting capacity.
Mr Morrison said Mr Porter had upheld ministerial standards by offering his resignation.
"I expect my ministers, all of them, and myself, to uphold the ministerial standards and to act in accordance with those ministerial standards," he said.
"Mr Porter, by taking the decision he has done today, that is the appropriate decision in these circumstances. That reinforces our government's commitment to those standards." 
With AAP.
Source link