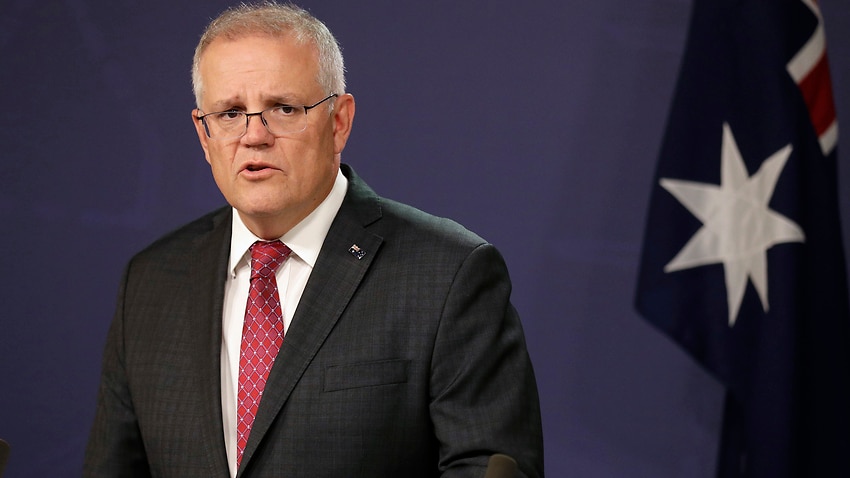 Prime Minister Scott Morrison has sought to quell concerns over the introduction of fines and jail penalties for Australians who try to return home from India, declaring the chance of it happening is "pretty much zero".
The government has received widespread backlash for its decision to make it illegal for people stranded in India to return home until 15 May, as the country battles a catastrophic coronavirus outbreak.
The emergency declaration, permitted under the Biosecurity Act, states Australian citizens and residents could attract a $66,600 fine or a five-year jail term for breaching the suspension. 
No such measure has been applied by the government to any other international COVID-19 hotspot so far.
Former Test cricket opener Michael Slater, who is attempting to return home from a commentary stint in India, has accused the prime minister of having blood on his hands over the controversial travel ban.
"If our government cared for the safety of Aussies they would allow us to get home. It's a disgrace!!" he tweeted.
"Blood on your hands PM. How dare you treat us like this."
But Mr Morrison described the comments as "absurd" when asked about them on the Nine Network on Tuesday, saying "this is about getting people home safely".
He told Seven's Sunrise it was unlikely anyone would be fined or jailed under the declaration, following his earlier statement that no one had been sent to jail since the act was put in place more than a year ago.
"This is a measure which ensures we can keep Australia safe at this time," he said, adding that the policy was enacted after one in eight people returning on recent repatriation flights tested positive for COVID-19.
"This was escalating quickly and we needed to take action to ensure we could get the [hotel quarantine] system back into a place within that fortnight so we could get those repatriation flights running again."
Labor's leader in the Senate, Penny Wong, responded to Mr Morrison's comments on ABC Radio, asking: "If there's zero chance of these penalties being imposed is the only reason you announced it to get a tough headline that's now blowing up in your face?"
The government's suspension of flights from India has been described as racist and draconian, with opponents pointing to the fact similar bans were not introduced for the United Kingdom or the United States at the peak of their outbreaks.
Pressed on why this is the case, Mr Morrison said the infection rates of people returning to Australia from India were "much higher" than during other international waves.
"We were going to have people who had been in India within 14 days coming to Australia through third countries, through Doha or Dubai, and the alternative to pausing these flights with these strong controls was stopping those flights coming as well," he said.
"And that means hundreds, if not thousands, of Australians trying to get home through those ports being cut off as well."
He also reiterated Health Minister Greg Hunt's comments on Monday that people who have travelled from India to a third country more than 14 days ago were entitled to come home to Australia.
"This is a two-week pause, not a permanent pause, it's not a four-month lockdown," he said.
Senator Wong said she understood why members of the Australian-Indian community "feel aggrieved" by the measures. 
"We saw dreadful scenes in Europe, we saw dreadful scenes in the United States, United Kingdom, but we didn't say the sort of rhetoric that we've seen [regarding India], nor the sort of announcement of pretty heavy-handed measures in relation to those nations," she said. 
Legal experts have questioned whether the travel suspension, which came into force on Monday, could be potentially discriminatory.
Greg Barns, the national spokesman for the Australian Lawyers Alliance, told SBS News there could be scope for affected travellers to fight the measures on legal grounds, which would force the government to provide evidence that demonstrates the policy met the requirements of the Biosecurity Act.
Section 477 of the act states that the health minister must be satisfied that the measure is no more restrictive or intrusive than is required in the circumstances.
"Especially given it's an extraordinary measure, it's an extreme measure – the likes of which we have not seen previously; and it's the first time this power has been used in this way," he said. 
There are approximately 9,000 Australians in India who have registered interest in returning home, including 650 considered vulnerable.
India recorded more than 300,000 new COVID-19 cases for the 12th straight day on Monday, with experts warning the real number could be up to 10 times higher due to limited testing.