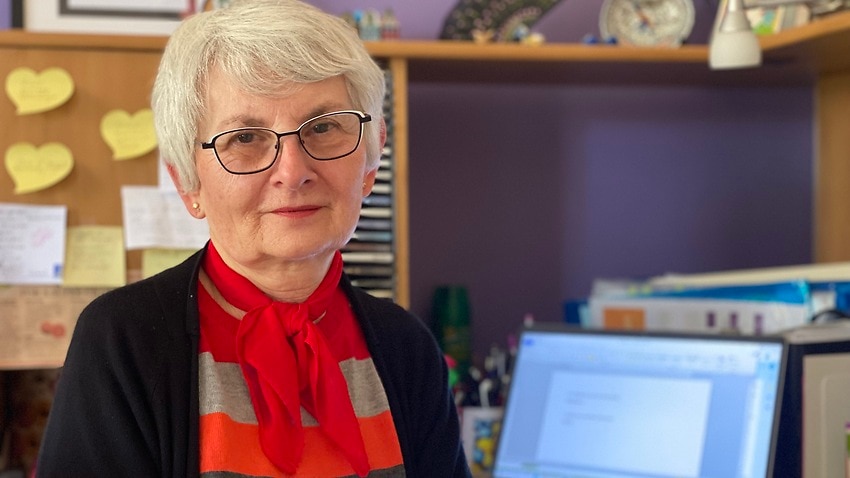 An anti-VAD rally outside Queensland parliament. Source: Stefan Armbruster/SBS News
---
Ahead of the sitting week, Queensland Premier Annastacia Palaszczuk said there had been extensive discussion, consideration and debate around the law.
"There has been three years of consultation and this is the opportunity for this historic law reform to actually pass through this parliament," she said.
"It is a conscience vote on the government side."
If the law passes, it will come into effect from January 2023, but some CALD communities and those working with them say the government will have some work to do to prepare.
"The proposed legislation is very detailed," public health practitioner Anna Voloschenko told SBS News.
"But it is written in a very difficult language, so not just culturally diverse people, but others, would probably find it difficult." 
Anna Voloschenko wants an "easy English" version of proposed VAD laws. Source: Stefan Armbruster/SBS News
---
Ms Voloschenko has 30 years of experience in the sector.
"If a person doesn't understand, it could have serious consequences," she said. 
Translation of VAD information into "easy English", and at least the major languages spoken in Queensland, is vital, Ms Voloschenko said. 
"They could do better; I don't think there is enough information."
"I am concerned that if a person from a culturally diverse background decides to proceed, they need to be fully informed.
"They need to know that this [VAD] is an option and that palliative care can be available to them if they choose – and they can continue with palliative care until they choose to go through with VAD."
"Also information for the community, family and carers, because they need a lot of support," she added. 
Ms Voloschenko points to the Victoria VAD legislation, its supporting documentation and website as the model to follow.
'Death is taboo'
For some older immigrants in Australia, the loss or lack of ability to understand English can also be compounded by cultural differences.
"I haven't heard much about this [VAD] because in the Chinese community talking about death is a taboo," said one Chinese Australian
NITV: 'I'm at peace': Aboriginal grandmother among first to use WA's new voluntary assisted dying laws
Ms Lee (not her real name), is 88 years old and lives in Queensland. She supports VAD but only agreed to be interviewed on the condition of anonymity.
"Chinese society does not support VAD so much, so I worry about being recognised," she said.
For some children of immigrants, it can also pose a challenge when looking after older relatives.
"The younger generations are slowly accepting VAD and elderly relatives don't want to create a burden for their children, should the time come," said Tan Choe Lam, the owner and former manager of one of the only aged care residences for Asian Australians in Queensland.
Tan Lam Choe says intergenerational issues need to be considered. Source: Stefan Armbruster/SBS News
---
He said he has seen the emergence not just of a cultural divide but also one of language.
"Of course language is the issue because the younger generation may not have the language capacity to explain the ins and outs of VAD."
The proposed law requires people requesting VAD to have access to interpreters accredited by the National Accreditation Authority for Translators and Interpreters (NAATI), provisions similar to those in the other states.
"We would strongly recommend and hope that the government would provide some implementation and awareness training before it comes into effect," said NAATI CEO Mark Painting.
Queensland Health said if VAD becomes law it will, "in line with previous legislation … ensure ethnic communities are well informed about the bill through established systems and processes over a 15-month implementation period".
Readers seeking support and information about suicide can contact Lifeline 24 hours a day online and on 13 11 14. Other services include the Suicide Call Back Service on 1300 659 467, Beyond Blue and Kids Helpline (for people aged five to 25) on 1800 55 1800.
The Australian Centre for Grief and Bereavement can be contacted on 1800 642 066.
Source link