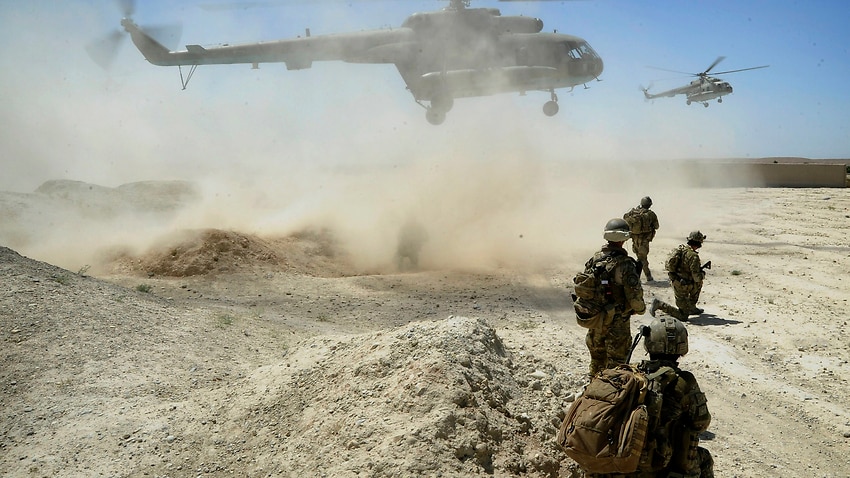 Australia's long-running investigation into alleged grave misconduct by special forces personnel has prompted calls for further independent probes to be adopted by other countries.
The inquiry conducted by Major General Paul Brereton detailed "credible" evidence of 39 unlawful killings of Afghan civilians or prisoners.
Its findings have cast a shadow over the reputation of Australia's military with the report identifying a concerning "warrior culture" of lawlessness, secrecy and deceit among some of its most elite troops.
But the exhaustive document has also been praised for beginning the process of addressing the alleged war crimes which have been exposed.
So how does Australia's response to allegations of war crimes in Afghanistan compare to other countries whose soldiers have similarly been accused of potential misconduct? 
A culture of bloodlust, lawlessness and secrecy 
Australia has had troops in Afghanistan since 2002 as part of a US coalition with the Brereton inquiry tasked with examining rumours of war crimes from 2005-2016. 
The investigation, commissioned by Defence Chief General Angus Campbell, detailed 39 alleged unlawful killings of Afghans and two allegations of "cruel treatment" in 23 separate incidents. 
Professor John Blaxland, defence expert from the Australian National University, said the alleged atrocities committed by Australian troops should be considered a "disgrace" and "tragedy".
But he said it was at least "heartening" to see the Australian Defence Force respond "rigorously" to address the allegations. 
"In Australia's case we are really leading by example by addressing a cancerous act of barbarity," he told SBS News.
"There are very few countries that are prepared to expose their own errors the way that General Campbell has done with this report. 
"It is searingly honest and brutally frank – and awful to think about but incredibly important to address."
Through the report, Major General Brereton identified there were 25 current or former ADF personnel accused of perpetrating one or more war crimes.
These allegations have resulted in General Campbell referring 36 matters to the Australian Federal Police for criminal investigation and the second squadron Special Air Service has been disbanded.
On 12 November, the Australian government preemptively announced the creation of an Office of the Special Investigator to examine potential criminal matters raised by the Brereton report. 
The alleged victims and their families are set to receive compensation.
'It's not just Australian special forces'
Over more than a decade of conflict in Afghanistan, there has also been no shortage of allegations against fellow US-led Coalition partners – namely the United States and United Kingdom.
But despite these allegations, Human Rights Watch Australian director Elaine Pearson told SBS News there has been a failure to properly hold perpetrators and institutions to account.
"It's not just Australian special forces that were committing these sorts of abuses in Afghanistan," she said.
"The UK, the US, many other partners also need to be held to account." 
Jawad Zawulistani, managing director of the Afghanistan Human Rights and Democracy Organisation, agreed not enough has been done to examine these concerns and take them seriously.
"There has not been enough investigation into the scale of the crimes and how widespread it has been throughout the years of the presence of international troops in Afghanistan," he told SBS News.
"We have seen some minimal steps taken by other countries, but unfortunately they have been limited to certain incidents."
In the UK, similar allegations about British special forces implicated in unlawful killings in Afghanistan have not resulted in any perpetrators being held to account. 
Operation Northmoor was set up in 2014 to examine allegations of executions by British special forces, linking dozens of suspicious killings on night raids. 
The inquiry closed in 2020 after six years of investigation without charging any servicemen. 
In Britain, the High Court is also now considering whether the UK failed to properly investigate allegations of unlawful killing by UK special forces.
This came after a BBC investigation found failures to fully investigate credible evidence of a pattern of illegal killings carried out by British soldiers.
Following the release of the Brereton inquiry, the Afghanistan Independent Human Rights Commission also backed calls for the US and UK to respond with their own inquiries into allegations of misconduct.
"Only through a series of independent inquiries will we uncover the true extent of this disregard for Afghan life, which normalised murder and resulted in war crimes," the group said.
Australia must learn lessons from failures of UK and US
Meanwhile, in the US, Ms Pearson said investigations into allegations of misconduct had a tendency to focus on individuals rather than on entire units of the military. 
One example is the case against Staff Sergeant Robert Bales, who pleaded guilty to killing 16 civilians and is serving life in prison without parole. 
US President Donald Trump also recently pardoned three service members who were accused or convicted of war crimes and other unlawful acts. 
The focus on individuals has meant that special operations groups have avoided broader scrutiny. 
Earlier this year, the International Criminal Court (ICC) began investigating alleged war crimes by the US in the Afghan conflict as well as the Taliban and Afghan forces.
But despite accusations of atrocities by US service members, few of these have resulted in formal investigations.
Ms Pearson said Australia must learn from failures in the UK and US, follow through on allegations of wrongdoing and hold alleged perpetrators to account. 
"Australia really has an opportunity to be a role model going forward in terms of providing accountability for these abuses," she told SBS News. 
"Ensure that these investigations that are carried out, are completely independent, and have the ability to investigate the chain of command for those who ultimately bear responsibility."
We Thank To Our Readers For Your All Contributes. We Still Seek Your Support In Pandemic CoronaVirus.
Donate Bellow For Better Future
Registered before? Log in to use your saved details.
If you registered an account, please enter your details below to login. If this is your first time, proceed to the donation form.