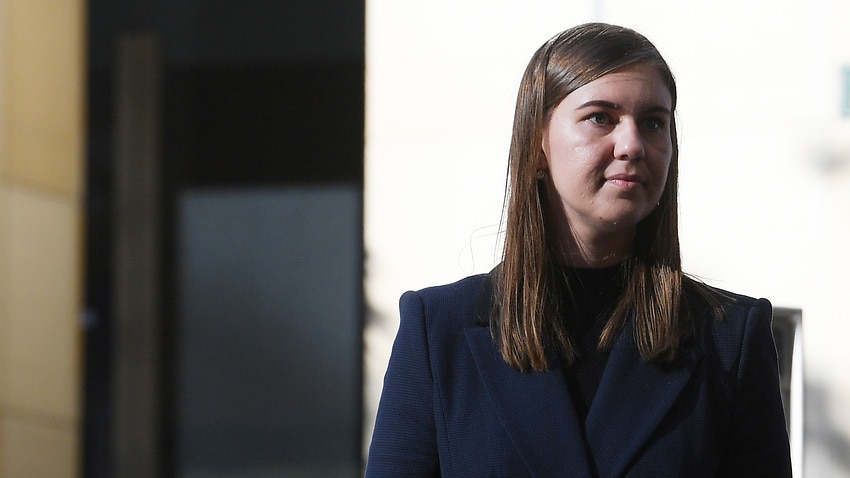 "While Parliament creating a 'serious incidents protocol' is a positive step, it's really difficult to see how flippantly they continue to regard their duty of care to staff," Ms Higgins tweeted on Monday night. 
"By continuing to trivialise these issues in their own workplace, it's hard to see the Government as an exemplar or even as a serious authority – in protecting vulnerable Australian workers from systemic workplace abuse."
While Parliament creating a 'serious incidents protocol' is a positive step, it's really difficult to see how flippantly they continue to regard their duty of care to staff. (1/3) https://t.co/YNxdUxtSNv
Ms Higgins' partner David Sharaz also weighed in on Twitter, adding: "the gaslighting of Brittany from March 2019 to now should disgust every single Australian."
"The video goes for 13-minutes. Only 80 people out of 180 have watched it."
DPS secretary Robert Stefanic and one of his deputies, Cate Saunders, confirmed at a Senate estimates hearing on Monday they have not watched the video.
Security branch assistant secretary Leanne Tunningley, who signed off on the training, is the only executive to have seen it.
"It just doesn't seem like people are taking it seriously," Labor Senator Katy Gallagher said.
Mr Stefanic and Ms Saunders said they intend to view the training video, which is designed for parliamentary security officers.
"I don't want to leave you with the impression that we're not taking this seriously," Mr Stefanic said.
"We've dedicated, I think I could confidently say, hundreds of hours into ensuring that our policies and processes are robust and that we have made improvements.
"I wouldn't characterise not having seen the video as being not concerned about the seriousness of this."
He said the video was a visual aid for written training material over which executives had oversight.
Senator Gallagher said new training came into place eight months after Ms Higgins' allegations were made public.
"I just thought something like this that has come out of the whole Ms Higgins saga, maybe the secretary and deputy secretary would have watched the video," she said.
Mr Stefanic said a serious incident was defined as something that causes harm, including people appearing to be affected by alcohol or drugs behaving in a way not suitable for work.
Factors include people being visibly distressed, undressed, engaging in sexual behaviour, engaging in or being the victim of verbal or physical abuse and illegal behaviour.
Bruce Lehrmann has been charged with sexual intercourse without consent over the March 2019 incident involving Ms Higgins.
He has instructed his defence to enter a plea of not guilty with the case due to return to court on 5 November.
Separately, the government is confronting claims that it has sidelined both Ms Higgins and Australian of the Year Grace Tame.
Minister for Women Marise Payne told Senate estimates on Monday that Brittany Higgins was not invited to the Women's Safety Summit in September as she is not a stakeholder.
At the time, Ms Higgins said the only reason she was able to be a delegate at the summit was because the ACT Government and the Victims of Crime Commission stepped in to have her invited.
"From the Commonwealth perspective, we were focused on inviting stakeholders … that are part of the Commonwealth's usual structures, so [for example], the National Plan Advisory Group," Ms Payne said. 
The government has also rejected a claim by Ms Tame that she was left out of the development of a new national strategy to prevent child sexual abuse.
Asked on the ABC last week whether she had been involved in the drafting of the strategy, Ms Tame said: "No."
One of the ministers responsible for the consultation, Ben Morton, told parliament she had been involved in consultation in March, May and June including talks with him in Tasmania.
"I thank her for her insight," he said.
Ms Tame took to Twitter on Monday night to tell her side of the story. 
Today Scott was asked why he "failed to make every effort to properly consult" me on the National Strategy to Prevent Child Sexual Abuse

He deferred to Ben Morton, whose answer was carefully spun.
In a series of tweets, she said she was "informally introduced" to the National Office of Child Safety head Rebekah Kilpatrick at a café as she was eating bacon and eggs.
Ms Tame said in June she and her partner met with Mr Morton and Ms Kilpatrick in Hobart and discussed her hopes for specific legislative reforms.
"We reviewed a table of legal definitions ≠ a formal Strategy consultation/drafting," she tweeted.
"To be absolutely clear, last Friday 22/10 I was asked if I'd been involved in the Strategy's drafting live on air. I had not. I have not written, seen or approved any official documents. They didn't proactively engage me.
"To suggest otherwise is disingenuous and misleading."
The details of the plan are due to be released later this week.
With AAP
Source link