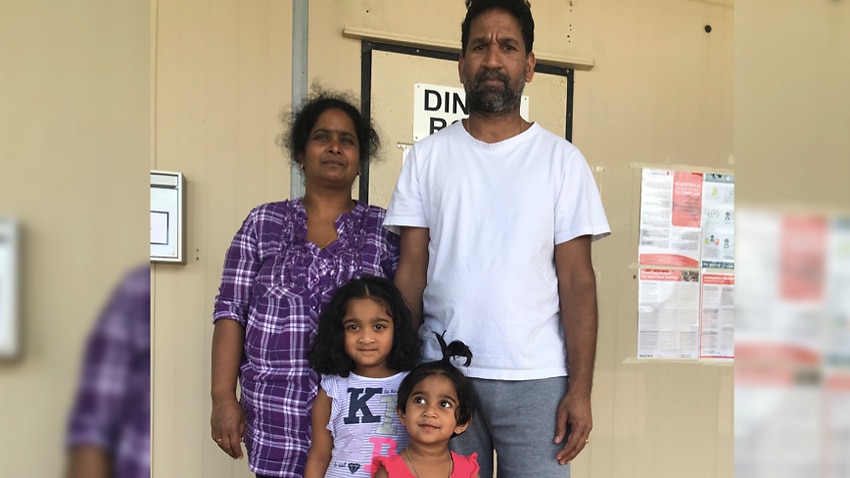 Australia's border force commissioner says he is not aware of a complaint reportedly made against a guard on Christmas Island over inappropriate conduct towards a detained asylum seeker, telling a Senate Estimates hearing the allegations were "breaking news" to him. 
Priya Murugappan, a Tamil mother-of-two from the small Queensland town of Biloela, has reported feeling concerned for her safety after a Serco guard approached her accommodation and "leered" at her. She said she believed the man intended to sexually assault or harass her. 
After allegedly pushing him away, she told the BBC she reported the incident and the guard was removed. 
Labor's home affairs spokesperson, Kristina Kenneally, told the Senate hearing the alleged incident had also been disclosed to her when she visited the family on Christmas Island. 
Questioned about the alleged incident in a Senate hearing on Tuesday, Australian Border Force (ABF) Commissioner Michael Outram said he was not aware of the allegations and no complaint had been made.
"I haven't heard about the allegation or the story. No complaint of this nature has been made to Serco or the Australian Border Force that I'm aware of. This is breaking news to me," he said.
"We are aware of the sensitivities around this family, and so are our service provider Serco, and if they are providing staff that are behaving inappropriately I can assure you that it will be dealt with quickly."
Ms Murugappan, her partner Nades, and their two Australian-born children – Kopika, six, and Tharunicaa, three – have been the only family detained on Christmas Island since August 2019 after an urgent court injunction blocked their deportation to Sri Lanka.
They are currently held in a separate compound to a large number of immigration detainees set to be deported after recording a criminal conviction in Australia.
Commissioner Outram said Serco guards, who are contracted by the ABF, were required to respect the privacy and dignity of detainees when entering their sleeping quarters. 
If there was a reason why guards believed they needed to enter the accommodation, they would be expected to knock, he added. 
The family have previously told SBS News their accommodation on Christmas Island, a remote Australian territory closer to Indonesia than the West Australian coast, is "not suitable for living".
"Nades and I feel that it is not safe for our children and that is causing a lot of anxiety for both of us as parents," Ms Murugappan said earlier this year.
"[The children] are yearning for freedom, they want to be happy and free".
Home Affairs Minister Karen Andrews told ABC Radio earlier this month she had sought advice on the family's living situation, prompting fresh hopes they could soon be released into community detention on the island while their legal battle continues.
The protracted legal battle to secure their right to remain in Australia currently hinges on whether three-year-old Tharunicaa has the right to apply for protection
In February, the full bench of the federal court upheld an earlier ruling that found Tharunicaa was not given procedural fairness when her application for a protection visa was assessed.
The Department of Home Affairs has repeatedly stated the family do not meet the criteria for protection. 
The Australian Border Force has been contacted for comment.
Source link