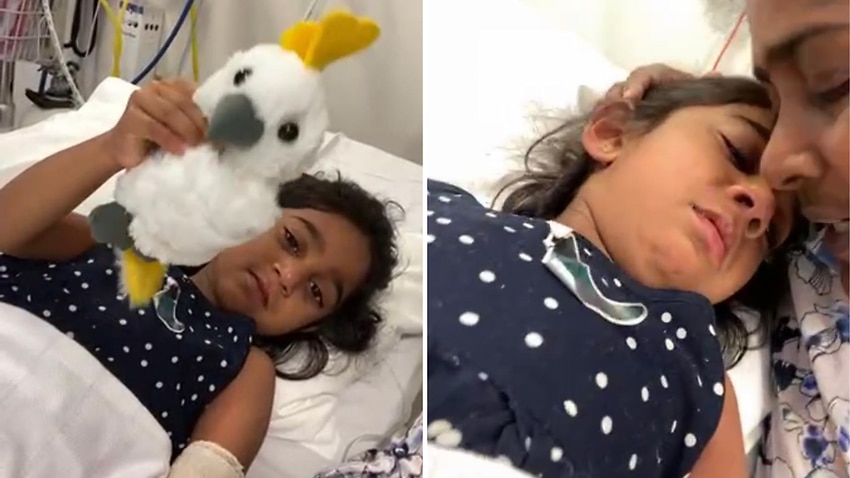 The mother of the only two children in Australian immigration detention has issued a desperate plea for help to free her children, as she sits by her youngest daughter's hospital bedside.
Her emotional statement comes as the government revealed they are looking at third-country resettlement options for the Tamil asylum seeker family-of-four, dashing the hopes of supporters across the country who would like to see them returned to the small Queensland town of Biloela. 
Three-year-old Tharnicaa was medically evacuated from Christmas Island and admitted to Perth Children's Hospital on Monday with a suspected blood infection after more than 10 days of high fevers, vomiting, and diarrhoea.
Family friends said this diagnosis was confirmed on Tuesday, attributing the cause of the infection to untreated pneumonia.
Tharnicaa has been detained on Christmas Island with her sister Kopika, five, and parents, Priya and Nades Murugappan, since August 2019 after an urgent court injunction blocked their deportation to Sri Lanka.
Cradling her daughter, Priya said she wanted to "thank everyone for their love and good wishes" in a video from the hospital released on Tuesday.
"I hope that Tharnicaa can get the help she needs now. Please, help us to get her out of detention and home to Biloela." 
Home Affairs Minister Karen Andrews on Tuesday said a "range of resettlement options" were being considered for the family, but a final decision had not been made. 
She declined to comment further because she didn't "want to disrupt those negotiations", but ruled out using her discretion to grant them a visa at this stage.
But later on Monday, Foreign Minister Marise Payne elaborated on the negotiations, telling 2GB both the United States and New Zealand were being considered as resettlement options.
"I understand that there are two options that are being looked at, I understand the United States is the first of those and that New Zealand is also an option," she said. 
"Our thoughts and best wishes are with [Tharnicaa], and with her family."
Family friend Angela Fredericks, who is in regular contact with Priya, told SBS Tharnicaa's condition had stabilised but she had endured "quite a horrible day" of blood tests.
"Every time we've been speaking to Priya we can hear her crying in the background, asking for Kopika and papa, so she is not in a happy state," she said. 
"But her condition is stabilising, so that is of course very positive."
Priya has said she had repeatedly tried to raise the alarm about the severity of her daughter's condition in the lead up to her evacuation, but was only offered Panadol and Nurofen.
It is understood Tharnicaa was first admitted to the hospital on Christmas Island on Sunday morning.
The Department of Home Affairs has strongly denied any allegations of inaction or mistreatment towards people in their care.
A spokesperson said Tharnicaa had been receiving medical treatment and daily monitoring on the island "consistent with medical advice", both through a general practitioner and the Christmas Island Hospital.
"As soon as the Australian Border Force was advised by the treating medical practitioners that the minor required medical treatment in Western Australia, the minor was transferred to a hospital in Western Australia," they said.
Prime Minister Scott Morrison weighed in on the issue on Tuesday, stating medical professionals would determine where and what medical care Tharnicaa received.
Meanwhile, supporters are planning to gather outside the hospital where Tharnicaa and Priya are staying for a candlelight vigil on Wednesday.
"We know she probably not be able to see it from the window, but the hope is Tharnicaa can see all the twinkling lights and know that she is not alone," Ms Fredericks said. 
A separate event will be held in Sydney on Thursday.  
The family have been in immigration detention for more than three years. After overstaying their visa, they were taken from their home in the small Queensland town of Biloela on 5 March, 2018, and placed in Melbourne's Immigration Transit Accommodation (MITA) before later being transferred to Christmas Island.
In 2019, four of Tharnicaa's teeth were surgically removed due to severe decay, which advocates believe was caused by a lack of fresh food and vitamin D deficiency brought on by life in detention.
A protracted legal battle to secure the family's right to remain in Australia currently hinges on whether the three-year-old has the right to apply for protection.
In February, the full bench of the federal court upheld an earlier ruling that found Tharnicaa was not given procedural fairness when her application for a protection visa was assessed.
Source link