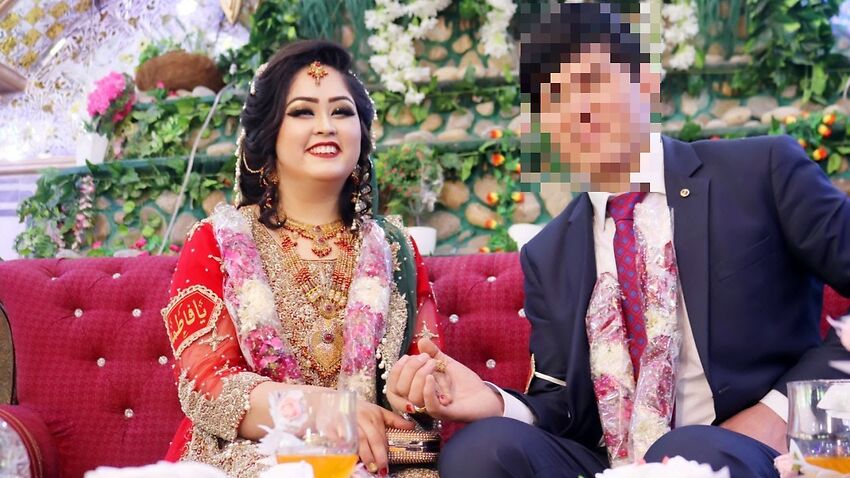 In a last-ditch effort to reunite with her "teenage sweetheart" last week, Adelaide woman Bibi consulted with a travel agency in the hopes of boarding a flight to Kabul. 
Then the Taliban seized control of Afghanistan's capital, stopping civilian flights in and out.
"Seven years now we've been in a committed relationship," the 23-year-old says, "but in that time, we've only actually been able to spend 12 days together face-to-face. Now I fear we'll never see each other again".  
Bibi, an Australian citizen who was born in Afghanistan and has lived here for seven years, has been engaged to Shah (not his real name) since February 2018.
But the couple's applications for a travel exemption for Shah to be able to enter Australia during the COVID-19 border closures have been repeatedly denied, even as the Taliban tightened its hold over the country.
"We tried for eight different travel exemptions with no results," Bibi says. "Even with the help of our migration agent, even applying on compassionate grounds, we just kept getting the same generic response."
It eventually took a huge toll on Bibi. 
"I took off work most days due to stress, lack of sleep and focus, and after the last travel exemption application was rejected I finally quit my job in late June as I couldn't focus at work anymore."
We tried for eight different travel exemptions with no results. 

– Bibi
Shah was granted a Subclass 300 Prospective Marriage visa (PMV) in May, but unlike holders of the more popular 820, 801, and de-facto partner visas, holders of the so-called 'fiancé visa' were not considered immediate family members for the purposes of entering Australia and were required to obtain an accompanying exemption.
On Wednesday, Home Affairs Minister Karen Andrews announced that long-term holders of a PMV, from all countries, would now be eligible to apply for a travel exemption to enter Australia.
The PMV allows someone to come to Australia to marry their prospective spouse and then apply for a partner visa.
The new rule applies in circumstances where the PMV has been granted and that it was lodged at least 12 months before submitting a travel exemption request.
But with the situation escalating in Kabul, the couple now fears it may be too late for them. 
Bibi says that while DFAT had originally told her Shah was ineligible for a spot on an evacuation flight, the change means he is now a potential candidate.  
"My fiancé is there now, in the crowds at the airport," she says. "So far we haven't been lucky but I'm praying he makes it out before it's too late." 
Visa holders stranded 
With thousands of PMV holders stuck overseas due to the travel ban, pressure on the government has mounted in recent months, culminating in a public petition that closed in June and a successful motion backed by federal parliamentarians Nick McKim, Kristina Keneally, Zali Steggall and Julian Hill. 
Senator McKim says that while the government's rule change this week should be celebrated, his office estimates the policy left about 1,957 PMV holders stranded. 
"Even if they have the visa issued, have paid their $8,000 and have waited years, they were still not getting travel authorisations to come here," he says. 
When Bibi and Shah first applied for a PMV in May 2019, they were confident the process would be straightforward. Rejection rates for PMVs at the time saw only 21 per cent of applications being knocked back.
But data from the Department of Home Affairs shows applicants don't always face a level playing field when it comes to partner visa applications. 
According to the latest information released under freedom of information laws, citizens from the UK and the US generally hear back on partner visa applications within the year, while Chinese and Indian nationals wait an average of 18 months. Afghan citizens wait an average of three years. 
Ninety per cent of PMV applications are currently processed in 28 months, the department says on its website.
"It used to take about six to nine months on average to get most of these visas through," Senator McKim says. "If you're from some places, like Afghanistan, it can take four years to get a visa".
DFAT has urged Australian citizens, permanent residents and visa holders in Afghanistan to make their way to Kabul airport, pending further evacuation flights.
Australia landed a military aircraft at the airport to rescue 26 people earlier this week, with another 76 leaving on a British military plane that landed in Perth on Friday. A third flight, with 80 people on board, arrived on Saturday.
For now, all Bibi can do is wait, and hope. 
"There are no guarantees," she says. "It's not fair we're in this position after applying two years ago."
The Department of Home Affairs did not respond to a request for comment. 
Sandy Milne is a freelance journalist.  
Would you like to share your story with SBS News? Email [email protected]